Welcome to Straight from the 'Beek! The Falcons will get one more practice in on Thursday before heading to Jacksonville for their third preseason game on Saturday night, commonly referred to as the dress rehearsal game. In the meantime, you've got lots of questions – so let's get to them. Just remember that all opinions here are mine unless otherwise noted.
Gerald from Wake Forest, NC
Hey Beek. Is this a make-or-break season for Austin Hooper? As far as a nickname for the defense, it starts and ends with "The Smotherhood." Cheers!
Matt: Make or break? No way, Gerald. The arrow is pointing up for Austin Hooper. Remember, he came out early and is only 23 years old. He's played two seasons in the NFL and improved in every single statistical category last year except touchdown receptions (he remained at three). Hooper has worked hard to develop a chemistry with quarterback Matt Ryan and the two, so far, appear to be on the same page. It certainly showed in that last preseason game against the Chiefs. Keep in mind that the Falcons have a slew of offensive weapons, too, with Julio Jones, Mohamed Sanu, Calvin Ridley, Devonta Freeman and Tevin Coleman for starters. It would be hard for any tight end to put up huge numbers in this offense, but I think Hooper will continue to improve. Every year is important for a professional athlete, but this is not a make-or-break year for Hooper.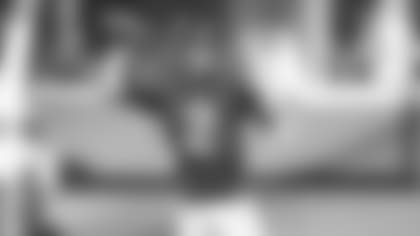 James from Atlanta, GA
How's it going Beek? My question is about Matt Ryan. Is he the only quarterback to throw three touchdowns in four consecutive playoff games?
Matt: Hey there, James. Yes, I'm pretty sure Matt Ryan currently holds the record for consecutive playoff games (four) with at least three touchdown passes. There are five players who are tied for second place with three games – Tom Brady, Aaron Rodgers, Joe Flacco, Bernie Kosar and Kurt Warner.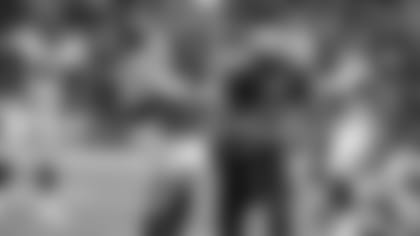 Michael from Atlanta, GA
Before my question, I have to recommend a nickname for our defense as a Nintendo 64 fan, The Smash Brothers. I think I have seen our team make enough serious tackles to warrant a name like that. Now for my question: Alvin Kamara looked incredible against our defense, minus the concussion, last year. Being the offensive weapon that he is, how do we stop or contain him?
Matt: I don't think we've had that one suggested yet, Michael. I'll run the list below and add it. As far as being able to contain a great back like Alvin Kamara, I'll to keep this as simple as possible. Defenses have to be disciplined up front when it comes to accounting for each gap and stopping the run – and there's a number of different ways you can cover gaps (which I won't get into). Defensive players have to read their keys, react, shed blocks, pursue, take the proper angles and then make clean tackles. It sounds easy, but a lot can go wrong – and all it takes is getting caught up in a block too long or one bad angle for a speedy back like Kamara to blow through a hole and get into the open field. Hope that helps some.
Here's the running list of suggested nicknames for the defense:
The Red Swarm
Brotherhood Blockade
The Bruise Brothers
The Smother Brothers
The Bash Brothers
Falcons Flash
D Birds
The Swarm Brothers
The Flock (see below)
Brotherhood of Destruction
The Falcons Flash
Birds of Prey
Sky Stalkers
Hurty Birdz
Winged Maniacs
Red Line Defense
The Shutdown Club
Disruptors of the Hood
The Brothers of Disruption
The Club of Disruption
Eruption of Disruption
The Smack Attack
Shock and Awe
Flying Fortress
Gangbusters
The Stop Shop
Bad Intentions
Flying Fortress
Grits Blitz
Red & Black Defensive Attack
Dirty Bird Gang
Falcon Brigade
The Block Flock
The Talons
Predators
Southern Raptors
Brothers of Pain
Pain Brothers
Fierce Flock
Damage Control
Ferocious Flock
The Red Rovers
The Legion
The Dominion of Destruction
Legion of Doom
The Smotherhood
The Wall of Doom
The Brotherhood of Boom
Black Claw
The D-Train Line
The Terminus Line
Bad News Brood
The Good Feathers
The Brood
The Cauldron
The Brothers of Doom
Sonic Boom
Air Falcon
Birds of Flight
Angry Birdz
Birds of a Feather
The Demolition Flock
Flock and Awe
A-Town Hittas
The Risen Few
The Boom Boom Crew
D Block
The Bruise Brothers
The Defengers
Fowl Blitz
The Falcon Swarm
Poultrygeists
The Swarm Brigade
The Cast
Best of the Nest
Smack Attack
The Falcon Storm
Birds of Doom
The Brothers' Nest
T.A.D. — Time After Deployment
The Smash Brothers
The Hit Squad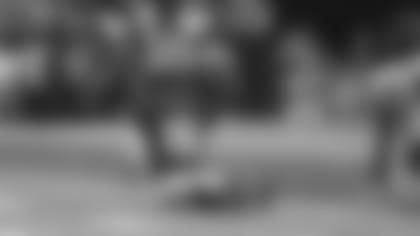 Matthew from Tuscumbia, AL
What is your prediction for offensive and defensive rookies of the year? Also, who do you think is the most underrated player in Atlanta?
Matt: Wow, we've only played two preseason games and you're asking me that already? I don't have much to base it on, Matthew. But I'll play along but give you two names each. I think on offense I'll go with Saquon Barkley and Calvin Ridley and for defense I'll go with Roquan Smith and Marcus Davenport, who has been dealing with various injuries so far. Again, it's way too early. As far as the most underrated Falcons player goes, I'll say it's Foye Oluokun. Based on everything I've seen and heard, Oluokun is smart, has all the tools and has played well so far. Keep an eye on him.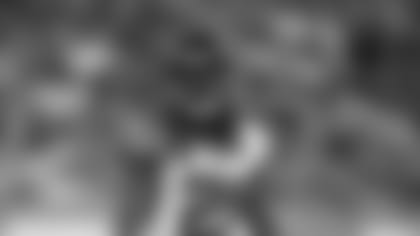 Mitchell from Conyers, GA
Would you say Desmond Trufant is overpaid considering his play?
Matt: No, because Desmond Trufant earned that contract in the first place, Mitchell.
Percy from Tampa, FL
Matt, I have another nickname suggestion for the defense. "The Hit Squad." I thought of some of the other iconic defensive nicknames throughout NFL history and I hope my suggestion embodies what the Falcons are trying to build and becomes a household name just as those historic nicknames did for those defenses.
Matt: I like that one, Percy. It's simple, to the point and definitely has a nice ring to it. I added it to the list above, by the way.
Ephiram from Macon, GA
Hey Beek. I really don't want to ask this question, but I just need your opinion. Since Matt Ryan been the quarterback, every team that has beat us in the playoffs has gone on to the Super Bowl. I think that will be the case again if we lose again in the playoffs. If we do make it, which I am very confident in that we will, what team do you think is capable of beating us? Because I feel like we should be unstoppable and very tough to beat. But I've felt like that almost every year with my team. I just want to know your opinion.
Matt: OK, to be clear, you're asking me what team is capable of beating the Falcons should they make it to the Super Bowl? Any team that makes it into the postseason is capable of winning any game, especially the Super Bowl. Teams don't advance that far by accident – and the most talented teams don't always win, either. The best teams win – the ones who have the best chemistry, who play well together – the ones who want it more. There's lots of talent on every NFL team, Ephiram.