Welcome to Straight from the 'Beek! The Falcons will wrap up the 2018 regular season with a pair of road games against NFC South rivals – the Panthers are up first. In the meantime, you've got plenty of questions about the game, the players, the offseason and the draft. So, let's get right to them. Just remember that all opinions here are mine unless otherwise noted.
Darryl from East Point, GA
Long time reader, first time writing in. It's been a rough season. Knowing that the Falcons will have a high draft pick, I want to go to Nashville for the draft. How do you get tickets?
Matt: You're right, the 2019 NFL Draft will be held in Nashville, Tenn. According to The Tennessean, fans who want to attend can register for an opportunity at standby tickets using the NFL Draft fan mobile pass app and when seats become available, the NFL will send an SMS text message with 30 minutes to check in. Registration times have reportedly not been announced for the 2019 NFL Draft yet and tickets are required only for seating inside the NFL Draft theater. If you'd like more information on tickets and packages, I think this site should help you out.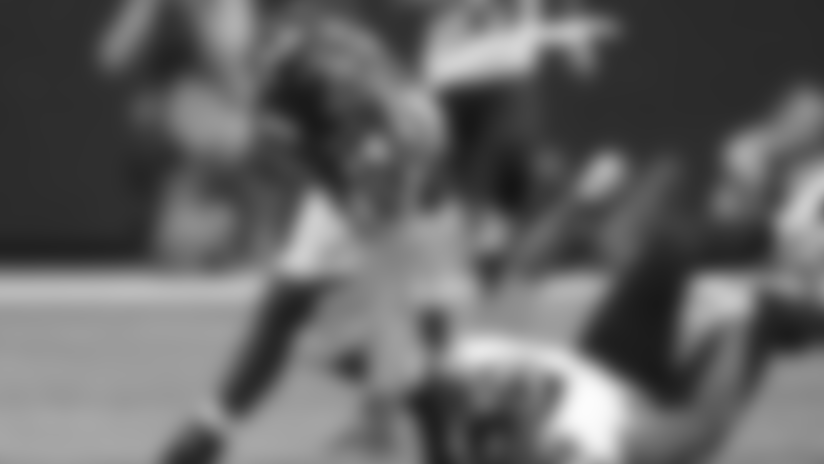 Mark from Marietta, GA
Hi Beek. The fans appreciate your kind words and quotes about Bill Fralic. In case a fan missed it, now would be a great time to post a link. Look forward to the day the "anchor" is in the Falcons Ring of Honor. Make it a great day for family and friends in a complementary suite or two. Question: What is a team's obligation when they pick up the option for a first-round pick rookie contract? Watching Vic Beasley this year has been an enigma. Never have I seen a pass rusher whiff on so many sure sacks. The guy should have 15-plus sacks this year already. Falcons should honor their commitment regardless. He fixes what looks like an out-of-control sprint to the QB after shedding the blocker then he will get his mega pass rushing contract. My glass half-empty comment is when evaluating a team over 16 games, look past the best two and worst two games of the year. Sunday's dominance over Arizona fits in the category of best two. I'm sure players and coaches are happy to end the losing streak. Good to see other players getting a look too. Finally, thanks for keeping it real (glass half-full).
Matt: Hi, Mark. Thanks for reading and the kind words about my column on the late Bill Fralic. And for those who'd like to read it, here is the link. As far as a team's obligation goes regarding the fifth-year option on a rookie player's contract goes – it's just that: an option to extend a player's rookie contract by an extra year, and players do not have any say in the matter. It's completely at the club's discretion. Does it mean a team no longer wants that player around? No, because they can still negotiate a long-term deal if they choose to go that route. However, if a player hasn't lived up to expectations and the option isn't exercised, it's usually a good indication of things to come (or go, if you catch my drift).
Kevin from Sierra Madre, CA
Hi Beek. It was so nice to see a great Falcons win and to show that we are not going to tank for a No. 1 pick in the draft for 2019. Deion Jones came back a little too late as he could have helped with 2-3 wins. This game showed we do have fine backups like Ito Smith and another good game by Foye Oluokun should make Falcons fans happy. The defense really stepped up today and that is by Dan Quinn getting them motivated. So please fans stop with the fire Dan Quinn comments because he will do much better next year knowing that Arthur Blank will not want another losing season. I also think Thomas Dimitroff will trade up in the next draft if he really likes the player like he did for Julio Jones. I hope no one is still upset about our Julio Jones pick because no true Falcon fan is. Besides we are already picking within the top-five anyway (as it stands now). Rise Up in 2019 Falcons fans for another Super Bowl run!!!!
Matt: Hey there, Kevin. A couple of quick thoughts regarding your comments. Yes, having Deion Jones on the field makes a huge difference for this defense. In my opinion he's the best player on that side of the ball for the Falcons. His presence was felt the minute he returned from injury and his production speaks for itself. Regarding where the Falcons are currently picking if the season were to end today, they actually hold the No. 6 pick at the moment. I broke it all down right here. A lot could change regarding the order of the first 20 picks (non-playoff teams) over the next two weeks, so stay tuned.
Schellaundye from Decatur, GA
When are the Falcons going to invest in some quarterbacks and cornerbacks? If Matt Ryan get hurts, we're in trouble. Furthermore, our cornerbacks can't stop any offense and the pass rush sucks. The defense, as a whole, sucks. The defense needs to be restructured and rebuilt.
Matt: OK, regarding the backup quarterback situation, Matt Schaub is scheduled to become an unrestricted free agent at the end of the season. Here'sthe entire list of Falcons free agents from Spotrac.com. Schaub is 37 years old and I'm not sure how long he wants to play at this time. Regardless, it would not surprise me at all if the Falcons decide to go with a younger backup with a cap-friendly deal heading into 2019. Regarding the defense, the Falcons are currently ranked 29th in total yards per game and 29th in total points allowed per game. That's not where they'd like to be, obviously. I expect there will be some changes on the offseason – I think addressing that side of the ball will be a major focus in the NFL Draft and possibly free agency, too. Plus, they're expected to get Keanu Neal and Ricardo Allen back, which will be huge for this unit. I'd tap the brakes when it comes to throwing around the terms "rebuilt" and "restructured" though.
Mark from Marietta, GA
Green Bay and Carolina are shutting down franchise QBs for remainder of year so that 2019 they will be ready. Hmmm. Atlanta, why can't you say Matt Ryan has a sore toe or something? 2019, at this point, is way more important than 2018 and injuries, such as those that take a year to heal, are unpredictable.
Matt: When I asked Falcons coach Dan Quinn on Monday about the final two games and if they'll use them to evaluate the roster as a whole (much like preseason), this is what he said: "Not anymore it has been. If a player is really showing that they deserve, you know, more playing time due to the way they're practicing, a guy like Ty Sambrailo who has earned more playing time, that would be the case. But past that, we're going to go after the game in every way that we can. So, we're always looking to see what tweaks we can from an evaluation standpoint to say, what would this look like? But nothing bigger than just getting ready to play our best this weekend." You're right about Cam Newton, Mark. He isn't going to play Sunday. As far as Aaron Rodgers goes, he said that he wants to play in the last report I read. Will he? I have no idea at this point. Look, I get the logic, but as far as I know the Falcons starters will play in these final two games – as will the younger players, like they have all season long. Players want to play, compete and win. Coaches want to win every game, too. Regardless, it makes for a solid Straight from the 'Beek Question of the Day:
Gary from Virginia Beach, VA
Matt, I'm hearing a lot of chatter that now that we are out of the playoffs, we should lose out the rest of the season for higher draft picks. Although I want to get the best talent available, I do not agree with that approach. I think it's better to win out and go into the offseason with a feeling of this is who we really are and watch out next year! What are your thoughts?
Matt: OK, so that's a different question from the one above. Look, the coaching staff has a pretty good idea of what players can do because they have watched them now for 14 games and every single day in practice. It's tough sometimes to get a strong evaluation on a player if you're making wholesale changes with the starting lineup, too. I'd certainly play more of the younger players if I needed to see more of had any questions, but I'm not a coach either. At this point you have to trust Dan Quinn is going to do the right thing with those types of decisions. That said, it would not surprise me at all if some starters get an early hook or have limited playing time. We'll see how the games play out, and it's certainly something to monitor. And you're right about the games and how the outcomes will affect the NFL Draft order. There's a difference between a top-five pick and a top-15 pick, but you can find great players at all spots if you've done your homework scouting (and things fall your way).
Be sure to catch Matt Tabeek, D.J. Shockley and Dave Archer every Monday afternoon on Falcons Audible podcast. Listen and subscribe to it oniTunes, Google Play or watch it hereon AtlantaFalcons.com.