FLOWERY BRANCH, Ga. – It's been 11 years since Matt Ryan first trotted out onto the practice fields at the Falcons training facilities here and Mike Mularkey still gets chills thinking about it.
During the latest edition of Falcons Audible podcast, Mularkey recalled Ryan's first practice, and the first time he ever worked in with the starters on offense.
Mularkey, who was the Falcons offensive coordinator back in 2008, still remembers the play called and what Ryan told his teammates in the huddle before they ran it.
"We did a rotation [with the quarterbacks] and Matt's first play that he got in with the one's I called, the formation was 'I-right, act-two, go,'" Mularkey said. "And Matt turned around got in the huddle and I can't say exactly the language he used, but he looked across the huddle and said, 'Hey Roddy, go get this mother.'"
Mularkey remembers the players' reactions in the huddle and said, "And I just had chills again, but I had chills go down my back like, 'Oh, my God. I think we have one.'"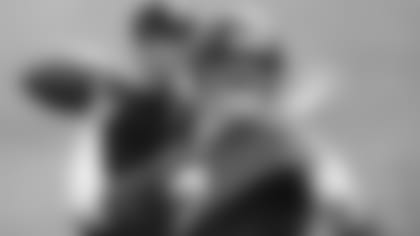 You can listen to the entire podcast below.