For so many kids growing up, dreams of making it big often start right in the backyard.
For the Ridley boys, it began on a concrete patio. It was hardly ideal, but it was all the four brothers had while growing up in Coconut Creek, Florida, a city with about 55,000 people just north of Fort Lauderdale.
It was there where the game of football was etched into Calvin and Riley Ridley's lives from a young age. It was also where the seeds of a dream were planted: To play in the NFL together.
Come April 27th, when the 2019 NFL Draft concludes, there's a very good chance that the Ridley brothers will have fulfilled their ultimate childhood aspiration.
"That patio is a million-dollar patio right now," Riley said. "It was always competitive; it was always intense. Those are the days that made us."
Kassna Daniels always knew.
The more Daniels watched her four boys play outside on that patio – Calvin, Cavin (Riley), Clamont and Clayton – the more convinced she became that they had a bright future.
"When I saw how they could throw and catch the ball and just [how they] had all of that strength and power to play football on a hard, concrete patio like that," Daniels said of her four boys who, from youngest to oldest, are seven years apart.
"From then on, I knew my boys could be professionals."
---
---
Defying the odds, and so much more
From Peyton and Eli Manning, Ronde and Tiki Barber to J.J. Watt, Derek Watt and T.J. Watt, the list of brothers to make it to the National Football League is a fairly lengthy one. So the Ridley brothers aren't unique in that sense.
There are things that separate them from the rest.
They're close in age – Calvin is 24 and Riley is 21. Both play receiver, both played at SEC schools and they share similar physical traits. Both could end up as first-round picks.
Considering the small percentage of NCAA players who are even drafted by NFL teams each year, that's incredibly impressive.
Calvin was selected by the Atlanta Falcons in the first round – 24th overall – of the 2018 NFL Draft after his impressive collegiate career at Alabama. Riley, who caught 69 passes for 1,015 yards and 13 touchdowns in three seasons at Georgia, is being projected to go anywhere from the first round to third round in this year's NFL Draft.
So, while their story is certainly one about overcoming and defying the odds, it's definitely about family and brotherhood – and how the game of football has kept them all together, especially during the tough times.

---
---
Brotherly advice pays off
When Calvin attended Alabama from 2015 to 2017, Riley came to visit and also attend camp at Alabama. Riley was a four-star recruit out of Deerfield Beach High School and already on the radar of many college coaches, including Kirby Smart, who was the Crimson Tide's defensive coordinator at the time.
Following the 2015 season, Smart was named the head coach at Georgia and was charged with the task of getting the Bulldogs back to championship-level football. When Smart accepted the job, Calvin told him Riley might have some interest in going to Georgia despite having already committed to South Carolina.
"I never would have thought we had a shot at Riley, to get him to Georgia," Smart said.
Five days after committing to the Gamecocks, Riley de-committed and then pledged his allegiance to play for Smart at Georgia. After three seasons in Athens, Riley is primed to join his brother in the NFL.
When Riley was participating in Georgia's pro day in March, the last chance to impress NFL coaches and general managers, Calvin was in attendance.
To avoid the attention he would draw, Calvin reached out to Smart ahead of time asking if he could watch the pro day from a private viewing section.
Calvin didn't just watch Riley go through his workout, he filmed the entire thing so he could go over it with Riley afterwards.
"He coached him up on things he could have done better, he really critiqued him," Smart said of what Calvin did for Riley. "I think he's really helpful for Riley from a standpoint of maturity, understanding the NFL. It's like having someone go through it and they're able to give you all the answers to the test. I thought Riley did a great job of being a sponge and absorbing that knowledge from Calvin."
---
---
A sweet reunion in the Peach State
They say things happen for a reason, and the Ridley brothers could serve as poster children.
After spending years apart with Calvin enrolled at Alabama and Riley at Georgia, the Ridley brothers were reunited when Calvin was picked by the Falcons. Now the only thing separating them was about an hour's drive (depending on traffic, of course).
It turned out to be a blessing in disguise for Riley.
As Calvin was navigating his way through his rookie season with the Falcons, he was sharing what he learned with Riley along the way.
"I was so happy that he was so close," Riley said. "I was able to get a lot of information from him, be around the guys. It was a big difference-maker in my life. I was able to take stuff he was telling me and lead my team with those examples."
Every Friday, Riley would call Calvin before his upcoming game. If Calvin had faced that team during his time at Alabama, he would tell Riley what to look for. Calvin always provided words of encouragement and guidance to his little brother.
Calvin has always been a role model for Riley going back to their middle school days through their college days.
"Calvin is the role model," Daniels said. "He pushes his brother to do better and good things. He encourages his brother. He's a pusher."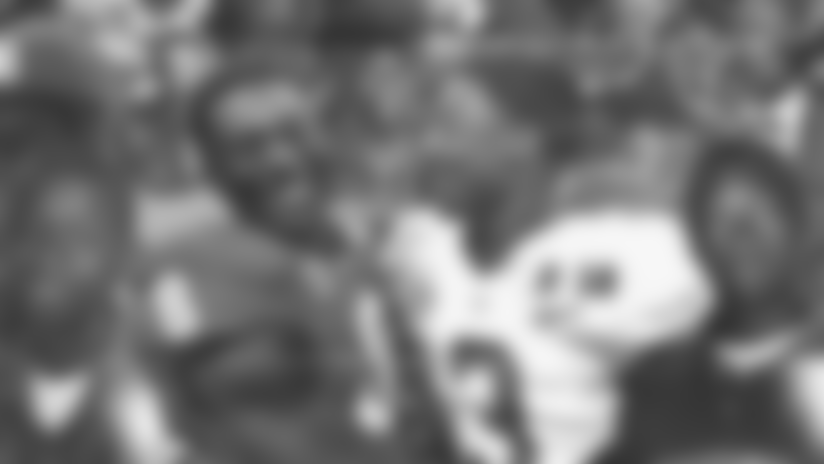 ---
---
'In one house again'
Just like Riley was there for Calvin a year ago when he was drafted, Calvin will be with Riley for his big weekend. And Daniels couldn't be more excited to have her family together again on such a special occasion.
"That's a blessing for me to have two sons in [the] NFL, one already in and one coming in," Daniels said. "That's a big blessing for me and I'm really proud. That's an open door for me and my children. [It will be] a happy, happy night because all me and my boys will be in one house again."
Where Riley will be headed remains an unknown for the moment, but no matter where he goes, he'll always have the support his big brother.
"Whenever he gets picked, we're just going to make the best of it," Calvin said. "When you get there, you have to make the best of it and make everybody say, 'Man, we should have taken him first.'"