FLOWERY BRANCH, Ga. -- The biggest Falcons news of the day came in the form of a release: Atlanta has officially parted ways with offensive lineman Jalen Mayfield. It was a decision that -- over the last couple weeks -- had begun to feel inevitable as Mayfield dropped down the depth chart. However, the reason for his release wasn't a decision that was made in a couple weeks' time. It's a decision that has been building.
So, what happened? And why didn't the Mayfield experiment work out in Atlanta? Let's revisit the history.
The Falcons drafted Mayfield with the 68th overall pick in the 2021 NFL Draft. At the time, he was a young draftee with a tall ceiling. As a consequence of the 2020 COVID-19 pandemic, Mayfield's college reps were limited. As a true freshman at Michigan, Mayfield made three starts at left tackle. The next year, he was a full-on starter at right tackle. He started all of Michigan's 13 games that year and was an honorable mention for the All-Big Ten Conference team. With the pandemic raging across the country in 2020, though, Mayfield made the decision to enter into the 2021 NFL Draft despite his rather small sample size of college experience.
Still, Mayfield was highly rated. In the lead up to the draft, The Athletic's Dane Brugler ranked Mayfield the class' fourth-best offensive guard. On his big board, Mayfield was ranked 53rd overall. Though he had essentially no real game day reps at guard in college, draft evaluators saw him slotting in at the position at the pro level. That thought process would align with the Falcons, who would eventually draft him in the third round to be a guard for them in 2021.
This was an important pick for the Falcons at the time seeing as they had just released James Carpenter to save money towards the salary cap. The only spot up for grabs on the Falcons offensive line was left guard, and Mayfield was going to have the chance to compete for the spot, and he did. But his development had to be sped up as other Falcons guards suffered injuries in the preseason that had Mayfield slotting into a starting role in his rookie season. At the time, head coach Arthur Smith called Mayfield's starting job one that he'd consider a "trial by fire," or a "baptism by fire." Looking back, did Mayfield get burned?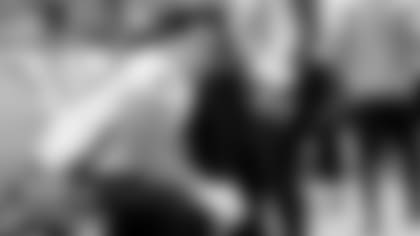 Named the starting left guard in Week 1 of the season, Mayfield would go on to make 16 starts. He would struggle in that year to find consistency at his new position, though.
According to Pro Football Focus, Mayfield had a 48.7 overall offensive grade, but a 27.6 pass protection grade. There were 11 sacks that year that were attributed to Mayfield, tied with the most a guard in the league allowed that season. He also had 21 quarterback hits to his name as well as 25 quarterback hurries allowed, all of which were reported by PFF. Towards the end of the season, Mayfield suffered a back injury that lingered into the 2022 season. He would spend the entirety of his second season in the league on injured reserve, never getting back out to the field for any game reps at left guard, though he did practice with the Falcons near season's end.
By 2023, the Falcons were left to decide what to do with Mayfield.
Atlanta already had a competition at left guard going before any players even hit the field in 2023. After drafting Matthew Bergeron in the second round of the 2023 NFL Draft, it would be Bergeron and Matt Hennessy working at left guard throughout OTAs and mandatory minicamp (a position Bergeron would take over fairly quickly with Hennessy going on IR with a knee injury). By training camp, the Falcons saw fit to move Mayfield back to his original position of tackle.
However, even going back to tackle was a transition for Mayfield, as he was was going back to a position he had not played in a game since 2020. It wasn't a recipe for success, and Mayfield began losing traction on the depth chart.
At first, it seemed Mayfield could act as the Falcons' swing tackle, working in depth rotation behind Kaleb McGary and Jake Matthews. But a lackluster performance in the Falcons' second preseason game against the Bengals had the Falcons slotting Mayfield in as a third-team tackle in the final week of the preseason. Meanwhile, Josh Miles and Tyler Vrabel took the second-team tackle reps. And so, when the news hit that the Falcons had released Mayfield on Saturday afternoon, it wasn't a surprise. It did feel like a footnote, though, and the end of an experiment.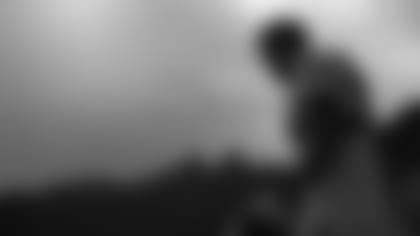 The vision the Falcons likely had for Mayfield when they drafted him in 2021 didn't come to pass, and, because of this, they had to go back to the drawing board this offseason to grab Bergeron. The Falcons have a second chance with Bergeron, a chance to not follow the path that was Mayfield's, a path that has now likely ended in Atlanta.
In situations like this -- when a Day 1 or Day 2 draft pick does not work out with the team that drafted them -- it's easy for fingers to be pointed. Who failed who here? Would things have been different if Mayfield wasn't forced into a role he wasn't ready for in 2021? Would he have made a major jump from Year 1 to Year 2 if an injury hadn't sidelined him for a full season? Does it go back farther? Would another year at the college level have helped Mayfield long-term?
We can list these questions all day long, but, at the end of the day, they don't matter. What matters is that the Falcons use the second chance they have before them with Bergeron to make right what went wrong with Mayfield.
One of Smith's favorite sayings is that individual circumstances for different players is not a one-size-fits-all experience, and he's right. It's not. That's not how the league -- or life -- works.
Bergeron is not Mayfield and Mayfield is not Bergeron. But their stories and their development (being college tackles turned professional guards) run parallel with one another. It may not be a one-size-fits-all narrative, but it is one with enough similarities for the Falcons to hope for a different outcome.
For the second time in three years, Atlanta will be starting a rookie at left guard, a rookie who took his first reps at the position in the preseason. Time will tell if this second chance has a different outcome.