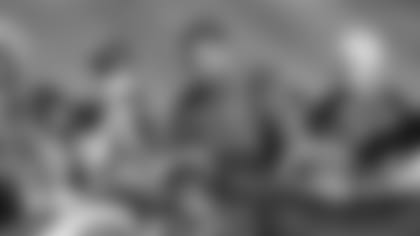 The fifth winner of the 2016 season is Damien Postell of Grovetown High School. Postell, in his first year with the Warriors, has led Grovetown to a respectable 2-3 start in Class AAAAAA action. Postell was one of 61 applicants for the head coaching position at Grovetown when it opened up following the resignation of Rodney Holder prior to the season. He was the Warriors'
defensive coordinator the previous two seasons before he was chosen as Grovetown's new head coach, just the second in program history.
"It means a lot to me," explained Postell on winning the award. "I'm blessed to be a part of the game itself, but to even be considered was one thing, but to actually win the award is something that is very special to me."
At just 36-years-old the transition from defensive coordinator to head coach has not been the easiest. "At first, it was very stressful," said Postell. "There are so many moving parts that as a coordinator, you weren't always involved with, so there was certainly an adjustment." Postell went on to say, "But I love having the opportunity to mold the entire team. "When I was a defensive coordinator I could see an impact on the defensive players I was coaching, but as a head coach I'm able to see that across the board which is what I love about being a head coach."
The foundation of the football program that Postell has implemented right away is the slogan, "Heart of a Warrior."
"It's something that the lord kind of shared with me and I wanted to pass it on to the team," explained Postell. "I think it stands for continuing to fight no matter what adversity comes your way, day in and day out."
Outside of football, Postell understands the importance of being a part of the community and presenting opportunities for his boys to be more than just football players. Grovetown athletes mentor elementary and middle school students as well as promote the Pop Warner football program in the area. This weekend the team will head to a local church to serve those in need on Saturday.