FLOWERY BRANCH, Ga. – Falcons rookie linebacker Foye Oluokun wasn't in attendance at the 2018 NFL Combine. He wasn't at any of the all-star games that take place leading up to the combine, either.
Even Oluokun himself said he was "unknown."
Until March when he attended Fordham University's pro day, two weeks before Yale's pro day – where he attended college.
Why would he attend a pro day for a school he didn't attend? He wanted to get himself in front of more scouts.
"I was being slept on," Oluokun said. "Once I did test, I got more attention."
Following the pro days, Oluokun said he was unsure if he would get drafted. He and his agent were looking at teams he could sign with as an undrafted free agent – one of them being the Falcons.
Fastforward to draft weekend, the Falcons selected Oluokun in the sixth round as the 200th-overall pick.
At 6-foot-2 and 229 pounds, the Falcons liked the physicality he played with. Oluokun primarily played safety during his career at Yale until his final year when he switched the role of the hybrid linebacker-safety position that's becoming more popular in today's game.
The Falcons didn't necessarily know exactly what position they would feature him at when they drafted him, but they knew they liked his skillset.
"We saw speed traits, we saw physicality, so those were the traits where we thought if we could put him at the spot at linebacker, we think we would know what we have because we considered him at strong safety as well," Falcons coach Dan Quinn said. "But it wasn't even looking that way we got through rookie mini-camp, then it just clearly felt like okay he has the size to play linebacker."
When the Falcons lost Keanu Neal to a season-ending knee injury after Week 1, Quinn said he did consider moving Oluokun back to strong safety.
But the growth and potential Quinn saw in Oluokun as a weakside linebacker in his defense made him want to keep the rookie right where he was. And the Falcons' linebacker group has certainly benefited from that decision.
The same week Keanu Neal was placed on the injured reserve list, the Falcons also found out that Pro Bowl linebacker Deion Jones would be placed on IR as well. Jones, however, was eligible to return later in the season and did on Dec. 2 against the Ravens.
In the meantime, the Falcons had to change some things up defensively. Oluokun started seeing more playing time and has certainly made the most of his opportunities.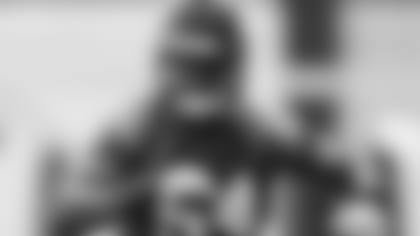 He's played in 13 games and has started four, recording 76 tackles, one tackle for loss and two quarterback hits.
When asked if Oluokun's development comes as a surprise considering how quickly he's been able to adjust to the level of competition, defensive coordinator Marquand Manuel was quick to say, "I wouldn't say surprised. He's progressed as a rookie. He came in and he dominated his role."
So, what exactly is Oluokun's role in Atlanta's defense and why is he a fit? As a weakside linebacker in the Falcons' scheme, the player must have the following:
"Length to get on and off blocks because that's going to happen," Manuel said. "[And] the ability to run and hit, tackle in the open field and actually cover man-to-man."
Oluokun checks the boxes on all of the above.
The Falcons like players with versatility and Oluokun has that – a trait he believes is one of his best assets.
"I think I'm just real athletic," Oluokun said. "I can do many things on the field. I'm not like a typical fill the box linebacker. I can move out in space, I think I can move out in space. I think in Atlanta's defense, linebackers have to be able to play in space."
Oluokun's snaps have increased each week and with three games left to play and a healthy Jones back in the lineup, the Falcons' linebacker group looks like it could be one taking shape for years to come.
Take a look at some of the best images of rookie linebacker Foye Oluokun, the Falcons' sixth round pick of the 2018 NFL draft. Oluokun has played in 13 games and has started four, recording 76 tackles, one tackle for loss and two quarterback hits.