Dylan Thomas began the 2018 season as a starting linebacker for Pike County, but while he was not with his teammates as they ended their season on Friday night, his presence was inescapable.
During a game against Peach County on Sept. 28, Thomas collapsed on the field and was rushed to Grady Memorial Hospital, where surgeons attempted to reduce swelling in his brain. Thomas passed away two days later on Sunday night. He was 16 years old.
In the aftermath of Thomas' passing, the community had to process losing a teammate, a friend, a classmate and, in the case of his parents, Darren and Shannon, and his sister, Ashley, a son and brother.
"Sunday, we had a prayer vigil, here, as communities do," said Pike County principle Kevin Huffstetler. "The whole community pours out, there's a thousand people there. And it was shortly thereafter that I got the phone call that he had passed.
"[The next day] it was so eerily quiet. High school is not supposed to be quiet. It's supposed to be noisy, it's supposed to be laughter in the hallway and kids goofing off and me yelling at them. A pin drop, all day."
A report by Pike County coroner Terrell Moody ruled that Thomas suffered cardiac arrest as a result of the head injury, and he called the occurrence, "an anomaly, requiring the perfect amount of pressure on the perfect spot at the perfect angle."
The Atlanta Falcons heard of what happened to Thomas and immediately took steps to help support those in Pike County during their time of sorrow.
The Pike County football team was invited up to attend a team walkthrough on the Saturday before the Falcons played the Tampa Bay Buccaneers in Week 6.
"The goal for today was to let you be around some of the guys here and let you know, one, how important you are to us and, two, that we stand next to one another in tough times," Falcons coach Dan Quinn told the Pirates after the walkthrough. "They do that, you do that, and that's brotherhood. So, you're in for life, now. Wherever you go, wherever walk of life you are, you're a Falcon forever."
Pike County was also invited to attend the game, and Arthur Blank presented Dylan Thomas' family with a No. 32 Falcons jersey, which was Thomas' number, that had been signed by the entire Falcons team.
But the Falcons weren't yet finished.
As the Pike County Pirates left the field following their pre-game warmup for their regular-season finale and headed back to the field house they were greeted with perhaps the biggest surprise yet.
The door to the field house opened, revealing custom jerseys bearing the words "Dylan Strong" on the back hanging on each player's locker. A final gift from the Falcons, allowing each Pirates player to carry Thomas with him into the game.
"I'm going to be honest with you, I started crying a little bit," said junior Mason Gilham. "It was tears of joy. Dylan was loved by all, he was an amazing football player and never gave up. Just seeing the Dylan Strong on the back of the jerseys it just made me tear up, because I miss him so much. We all miss him so much and it just made me so happy."
After donning their new jerseys, the Pirates gathered in the middle of the field house to listen to a guest speaker: Falcons legend Jessie Tuggle.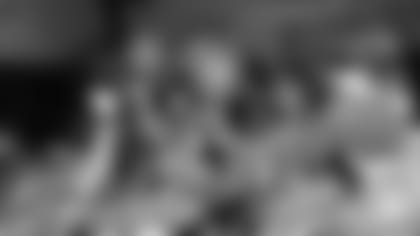 Tuggle began to talk about loss and how it impacts a community. He told them that he lost a brother in Thomas as well and that his mother lives 15 minutes away from the field they were about to play on.
But although they had lost a brother, the Pirates had forged a stronger bond with each other and with the community. They had discovered the ties of brotherhood.
"Brotherhood runs deep. Real deep," Tuggle told them.
That connection stretches far beyond the borders of Pike County. Tuggle explained that every high school across the country, every college team and professional team can feel the loss of Dylan Thomas, who died playing the game that each and every football player loves.
The game of football provides a community of its own. One that connects people from different backgrounds and unites them in a common goal. It teaches perseverance, teamwork and composure in the presence of adversity.
Each of those lessons was on display Friday night as the brothers of Pike County took the field on an emotional night. The jerseys they wore another testament of the bond and brotherhood that football creates.
"It's just overwhelming, the support," Pike County coach Brad Webber said. "It's really been tremendous, the outreach from our community. I'm happy for the Thomas family, I'm happy for our boys. Just the see the happiness and the joy that the Falcons brought to them here in the home stretch, that's what it's all about. You're in it for the relationships and see these kids happy."
The Pirates proved to be Dylan Strong in their final game of the regular season, beating Kendrick High School 38-0 and earning their third-straight trip to the playoffs, a first in the history of Pike County.
Pike County wasn't content to just reach the postseason, however. The Pirates wanted to keep going, keep their brotherhood alive as long as possible. They did just that by knocking off Crisp County in a 9-3 overtime victory despite entering the game as the underdogs. Pike County carried Dylan's strength into the playoffs.
Thomas has never strayed from the Pirates' mind. They began their playoff-clinching evening by talking about and remembering their former teammate, and he was the last thing they discussed before exiting the field, victoriously.
"Lord, I thank you for Dylan," Gilham said as he ended the Pirates' post-game prayer. "He was such an amazing guy, such an amazing football player. We all love him and we all miss him. We know you have a reason for this; we all know that you have a purpose for all of us, and we know that you had a purpose for Dylan. We know that you told Dylan he fulfilled that purpose. He made us all happy, and he has brought Pike County and this community closer together than ever."