The sun starts to set on a March evening earlier this year. Devonta Freeman sits on the ledge of an SUV trunk, surrounded by memories of struggle and survival.
He's in Miami's Liberty City, known to those who live there as the Pork 'n' Beans projects, where crime rates and poverty soar like the summer heat to come in Florida. It's where Freeman grew up, where drawing attention to yourself is more likely to end with gunshots than smiling faces.
Yet, the Pork 'n' Beans' most recent source of pride shows no fear as he watches the inhabitants of his old neighborhood, some of whom have been there since he was a kid, come out of their ramshackle houses and crowd around him.
He's one year into his NFL career, a living, breathing, tangible source of proof that growing up in the Pork 'n' Beans doesn't have to mean becoming a statistic. Freeman has loaded up the back of the SUV with footballs he picked up that morning from a nearby store before posting a photo on his Instagram account, letting everyone in the neighborhood know that he's on his way for a visit.
As he's approached by the denizens of the 13-block area that has a crime rate of 63 per every 1,000, he flashes that big, bright smile that hides a previous life of struggle many of those he speaks to are in the midst of. Freeman laughs with the Pork 'n' Beans residents and hands autographed footballs to the kids, a message from him that they don't have to be destined for the street life.
"Football is big in Miami, especially in the inner city," Freeman said. "This football, this could help determine your life, as long as you do right in school. There's so many ways you look at a football, you could just say, 'OK, this one thing right here could determine a lifestyle that I'd love to live forever.' "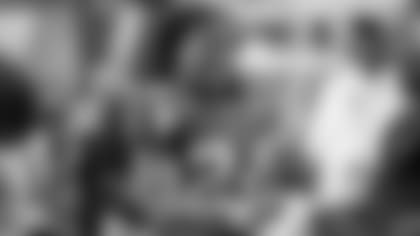 When he was in their shoes, Freeman didn't have NFL players dropping by the community to deliver hope. They were scared to come back, scared of the lifestyle they escaped, the one that's practiced every day by many of those in the community that flourish on fear.
It's hard to shake Freeman, though. At 13 years old, he was embalming and preparing bodies for their final destination at a local funeral home. He saw things no 13-year-old should have to see, but he had to help support his family. He had to do his part to keep his brothers and sisters fed, to ensure that around this time of year, there would be a Christmas morning worth waking up to, even if there were only a handful of things under the tree.
That part of his past has helped instill a sense of giving back to a community that he'll never give up on.
Falcons rookie safety Robenson Therezie knows what it's like. He grew up in Miami's Little Haiti, a section of town near Liberty City where hopes and dreams of escaping were usually met with laughs. He remembers the sources of inspiration most available to him in the neighborhood. They were the gang members, fighting over turf, usually with rivals from Freeman's part of town.
What Freeman has started to do through actions as simple as stopping by for a visit with a few footballs and plenty of smiles, Therezie said, can be a new source of inspiration for kids who have had no one but gang members to look up to.
"Just to give kids hope, a hope they can hold in their hand and sleep with — a football, a basketball, a soccer ball; it don't matter — just to give them that equipment helps them understand that you can hold on to your dreams just as much as you can hold onto a football or a basketball," Therezie said. "All you have to do is believe because you have examples like Freeman and I coming out from these areas."
Calling Atlanta home for more than a year now, Freeman has turned his attention to those he can help in his new city. His success in 2015 has given him an even bigger platform to be able to inspire hope in those living in the same conditions he grew up in.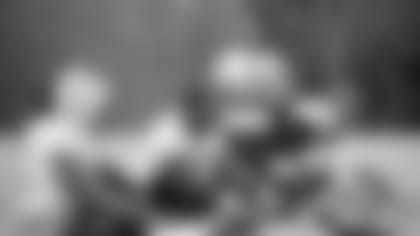 But even before anyone in Atlanta really knew him as anything other than a mid-round draft pick by the Falcons who was backing up Steven Jackson, Freeman connected with the city's underprivileged areas. One night, he ventured into Atlanta's west side and went door-to-door, introducing himself to residents living in the shadow of the Georgia Dome.
"I'm comfortable in the hood. I'm not scared of nothing," Freeman said. "I like to remind myself of where I come from. The struggle is the struggle, whether it's in California, New York — it all looks the same. It's all rough. I just was over there letting them know I'm just a regular person. I don't think I'm better than anybody."
To those who see Freeman's journey as an inspirational one, one they could aspire to imitate, he's hardly a regular person. Freeman, now at 23 years old, is no stranger to the responsibility that has been bestowed upon him. He's focused on setting the example for those back in Miami's neighborhoods and here in Atlanta's, but he's got two younger brothers caught up in a lifestyle that he's trying to teach them out of.
He'll continue to do whatever he can with the platform he has to keep those from a similar background from the pitfalls of the streets. The offseason is still a bit away, but Freeman's already looking forward to the impact he can have in Miami in football's down months.
"I've made more money, I've saved more money, so I'll be able to do more things. God has blessed me to perform at a high level and a lot of people want to sponsor me now and they like the things I'm doing in the neighborhoods," Freeman said. "It's just one of those things where everything's falling into place at the right time."