FLOWERY BRANCH, Ga. – After 10 seasons, Andy Levitre called it a career.
Levitre, 32, announced his retirement from the National Football League in an Instagram post Tuesday.
Levitre, who played guard with the Atlanta Falcons from 2015-2018, was acquired from the Tennessee Titans for a 2016 sixth-round pick. Pro Football Focus ranked Levitre the Falcons' the top pass blocker as they finished with an 11-5 mark and reached Super Bowl LI in 2016.
During that season, the Falcons had the same starting offensive line for every game. The continuity on the offensive line was key as their blocking helped Matt Ryan earn the league's MVP honor and led the Falcons to the No. 5 rushing offense in the league.
One of the most notable moments of Levitre's tenure in Atlanta came when his wife, Katie Levitre, went into labor with their daughter, Lily, during the Falcons' Divisional divisional-Round round win over the Seattle Seahawks. Falcons head coach Dan Quinn gave Katie Levitre the game ball for her "ultimate toughness" in that moment.
Levitre started all 16 games for the Falcons in his first two seasons before going down with an injury in Week 13 of the 2017 season and subsequently being placed in the injured reserve list. In 2018, Levitre played in two games before tearing his triceps and missing the rest of the year.
Levitre, who entered the offseason as unrestricted free agent, said goodbye to the Falcons – also in an Instragram post – and was, at the time, keeping the door open to possibly playing again.
A second-round pick in the 2009 NFL Draft, Levitre was selected 51st overall by the Buffalo Bills and he started all 64 games in the four seasons he played in Orchard Park, N.Y. In 2012, Levitre signed with the Titans where he played just two seasons before being traded to the Falcons.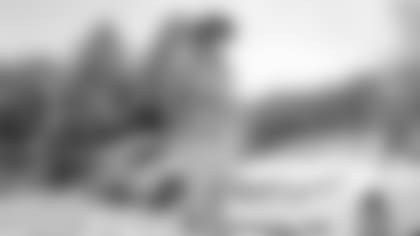 In four seasons un Atlanta, Levitre certainly made an impression. Whether it be his outfit choices or use of props, Levitre's bright personality in Atlanta's locker room was present on a number of occasions.
Following a training camp practice last August, the Levitre family had their baby gender reveal take place on the practice fields where Levitre's teammates gave him a blue Gatorade shower (pictured below) to show the couple was having a boy.