Following the departure of Tevin Coleman in free agency, the running back position was one the Falcons were expected to address this offseason. In addition to bringing in Kenjon Barner as a free agent, Atlanta used its first fifth-round pick to select former Pittsburgh running back Qadree Ollison.
During his redshirt season in 2014, Ollison watched as former Pittsburgh running back James Conner enjoyed a breakout year, rushing for 1,765 yards and scoring 26 touchdowns. One year later as a redshirt freshman, Ollison took over for Conner, who was diagnosed with cancer, and ran for 1,121 yards and 11 touchdowns.
There are plenty of similarities between Ollison and Conner, who was named to the Pro Bowl in just his second NFL season. Not only are the two players a similar size – Ollison is 6-foot-1 and 228 pounds while Conner is 6-foot-1 and 233 pounds – but they have comparable running styles.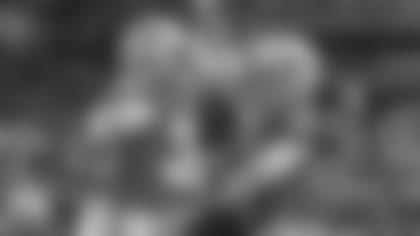 Ollison's power will be a needed complementary skill in the Falcons' backfield to pair alongside the quick-cut abilities of Devonta Freeman and Ito Smith. Boasting a career average of 5.4 yards per carry at Pittsburgh and an average of 6.3 yards per carry as a senior, Ollison's power and vision helped him gain extra yards after contact.
That power was used best in the open field once Ollison had a head full of steam. In short-yardage areas, it was Ollison's vision that was his greatest tool.
Ollison's vision is one of the skills that is most reminiscent of Conner's game, and it's one that will translate to the next level. He was able to quickly diagnose holes and burst through them for big plays while at Pittsburgh.
Another element of Ollison's game that will be welcome in Atlanta is his skills as a pass protector. Ollison served as the personal protector on Pittsburgh's punt team, an indicator of how advanced his blocking is. In an interview with CBS Sports' Ryan Wilson prior to the NFL Combine, Ollison showed plenty of confidence in his blocking skills.
"I think blocking is one of my strongest suits," Ollison told Wilson. "I think I'm the best pass protector out there, out of any of the running backs. I take price [sic] in protecting the quarterback. I take pride in recognizes defenses and knowing blitzes, having that IQ and being able to understand where the blitz is coming from."
Ollison has a lot of great qualities for a running back taken in the fifth round. His football IQ has been consistently praised throughout the draft process, he's got the size to withstand life in the NFL, and he offers plenty of versatility at the position.
Of course, what fans ultimately care about is whether or not Ollison can take it to the house. And, yes, he most certainly can.
In Ollison, the Falcons have a player who can fill the role Coleman had. But Ollison isn't necessarily the same type of player as Coleman. He's a step slower, but he runs behind his pads really well, is a very strong pass protector and has well-rounded football knowledge. Similar to the way linebacker Foye Oluokun's role increased as the year progressed last season, it wouldn't be surprising if Ollison is another late-round pick who makes an impact as a rookie.