FLOWERY BRANCH, Ga. -- When Kyle Shanahan thought back to the 49ers loss to the Falcons last Sunday, he felt as though there was one particular theme that changed the game. That theme? What Marcus Mariota could do when extending a play.
"I thought the biggest play of that game was in the second quarter, that 3rd-and-13," Shanahan said. "We had finally gotten them in a third down and long. I don't know what happened, but we got free in the middle and Mariota was allowed to scramble for the first down and ended up getting a seven-point lead to go in at halftime."
As the two teams came out of halftime, San Francisco got the ball first. They punted, and then Mariota and the Falcons returned to the field. Five plays later, Shanahan recalled that he thought the 49ers defense "had a big chance" to get the ball back after a long second down, and yet?
"The same thing happened," he said.
This time, though, Mariota picked up 20 yards.
On Wednesday, quarterbacks coach Charles London spoke at length about Mariota's scrambling ability. He said it impacts the game in more ways than just the obvious, like the plays described above.
"He's always extending a play," London said. "He's getting us in third-and-two, third-and-three, puts us in a manageable situation. We always talk about don't make a bad play worse. If you can get us to third-and-two instead of being in third-and-12. Those are huge, hidden yards in there. I think his mobility is part of the reason we've been able to do that." 
So, yes, Mariota's athleticism and quickness is something the Falcons value, but Mariota would be the first to say those "hidden" yards are not on him and him alone. There's something special about the way this offensive line is working not just in front of him, but in step with him.
Cordarrelle Patterson said after his 140-plus rushing yard day in Seattle that no one on the team works as hard as the offensive line do day in and day out. After the Falcons ran the ball 40 times against San Francisco this past Sunday, Caleb Huntley said the exact same thing.
London - when asked about this offensive line's overall performance in front of Mariota - said that, of course, what they're doing in the run game is great and notable on top of just protecting Mariota well. However, an undervalued part of what this line has been doing recently is creating more scrambling opportunities for Mariota. Sure, the defense dictates this, too, as Mariota himself said the way the 49ers played the Falcons allowed him more opportunities to scramble for big chunks of yardage on Sunday. But the role the offensive line plays in this shouldn't be overlooked either.
"I think they are understanding his style of play, and he understands how they are blocking things," London said of the offensive line's connection with Mariota. "I think as we continue to play games, we'll obviously continue to get comfortable with each other, but I think the line is doing an outstanding job."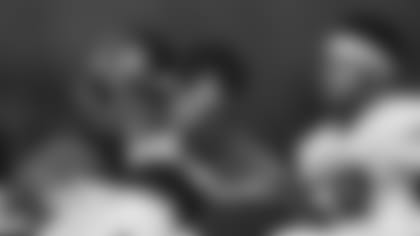 This "understanding" of which London is referring to isn't something that came about overnight. No, it is something that has evolved.
But what exactly does he mean by this? Mariota explains.
"It is tough, especially for a guy that runs around a little bit in the back, to sustain their blocks sometimes longer, or they sometimes don't really understand where you're at," Mariota said. "I think these guys have done a great job of playing with high effort, and understanding that I might be somewhere where they're not expecting me to be."
Six games in, there really is an understanding that has flourished between this offensive line and Mariota.
We all took middle school biology, right? Think of this relationship and understanding like that of a symbiotic relationship.
And like any relationship, it takes work (and time) to figure out that mutual understanding.
For a player like left guard Elijah Wilkinson, who has never played with a mobile quarterback quite like Mariota in his career, he said it is an evolution of understanding his own give and take as a blocker within certain plays, particularly when a play goes off script.
"It is kind of different when things collapse back there and he's like, 'OK, I'm taking off,'" Wilkinson said. "You have to know that when your guy starts pulling away from you, you gotta shove him and start running with the play wherever the quarterback is going."
Wilkinson said there has to be a trust there between both Mariota and the guys at the line of scrimmage in these moments. There comes a point when extending the play has to stop, Wilkinson said, and a decision has to be made. He added that because of Mariota's understanding of the offense as a whole, they trust him to make that decision.
"Whatever the assignment is that you're running on that play, (Mariota) is going to make it right," Wilkinson said. "Stay on your guy and block him as long as you can. If it's not there down the field, he's going to try to make something happen with his legs... You gotta trust him and what he thinks is best."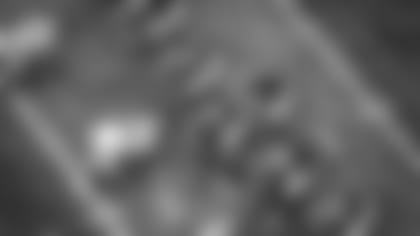 From Arthur Smith's perspective, that trust really came through in the tough moments late in games that the Falcons have already experienced so much of, even through the early days of this season.
Outside of the most recent win against San Francisco, every Falcons game in 2022 has been a nail-biter, one that's come down to the final plays of the fourth quarter.
Thinking about it, it's in those moments that Smith felt that relationship, connection and understanding be solidified with Mariota and this Falcons offensive line.
"All of that little stuff, the more comfortable they get with him, how he calls it, how he acts in tight situations," Smith said. "I think that's why guys like playing with him, because when the game gets tight, Marcus is pretty damn cool."
It's nice to feel this way, but for Wilkinson and the rest of the offensive line, it's nice to back up this understanding with stats. Like the stats that helped Mariota to an NFC Offensive Player of the Week honor following the win at home against San Francisco.
"I think the proof is in the pudding, ya know?" Wilkinson said.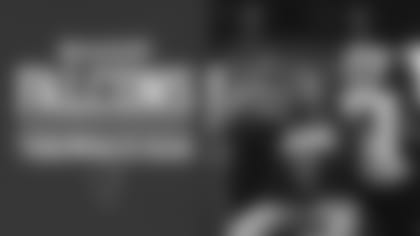 Swaggin' Since 1966
Takin' it back to 1966! Shop the Red Helmet Collection today online or in-store at Atlantic Station.