FLOWERY BRANCH, Ga. – Robert Alford doesn't need any reminders of who this weekend's opponent is.
A native of Hammond, La., Alford's hometown team growing up was the Saints and he attended Southeastern Louisiana University. His first career interception came against New Orleans in 2013. The list goes on.
Viewed as one of the Falcons' most competitive players, Alford treats every practice and game the same. He's going to go as hard as he can, and that also means he's going to trash talk and do everything in his power to help his team win.
But there's no doubt about it, Sunday's game against the Saints is personal for him.
In Alford's mind, the Saints "skipped out on him" and it's something that drives him every time he plays them. Now, two games into his sixth season with the Falcons, Alford might be playing the best football in his career.
Alford's always had the athleticism and the speed to be an elite corner in the league, but now he's become a true a student of the game, and his instincts are taking over. It's allowing him to make plays he couldn't in year's past.
"When I first came in, I didn't even know how to study film," Alford said. "I just used my athletic ability. As the years went on, I learned how to study film and it made the games go real slow for me. I think everyone can see now that I'm becoming that player they drafted in 2013. I'm progressing each and every week."
His head coach, Dan Quinn, has seen that growth take place as well.
"I think it's his speed and quickness that sets him apart," Quinn said. "To play at the line of scrimmage and to stay on top, obviously you have to have just speed so guys can't run past you. But his awareness and his football instincts within the system have grown tremendously throughout the last two years. You now hear him being the one to direct some of the communication, I heard that yesterday. I heard that in the game. Talking through those now, he's very outspoken based on the route so it's good to see him really take on that role as well."
Alford goes up against one of the best receivers in the game on a daily basis in Julio Jones and that's helped him immensely.
This week, Alford will be matched up with Saints wide receiver Michael Thomas, who resembles Jones in size and stature. So, of course, practicing against Jones gets him ready for this particular matchup. More than anything, it gives him the confidence that if he can compete against a player of Jones' caliber, no task will be too big for him.
"Going up against Julio, I feel like I can cover anybody if I can stay with him," Alford said.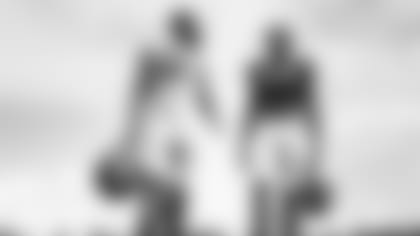 Atlanta's defense will need Alford to be at his best come Sunday at Mercedes-Benz Stadium. In two games for the Saints, Thomas has caught 28 passes – an NFL record. He is quarterback Drew Brees' No. 1 target and the two of them have shown in year's past they can take over a game if they get going.
"He has good hands," Alford said of Thomas. "You can see on film the reason he has all of those targets. He and Drew Brees are on the same page at all times, I feel like that's why Drew trusts him more than anything."
Thomas had 14 catches for 183 yards and one touchdown in two games against the Falcons in 2017. Slowing him and the Saints' passing attack will certainly be something the Falcons will have to do in order to come out of victorious on Sunday.