The Falcons rookie class have played a vital role in Atlanta's overall success this season. Offensively, Drake London and Tyler Allgeier both statistically lead in their respective position groups. Defensively, Arnold Ebiketie, Troy Andersen and DeAngelo Malone have all fared well and held their own this season. Each of those players continues to trend upward as the season progresses. Desmond Ridder, Justin Shaffer and John Fitzpatrick have not played a single NFL game this year, though, Ridder could potentially play Week 15 against the New Orleans Saints.
Let's take a closer look at how the 2022 Falcons NFL Draft class have played through 13 weeks of the season: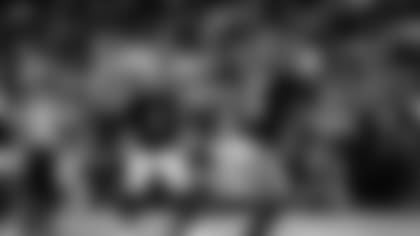 Drake London
London has lived up to expectation about how he would be performing, at an high level in his rookie campaign. That's why the Falcons bet on him in the first round. The rookie wideout continues to show and prove himself each game. In Week 13 against the Steelers, London had a career-high 95 receiving yards on 12 receptions, averaging 15.8 yards a catch. The USC product currently leads the Falcons receiving corps with 47 receptions for 533 yards and four touchdowns and he's playing up to the expectations that were set for him this season.
Compared to other rookie wide receivers across the league, London has the third most receiving yards behind New Orleans Saints receiver Chris Olave and New York Jets receiver Garrett Wilson through Week 13.
"What we ask guys to do, they're a part of not just the pass game at wideout but they're a part of the run game and you can see Drake taking that professionalism in the meeting rooms," offensive coordinator Dave Ragone said on Nov. 17. "[He's] trying to bring it to the practice [field] and then carrying it forward to the games, just like all of the young guys that we have."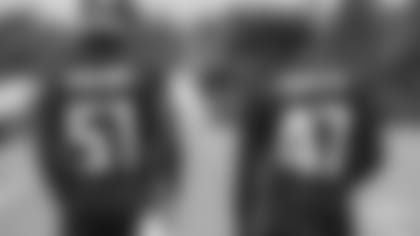 Arnold Ebiketie and DeAngelo Malone
Ebiketie has been performing at a high level this season, providing the Falcons defensive front much needed depth. The Cameroon native sits in the top-10 for rookie sack leaders, according to StatMuse. Ebiketie also has the third most sacks for the Falcons with 2.5 behind Grady Jarrett (5.5) and Lorenzo Carter (3.5). Malone has been a solid addition to the outside linebackers group, faring well so far in his role this season. He currently has 10 solo tackles and one sack. Falcons defensive coordinator Dean Pees continues to see the growth in both Ebiketie and Malone this season.
"They're getting better each week. They started out slow – a lot of new stuff to learn," Pees said on Dec. 1. "I think they've progressed in the fact that they're playing faster because they're understanding more. The longer you're around, the more you understand, the faster you're going to play. When you're sitting there thinking all of the time because you're not really sure, you usually don't play too fast. I think they're progressing very well for rookies."
Troy Andersen
Andersen continues to show consistency and promise at the inside linebacker position. After Mykal Walker suffered a groin injury in Week 5 that caused him to miss the Falcons Week 6 win against the San Francisco 49ers, Andersen led Atlanta's defense in tackles that game with 12. The Montana State product's speed, athleticism and physicality have shown well throughout the course of the season with him having the fifth most tackles (48) for the Falcons. Even with Walker and Rashaan Evans as the starting inside linebackers, Andersen continues to see significant snaps each game. His potential to be a dominant inside linebacker in the future has been evident this year.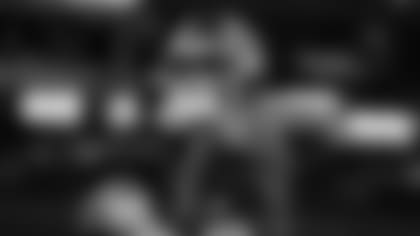 Desmond Ridder
Despite Ridder not taking a single NFL snap this season, there's a possibility the Falcons could start him in Week 15 against the New Orleans Saints. During the bye week, head coach Arthur Smith said that he and his staff will have "intense meetings in the next couple of days" and noted that "there will be changes made. Everything that we decide to do I will be as transparent as possible." His comment wasn't for the quarterback position specifically but for the team as a whole. But again, there is a real chance Ridder could play this season.
Here is Smith's response regarding the decision-making process of changing quarterbacks:
"The game, obviously, have some private thoughts, but we need to decompress," Smith said after the 19-16 loss against the Steelers. "We need to meet as a staff. There's a lot of things. Sure, we've been close, but we got to evaluate everything. We got to get back over the hump, get back in the winning category. There's a lot that needs to be evaluated, talked about and discussed."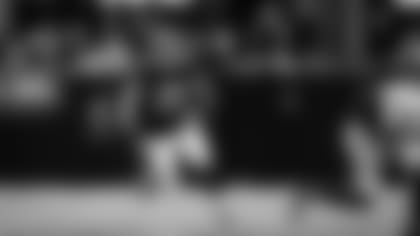 Tyler Allgeier
If there's one player that has seen tremendous progression since the start of the season, it's Allgeier. The rookie running back currently leads that position group with 604 yards on 131 carries, one touchdown and averages 4.61 yards a carry. The Falcons have the No. 2 ranked rushing offense in the NFL, averaging 158.9 yards a game this season, and the BYU product has played a significant role in Atlanta's rushing attack. On Nov. 7, head coach Arthur Smith said of Allgeier that "he's ahead of where I thought he would be as a rookie running back, certainly in a protection aspect."
Smith also added that Allgeier's instinct in the passing game, his awareness, and understanding of where to settle down in zones, allows him to have good spatial awareness.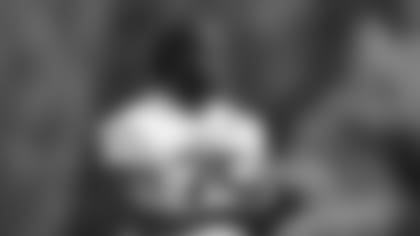 Justin Shaffer
The Falcons initially waived Shaffer in August before re-signing him to the practice squad. Shaffer was placed on practice squad injured reserve in late November.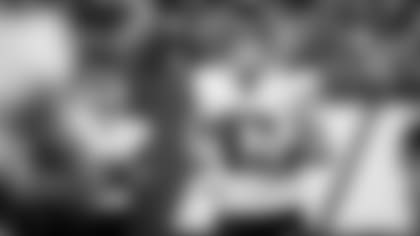 John Fitzpatrick
Fitzpatrick has been on season-ending injured reserve since the start of the season.
Send Our Squad To The Pro Bowl
Vote now to send your favorite Falcons' players to the 2023 Pro Bowl!