FLOWERY BRANCH, Ga. – Today's Early Bird Report includes Will Brinson's prediction that the Falcons will win the Super Bowl in 2018 as well as a little love for Atlanta's throwback uniforms.
While maybe not the consensus favorites to win the Super Bowl heading into the season, the Falcons are getting their fair share of love from some in the national media, including CBS Sports' Will Brinson.
In a recent piece, Brinson made the prediction that Atlanta would hoist the Lombardi Trophy in Mercedes-Benz Stadium at the end of the season. There are a number of reasons Brinson believes the Falcons can win the Super Bowl this year, including a young defense taking the next step, a resurgent offense as well as good continuity and chemistry.
"[Matt] Ryan has alternated going to the Pro Bowl every year for nearly a decade: he got the nod in 2010, 2012, 2014 and 2016," Brinson writes. "It's probably just a weird coincidence, but he has dealt with a lot of new schemes and systems. He had Mike Mularkey as his OC, then Dirk Koetter, then Shanahan and now Sarkisian. That's a lot of offensive coordinators for a guy with an MVP trophy on his shelf.
"People might not buy wholly into Sark and that's fine, but history tells us Ryan should get comfortable in 2018 with his new OC and the results should be a greater net positive for the offense in terms of putting up points near the goal line. At the very least, Sarkisian's already shown in the preseason an upgrade could be coming in his personnel packages and play-calling near the goal line."
To read the rest of Brinson's piece and his reasons why the Falcons can make a run at a title, click here.
Here are some other articles for Falcons fans to check out today:
CBS Sports: 10 NFL uniforms that need to make a permanent comeback
Throwback uniforms often hold a special place in fan's hearts, and they are a fun part of each NFL season. Not all throwback uniforms are created equal, however, and some are frequently mentioned as ones that should make a comeback on a regular basis. CBS Sports' Pete Blackburn wrote a piece naming 10 uniforms that could come back permanently, and the Falcons' black-jersey-red-helmet combo was first on his list.
"The Falcons uniforms aren't terrible right now, but I've always preferred the retro style look -- primarily because the red helmet is so great, especially when contrasted against the black jersey," Blackburn writes. "(It also looks good with red-on-red.) The jersey itself is really simple and could use a little bit of sleeve striping, but overall I think this classic ensemble would be an upgrade over the busier modern version."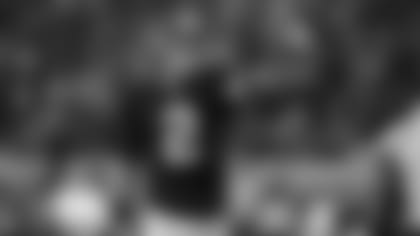 ESPN: Predicting the best 100 players of 2018
With the start of the regular season less than two weeks away, ESPN polled 50 experts on who would be the best 100 players of 2018. Six Falcons players made the list, led by Julio Jones at No. 8. Among the other Atlanta players included in ESPN's ranking are Matt Ryan, Alex Mack, Devonta Freeman, Vic Beasley and Deion Jones.
"Jones, a Pro Bowler last season, has established himself as one of the NFL's elite coverage linebackers," ESPN's Vaughn McClure writes. "He combines top-level speed with great awareness and sure tackling. Jones has 244 tackles, six interceptions and two defensive touchdowns in 31 career games."
MMQB: 10 thoughts on the 2018 Carolina Panthers
Monday Morning Quarterback's Andy Benoit is previewing every NFL team leading up to the start of the season, and he recently previewed the Carolina Panthers. Benoit shared 10 thoughts on the Falcons' division rival and what they can accomplish in 2018, and his first thought is how new Panthers offensive coordinator Norv Turner handles a player like Cam Newton and his mobility.
"Turner must live with the ups and downs of Newton's arm, making it all the more important to find stability through Newton's legs," Benoit writes. "Not only is Newton a tremendous runner, but many NFL defenses still are not schematically equipped to handle him. Such unique mobility skews a defense's box numbers and angles, and it compels opponents to read and react a beat slower."
To read the rest of Benoit's preview on the Carolina Panthers, click here.