ATHENS, Ga. – On a chilly Wednesday morning, NFL scouts and coaches from a large swatch of the league's teams gathered inside the William Porter Payne Indoor Athletic Facility at the University of Georgia for the school's pro day.
Several big-name Georgia prospects such as Riley Ridley and Deandre Baker were put through a variety of tests and drills run by NFL coaches. Georgia's pro day offered one of the few remaining chances for these prospects to make their case to teams, and some did more with that than others.
Here are the more notable observations from UGA Pro Day.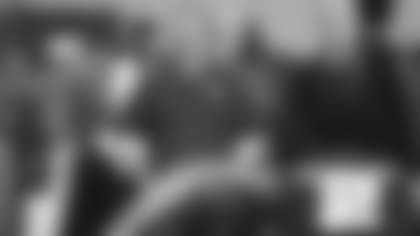 New England Patriots coach Bill Belichick was one of the notable attendants at Georgia's pro day in 2018, even leading one of the drills, and he was back again this time around. In last year's draft, the Patriots drafted former Bulldogs Isaiah Wynn and Sony Michel with each of their two first-round picks. Will another Georgia player land with the Patriots this year?
More than 20 NFL teams in attendance
Walking around the practice facility today, I noted at least 23 different NFL teams had a presence at the pro day. There are likely some teams that were there that weren't recognized in that count, but here are the teams I laid eyes on:
Bears
Bills
Buccaneers
Cardinals
Chargers
Colts
Cowboys
Dolphins
Eagles
Falcons
Jaguars
Lions
Packers
Panthers
Raiders
Rams
Ravens
Saints
Seahawks
Steelers
Texans
Titans
49ers
Falcons send large contingent
As could be expected, the Falcons looked to have the largest group of scouts and coaches at Georgia. The exact number was somewhere in the double digits, but there were some pretty notable names in the Falcons' party. Among them were general manager Thomas Dimitroff, assistant general manager Scott Pioli, offensive coordinator Dirk Koetter and new defensive line coach Jess Simpson. Not with the Falcons on Wednesday: Dan Quinn.
Kronenberg led offensive line drills
Falcons offensive line assistant Bob Kronenberg led the offensive line drills at Georgia's pro day. The only lineman actually at Georgia's pro day was center Lamont Gaillard, but the Falcons got a good look at him.
Joining Falcons a 'dream' scenario for Baker
Deandre Baker is viewed as one of the best cornerbacks in this year's draft class, and he has some pretty strong feelings about wanting to join the Falcons:
Throughout his final three seasons at Georgia, Baker recorded 115 tackles, 23 passes defensed and seven interceptions. Baker looked fairly fluid during his drills Wednesday and made a number of acrobatic catches. He seemed to test well in the 40-yard dash and 3-cone drill, but the official results have not yet been released.
"Deandre had a really good day today," Dimitroff said. "He's quick, fast and explosive. He can run, cover the field. Very good range that way. He's being (mentioned) as one of the best in the country in the draft. It will be interesting to see how that plays out."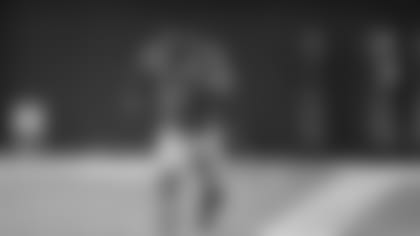 After clocking in around 4.8 seconds in both of his 40-yard dash attempts at the NFL Combine, former Georgia running back Elijah Holyfield became a major subject of conversation, and not in the way anyone would want. That put increased importance on his 40-yard dash at his pro day, which once again turned out lackluster.
Holyfield was not much of a homerun threat during his time at Georgia, but he does have a natural feel at the position and a rare combination of lateral quickness and power. Evaluators will have to determine which is more important with Holyfield: The tape or the test.
"Of course it's a concern," Dimitroff said of Holyfield's 40 time. "I think it depends on an organization and how high you determine that to be (on priority list). Obviously, he's a good football player. So, we have to keep an eye on that. He's a good football player."
There were some drills and tests that took place across the field from the media, but a few that we did get a good look at. Here are the two players who stood out to me in the 40-yard dash, 3-cone drill, short shuttle and bench press (official times and results were unavailable).
Best: Jayson Stanley
Runner up: Jarvis Wilson
Best: Mecole Hardman
Runner up: Deandre Baker
Best: Jarvis Wilson
Runner up: Ahkil Crumpton
Best: Jarvis Wilson
Runner up: Jonathan Ledbetter