Like many people around the world, Atlanta Falcons head coach Dan Quinn has realized saying the words "I support you" is no longer enough.
Quinn has often stated he that wishes the world could be more like the Falcons' locker room in terms of the diversity, inclusion and respect that the players and coaches have for one another.
Following the tragic deaths of George Floyd, Breonna Taylor and Ahmad Arbery, conversations regarding police brutality and racism have awaken the nation and sparked protests throughout the entire country.
While these conversations have occurred before, there's a noticeable difference in the reaction across the world right now.
For Quinn, it's pretty simple: Enough talk, it's time to act.
And while that might seem like a cliché to some, it's not to Quinn, Matt Ryan or the millions of people who have stepped up to help create positive change in the world.
"I think for all of us, we won't be able to solve everything but that's no excuse for doing nothing," Quinn said.
Falcons quarterback Matt Ryan created a GoFundMe campaign to help support the black community in Atlanta and donated $500,000 to kick it off. Ryan's goal is to raise $2 million.
"Last week I made a commitment to listening and learning, and one of the messages that hit home for me was the difference between reacting to a situation and responding to a situation," Ryan said. "For far too long I have reacted to social injustice with empathy and silent support but failed to follow through with active support. I feel the time has come to respond. For all of us to respond."
Quinn and his wife, Stacey, donated $25,000 to Ryan's fundraiser – as of Thursday, it was the third-highest donation – and participated in a march to the governor's mansion organized by Buckhead4BlackLives to help spotlight racism and prejudice in private schools.
"Leadership is about other people; we have to hold ourselves accountable to those around us," Quinn said. "That's why I wanted to help Matt or go on the walk. I want to say more than, 'I just support you.'"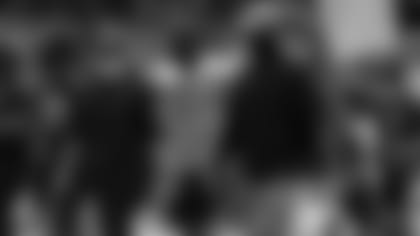 As for a specific event or something he saw on social media that really impacted him, Quinn cited two moments that made him want to use his platform to influence change.
When the protests became violent in Atlanta on May 29, Mayor Keisha Lance Bottoms delivered a passionate speech during a late-night press conference urging those participating in the protest to "go home" if they care about their city.
"You are disgracing our city, you are disgracing the life of George Floyd and every other person who has been killed in this country," Bottoms said. "We are better than this. We are better than this as a city, we are better than this as a country. Go home. Go home."
Quinn was watching Bottoms' press conference from his house and said he was so moved by her speech that he actually got out of his bed.
"I remember standing up because I was so inspired by her … listening to her I felt toughness, resilience and motivation," Quinn said.
Following the speech, Quinn invited Bottoms – a season-ticket holder and lifelong Falcons fan – to join his team meeting and address the team.
And then there was another conversation that occurred recently that has left a lasting impact on Quinn.
Quinn listened to a black woman talk about a time when after driving to visit her mother, she was reminded to put her driver's license in her front seat.
If she were to be pulled over no one would think she was reaching for something.
While listening to the story, Quinn took a minute to reflect.
"You know who never has to do that? My mom never had to [tell me] that," he said. "It bothered me so much."
But, he also realizes that as much as he wishes that the world could be more inclusive like a football team, it's not.
"What I've also thought is that when we leave the locker room, not everyone has the same experience and I really hate that," Quinn said. "I don't want to say I wish they could see it, I want to take some action."
Quinn realizes the power he and his team have in helping create change and set an example. He plans on making sure he and his players take full advantage of the platform they have been given through the game of football.
"Making change is going to require action," Quinn said. "Being a part of sport is good because we do have a bigger voice. I think it's an incredibly huge opportunity."
Members of the Atlanta Falcons organization including Dan Quinn and Ricardo Allen took to the streets of Buckhead Sunday for the Buckhead4BlackLives march to raise awareness for social justice across Atlanta and beyond.