Ready to talk some 2019 NFL Draft?
And for the Atlanta Falcons, Trapasso zeroed in on the defensive line. The question he thinks the Falcons must answer: "Will the defensive tackles not named Grady Jarrett be impactful rotational players?"
It's a fair question, especially considering the Falcons saw defensive tackle Dontari Poe and defensive end Adrian Clayborn – two key cogs in what turned into a top-10 unit in 2017 – leave via free agency.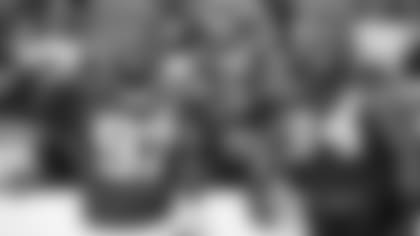 In his assessment of the Falcons' defensive front, Trapasso notes that the Falcons have put together a unique, speed-predicated defense under coach Dan Quinn and defensive coordinator Marquand Manuel but "their interior up front is lacking depth behind Jarrett."
Trapasso writes that Falcons fans should expect to see defensive tackle Deadrin Senat, a third-round pick in this year's draft, on the field often this season.
"Along with Senat there's Jack Crawford, Garrison Smith and Justin Zimmer at defensive tackle," Trapasso writes. "Though loaded on the edge with Vic Beasley, Tak McKinley, Derrick Shelby, and Brooks Reed, Dan Quinn should be slightly concerned with his club's ability to get after quarterbacks up the middle."
One name Trapasso leaves out is defensive tackle Terrell McClain, an important acquisition signed later in free agency. McClain, however, did sign a one-year deal and even if he ends up having a big year in Atlanta in 2018, it wouldn't be surprising to see him take a path similar to Poe's and hit the free agent market.
Regardless, Senat will have an opportunity to make an impact this season – and how he plays could affect the Falcons' 2019 draft plans, as Trapasso concludes.
"If Senat proves to be a productive complement to Jarrett on the inside and the Falcons get decently consistent contributions from the remaining players on their defensive tackle depth chart, they could stay away from that position early in the 2019 draft. If not, that will likely be priority No. 1 next offseason for Atlanta."