Calvin Ridley was on his way to the hospital last year about to undergo a procedure on a torn abdomen when he had moment of realization that changed his perspective on life.
Ridley, 25, was on pace to reach a personal goal he set for himself in his second year – to get 1,000 receiving yards. He was only 134 yards away from achieving this feat before he was told his season would be cut short. It's nearly a guarantee that the former Alabama standout would have eclipsed his goal with three games to go in the 2019 season.
But as his Ridley has learned throughout his career, nothing in football or life for that matter is promised and that's why he attacks each day with a relentless mindset to be great.
"I just realized when I was going to the hospital, I was going to feel good [about my play] until the end of the season and I was going to get what I wanted and what I was playing for," Ridley said. "That put me somewhere that I had what I was going to do but I couldn't do it because of the injury."
If you ask any Falcons coach or player about Ridley, one of the first things they'll mention is his work ethic. Ridley is so committed to his craft he goes out to practice early to hit the jugs machine to get extra catches before every practice. He even bought one for his house this offseason given the COVID-19 limitations that exist.
Nothing will get in the way of Ridley's quest for greatness.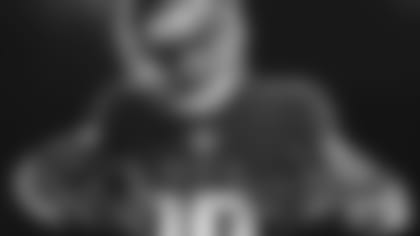 The Falcons never thought Ridley would fall to them ahead of the 2018 NFL Draft. With All-Pro Julio Jones and Mohamed Sanu on the roster, wide receiver wasn't necessarily a need for the Falcons. But when a talent like Ridley is still on the board, it's an easy decision. Atlanta took Ridley with the No. 26 overall pick that year and it ended up being a move that made an already talented offense that much more elite.
After catching 224 passes for 2,781 yards and 19 touchdowns in three seasons with the Crimson Tide, Ridley was widely viewed as one of the top prospects at his position. A wide receiver wasn't selected in the 2018 draft until the No. 24 overall pick when the Carolina Panthers selected D.J. Moore. Ridley was selected two picks later.
The expectations were high for Ridley in his first season and he didn't shy away from attacking them head on. Ridley is wise for his age and his approach to the game and his daily practice habits gave his teammates and coaches confidence he could be an impact player right away.
Falcons interim head coach, Raheem Morris, was Ridley's position coach for 24 games. If there's anyone who can speak on Ridley and the type of player he is, it's Morris who said the Falcons didn't think they would have a chance to draft the elite receiver.
"He fell to us so to speak and we were fortunate enough to draft a guy like Calvin Ridley that brings speed, juice, energy, practice habits, all of the stuff that he brings," Morris said. "Anytime he goes out there the work he put into it and everything he does to make is body right to keep him going, you really have to admire the work he puts in."
Ridley has been smashing franchise records since his first season in the NFL.
In 2018, Ridley caught 64 passes for 821 yards and a record setting 10 touchdowns. No rookie had ever scored 10 touchdowns in Falcons' history until Ridley arrived. He's become a touchdown machine for quarterback Matt Ryan. On Sunday against the Detroit Lions, Ridley set another franchise record for most receiving touchdowns through three seasons. Ridley now has 23 touchdowns in 36 games with only 22 starts.
When asked if there's one play made by Ridley over the last three seasons that stands out above all, Ryan gave two examples – both of which were touchdowns. Ryan said these two plays show just how talented Ridley really is.
Ridley's production hasn't come without a commitment to his craft. He puts in the work every day and it's one of the qualities his teammate Hayden Hurst picked up on immediately in just a short time of working with him.
"His competitiveness … he's an excellent athlete, he's fast and his route-running is elite," Hurst said. "He can go up and get the ball against anybody. Just his mindset is really cool. He and Julio have that same thing, I don't know if it's an Alabama thing, I'm assuming it is. It's just fun to be around guys like that who want to win at all costs. It's an everyday thing. You don't do just show up one day, one practice period. It's consistency."
The practice habits Ridley and his mentor, Julio Jones, stem from their time under coach Nick Saban at Alabama. In Ridley's first season, wherever Jones was, Ridley was right behind him. The two shared a connection right away and there was a mutual understanding between one another on the right way to approach things from their days in Tuscaloosa.
Ridley said from the day he got to Alabama from Coconut Creek, Fla., "it was like the NFL already" and it prepared him for where he is now in his life. Jones agrees with Ridley and Hurst, the Alabama way is just different.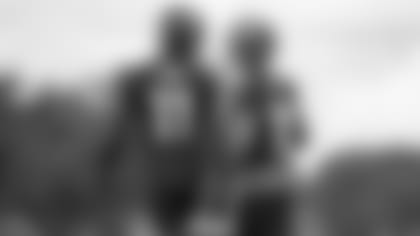 "There's no sore Me's, that's what Coach Saban would say," Jones said. "We come out and practice hard to get ready for the game. And to be conditioned, to be able to impose your will on somebody. You get that confidence from practicing and going hard."
Through seven games this season, Ridley has 40 catches for 615 yards and six touchdowns. He's on pace to have 91 catches for 1,406 yards and 14 touchdowns by the end of the season. If he keeps performing the way he has so far, he'll certainly accomplish one of his personal goals he's set out for himself in addition to doing whatever he can to help his team win.
The other goal Ridley's focused on at the moment?
Being the best father he can be to his daughter, Cree. He and his fiancée, Dominique, welcomed a baby girl into the world in June. Ridley says the arrival of his daughter has given him a "boost" in terms of continuing on his pursuit to accomplish all of his goals and he's well on his way to doing just that.
"I have to make it home every day," Ridley said. "I just want to be the best man I can be for my daughter, myself, my family and for my team."