---
---
Calais Campbell has gone on the record several times explaining why he chose to sign a one-year deal with the Falcons in 2023. That story has been told. What hasn't is Grady Jarrett's reaction to Campbell coming to Atlanta and why it matters to him.
---
---
FLOWERY BRANCH, Ga. – Why Atlanta? Why the Falcons?
These are the questions that have echoed since the news broke at the end of March that Calais Campbell – a 15-year NFL veteran, a six-time Pro Bowl selection, a Walter Payton NFL Man of the Year award winner, a defensive end who is one sack away from joining the 100-sacks club – signed a one-year deal with the Falcons.
These questions – despite their echo – have answers. Ask Campbell himself and he'll give you a monologue explaining the specifics of his decision. It's one that spans four minutes of time but is a decision with three key points:
The Falcons were not on Campbell's initial radar when he hit the open market this offseason. Only after he spoke to head coach Arthur Smith, defensive coordinator Ryan Nielsen and general manager Terry Fontenot did he entertain the Falcons' offer (which was an offer that reportedly went up against teams like the Buffalo Bills, the Jacksonville Jaguars, and – most notably – the New York Jets).
Campbell's decision boiled down to the way he viewed this Atlanta coaching staff and what they had planned for him. Campbell said he was most impressed by Nielsen. When the two first sat down together, Nielsen had a full plan for him, detailing the specific role and responsibilities he saw Campbell having with the Falcons in 2023. Campbell also already had great respect for Smith, who he had gone up against when Campbell was with the Baltimore Ravens and Smith was in Tennessee as Titans offensive coordinator. Campbell said Smith's offensive scheme is one of the most intricate he has ever faced.
When Campbell did his due diligence on the construction of the 2023 Falcons team itself, he felt it had a special potential. Campbell asked himself then: "Could this team be something?" And after breaking down the roster, he felt that, yes, "they're really building something there."
So, there you have it: Campbell's decision. We have our answer, especially when supplemented by Campbell's long talk with Falcons owner Arthur Blank about his charitable efforts that helped seal the deal, too. The story has been told, and now recapped.
But that's not the story we're here to tell now. 
Now, let's dive into why Grady Jarrett's reaction to Campbell signing with the Falcons is a story within the Campbell story that means the most when answering the important question of: Why does it matter that Campbell chose to sign a one-year deal with the Atlanta Falcons in 2023?
That's the story that needs telling.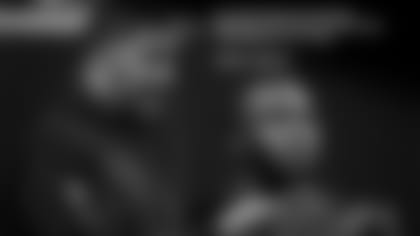 ---
---
General manager Terry Fontenot said he saw a shift in the way the Falcons were perceived by free agents in 2023. Of course, the Falcons had significantly more money to work with thanks to the second-most salary cap space in the league this offseason. We all know money talks, but Fontenot thinks the shift goes much deeper than that.
The change in perspective, Fontenot said, was "overwhelming."
"Players really wanted to be here. They chose the Falcons," Fontenot said in his training camp press conference. "And it says a lot about the organization. It says a lot about this city and this region that people wanted to be here. It says a lot about our coaching staff and the way they operate and the way they do things."
One of those players was Calais Campbell and, as the news broke about Campbell's addition to the team, Grady Jarrett felt something like pride bubbling up inside, perhaps a certain sense of pride he hasn't felt in a long time. It's pride that has origins in what Fontenot explained above: That Atlanta – and the Falcons organization – is a place where players wanted to be.
---
---
Jarrett is entering into his ninth season in Atlanta, the place that drafted him in the fifth round of the 2015 NFL Draft. Jarrett has just about seen it all since then. He has won playoff games, been to a Super Bowl. He has been one of the league's best interior defensive linemen, earning Pro Bowl status twice.
He's also seen the lows, too. He's gone through a complete rehaul, witnessing the release of a head coach and general manager who gave him his chance in the league. He's seen the Falcons part ways with faces of the franchise, faces that had become synonymous with Atlanta sports. He saw the Falcons fight out of salary cap hell. He knows that – in recent years – the national perspective of the Falcons has been mediocre at best.
It feels like that perspective, Jarrett says, is changing. A marker of that change is the fact that someone with Campbell's success and longevity decided he wanted to spend his 16th NFL season in Atlanta.
"When you're at that stage in your career, to come to a place like Atlanta where -- from the outside looking in -- people don't believe in us, but we believe in ourselves," Jarrett said, "and to have somebody come from the outside and believe in us? That feels good."
This is something that Jarrett said has been apparent since Campbell got to Atlanta.
Campbell joined the Falcons for a reason. The reason being?
"Because he believes in this team," Jarrett said. "That means a lot to me."
Jarrett likes to joke that he has been the "old vet" in Atlanta for a while, despite not being old in age.
In all seriousness, though, Jarrett has been relied upon to carry quite the weight in Atlanta for a long time. That includes on-field production and leadership, as well as being a face of the franchise in his own right. It's a weight that Jarrett never takes for granted. It's a weight he happily carries. There are very few people who care about the Falcons organization or the city of Atlanta quite like Jarrett. It's his hometown team after all.
But sometimes, every now and then, even Jarrett needs someone to help lighten the load. Already, the load feels a little lighter with Campbell around.
"For a long time, I've been the oldest guy in the room," Jarrett said. "… To have that big vet in the room, it means a lot, because now I can lean on somebody to learn more from, to be directed and to have someone to hold me to a certain standard. That's just going to make me better."
Jarrett said the drive to be the best he's ever been is "higher than ever." With Campbell working in tandem with him, there's a certain sense of freedom that comes with the partnership. It's a freedom that comes from trust.
For Jarrett, he trusts that Campbell sees what he sees: That things are changing in Atlanta. He trusts the words because there was action behind them: Campbell chose to join Jarrett in Atlanta. He backed up his thoughts about the Falcons with action.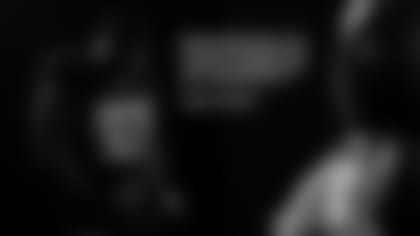 ---
---
However, in the context of the 2023 season, they both know that, for things to actually change, there needs to be action behind the words they say now, too. They're not naive to the fact that all of these words – however eloquently they are put – are hollow without wins.
"We ain't did nothing yet," Campbell said with a laugh before sobering. "We have a lot to prove. But you see the potential developing. You see the confidence building. Like, wow, we can really do something."
And that belief in something better? A heightened sense of potential? It matters. It matters for why Campbell ended up choosing the Falcons in the first place. It matters for how some perspectives have changed. And it matters for how the Falcons enter into this vitally important 2023 season for the organization.
"Belief is contagious," Jarrett concluded. "If you don't believe, you can't get it done."