Welcome to Straight from the Beek! The countdown to the NFL Draft continues. With less than a week to go, the questions are coming continue to dominate my inbox. So, let's get right to them. Just remember that all opinions here are mine unless otherwise noted.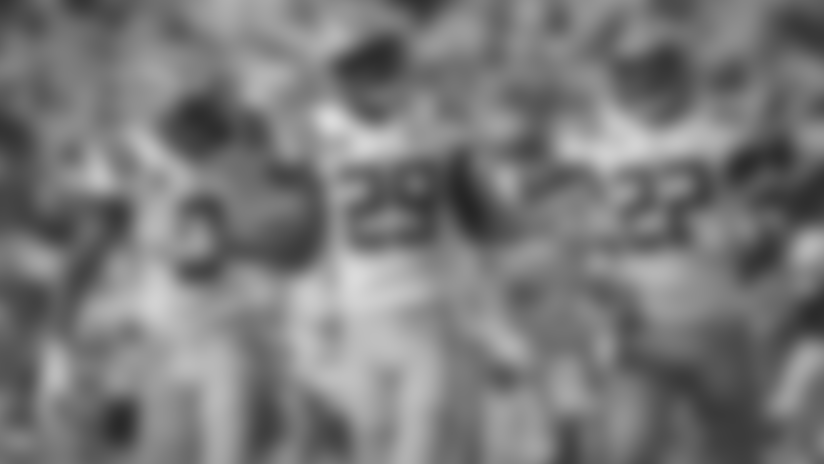 Charles from Atlanta, GA
Hi Beek! Things are getting exciting as we move closer to the draft dates! I like what the brain trusts at the Falcons are doing, building depth and opportunities for certain players to showcase their talents, like Chris Odom. But in my humble opinion, their needs are still the same: OL, edge rushers, DL and corners. And I would expect the draft choices to address those needs. However! Sometimes a player becomes available that tempts conventional wisdom (can you say 'Ridley' in 2018?). Do you see such a player that could be available this year at pick 14?
Matt: Hey, Charles. Well, what positions would fall under that category at this point? I think if the Falcons took a quarterback, receiver, tight end, running back or a specialist (kicker/punter) with the 14th overall pick, that would surprise us all. Heck, you could throw center in there as well even though there's a good one in this class – Garrett Bradbury of NC State – and Alex Mack is entering his 11th season in the league. To answer to your question, no, I do not see the Falcons taking any player from the positions I just rattled off. And if the Falcons took another receiver … I think Atlanta fans would be stunned. The only potential surprise twist (and it wouldn't be a totally shocking move, to be honest) would be taking a cornerback, Charles. There are two very good linebackers in this draft class, too – Devin White and Devon Bush – but I don't see that happening, either. I'd count on the Falcons taking a right tackle, defensive tackle or an edge rusher. But, hey, you never know until the pick is in.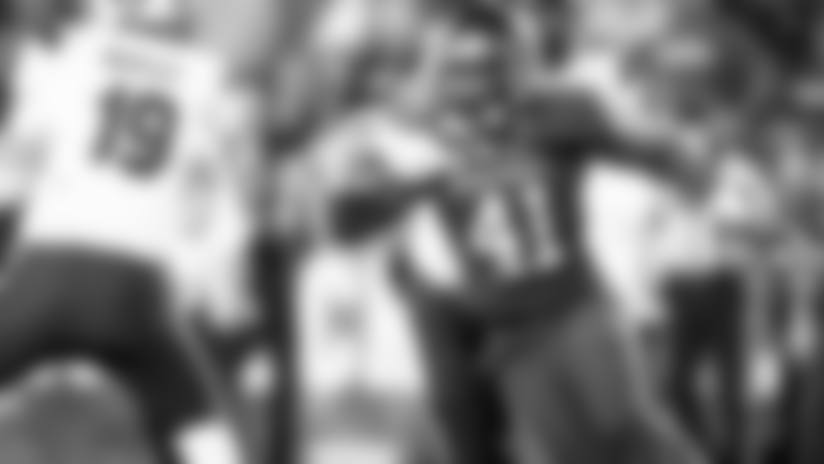 Evan from Bismarck, ND
Hey Beek! Appreciate all you do. I was just listening to the press conference with DQ and TD. Is there any chance that we trade up further than No. 8? I say that because the Detroit Lions have reported that they are open to trading back, and the only names that I have seen associated with that pick would be Ed Oliver and Montez Sweat. That being said, we are not many weapons away from being in contention to return as the NFC champion to the Super Bowl, and since we have an extra fourth rounder as well as a fifth rounder, could you see us trading up into the top five? Assuming that we were to give up No. 14, a third, fourth, fifth, and a second next year, is there a chance we get Quinnen Williams, Nick Bosa, or Josh Allen?
Matt: Thanks, Evan. I think the three players you just mentioned – Quinnen Williams, Nick Bosa and Josh Allen – will be gone in the top four picks, Evan. They should be the first three picks off the board, in my opinion. I honestly do not see the Falcons trading up that high – the top five – to snag one of them. The price is too rich, and they have too many other needs to address. Jumping from No. 14 to the eighth spot would be interesting, but I honestly see them staying put at 14 unless the price is just right to move up or down. With nine picks I do see the Falcons making a trade at some point and predict it will be to pick up an additional Day 2 pick – rounds two and three.
Sloane from Melbourne, Australia
Hey Beek. I'm loving all the draft talk. Lots of opinions and so much to think about. No question today. I want to wish you and your family and all those in SFTB land an awesome Easter. Take care guys. #riseupdownunder
Matt: Thanks so much, Sloane! Wishing you and your loved ones a happy Easter as well.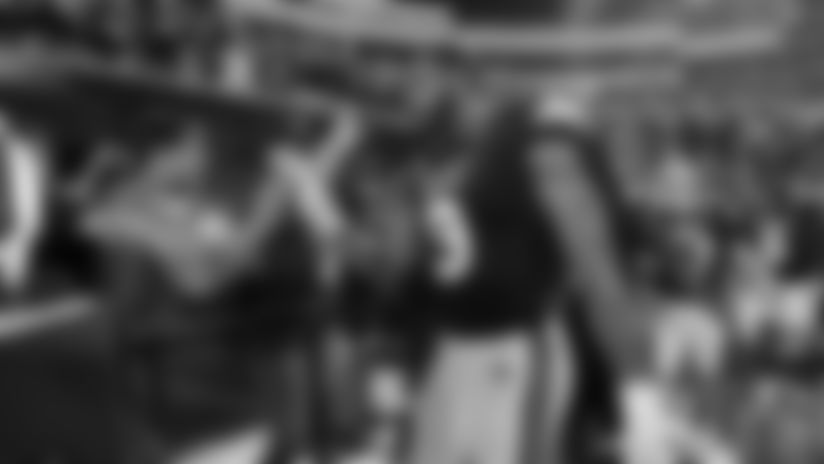 Terry from Washington, GA
You could be right (about your mock draft 8.0), but I think not because the Falcons just signed one of the best pass blockers in the NFL based upon limited playing time in John Wetzel. He may be suspect on his run blocking though. He only had one QB pressure in 72 opportunities which ranks among the best in the NFL. I think the Falcons will grab the best DE available; even if Vic Beasley steps up they are clearly short there and also DB is a very high need, which may be a second rounder.
Matt: Yes, the Falcons recently signed John Wetzel, who played in 40 games with the Cardinals and made 24 starts. His final season in Arizona was cut short due to a neck injury. The one thing that stands out about Wetzel – and most of the linemen the Falcons have signed this offseason – is his size. He's 6-foot-7 and 328 pounds. That position group has gotten bigger this offseason. But I think Wetzel will provide depth, Terry. And I think the same for Ty Sambrailo. I think the Falcons' needs remain the same: offensive line (right tackle), defensive tackle, defensive end and cornerback. I could see them picking a running back or two, too. And I'd very happy if they landed Montez Sweat, too.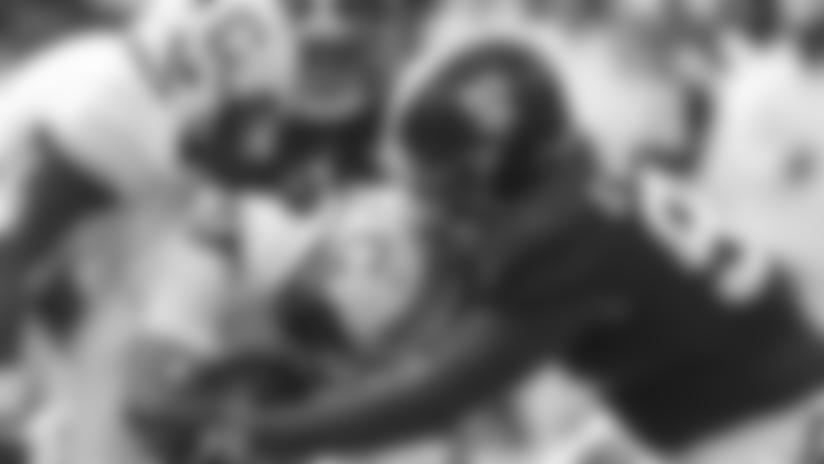 Jerry from Statesboro, GA
Hey Beek! Have you decided if you're going to be at the draft party yet? This is my 11th year as a season ticket holder and this year's draft has me pumped! Why? Because something big is brewing. If you look at it this way, we have addressed the offensive line, defensive line, and secondary in free agency. Therefore, we have depth at all of the positions that were lacking after last season's departures. Personally, I think with nine pick there's no way we move down. With just looking at the signings that we've made the past couple of weeks, we are preparing to move up into the top three if needed. I think the pressure is on Dan Quinn because he cannot blame anyone but himself if the defense fails this season (hence FIRED). That being said, I think Quinnen Williams is in our sights and we're preparing to move up to get him at all costs. However, we may get a surprise pick and move up to get Josh Allen or Devin White. My choice in order would be Williams, White, then Allen. Williams because he dominated college football in 2018, White because he's Debo 2.0, Allen because he is a little better than the last great Kentucky pass rusher (Bud Dupree). Do you feel as if a big move up is brewing as well?
Matt: As much as I'd love to agree with you – because A) trading up would be exciting for the fans and they'd likely land a difference-maker and B) because I think Quinnen Williams is the best prospect in this class – I don't think it's going to happen. I think if the Falcons make a move, it'll be on Day 2. There's a pretty big gap between their second- and third-round picks at the moment.
Round 1, No. 14 overall
Round 2, No. 45 overall
Round 3, No. 79 overall
Round 4, No. 117 overall
Round 4, No. 137 overall (compensatory)
Round 5, No. 152 overall
Round 5, No. 172 overall (compensatory)
Round 6, No. 186 overall
Round 7, No. 230 overall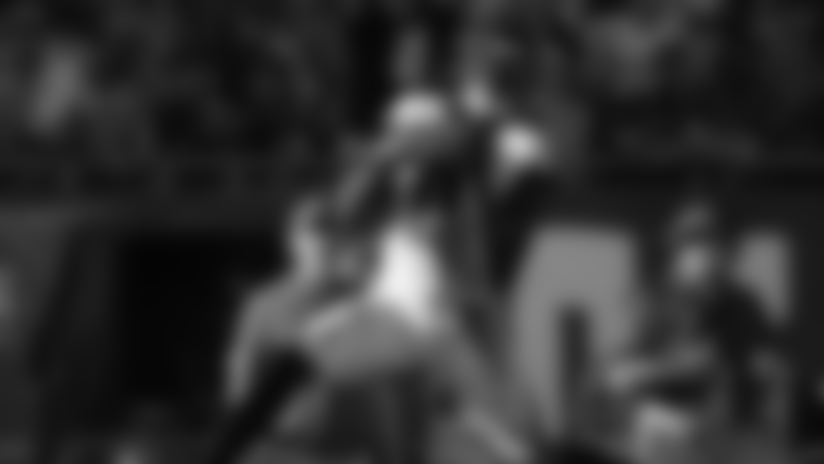 Tyler from Stone Mountain, GA
Hey Beek. I was just wondering if Grady Jarrett's and Julio Jones' contracts are going to get done before the off-season start.
Matt: I would count on Julio Jones getting a new contract before the season and Grady Jarrett has a contract, but it's currently the one-year franchise tag deal. That said, I think the Falcons will work something out with Jarrett and sign him to a long-term deal (that will also be more cap-friendly). MAILBAG
Do you have a question about the Falcons that you want answered? Ask a question here and it could be posted on AtlantaFalcons.com.