FLOWERY BRANCH, Ga. – The Falcons were formally eliminated from playoff contention last week.
Arthur Smith's expectations for the team haven't changed despite that fact, with the head coach looking to accomplish a pair of important things over the remaining two regular-season games.
Everyone can agree on the latter. Some within the Falcons fan base may push back on the first point.
Winning more likely results a lower NFL Draft position. The Falcons are currently set to select sixth next April. A win or two could drop the team outside the top 10. Two losses could push the Falcons into the top 5.
Falcons head coach Arthur Smith was asked about the concept of winning when playoffs aren't an option vs. improved draft position during his Monday press conference. Most coaches would've dismissed the subject on spec or gotten angry that the question was even asked.
Smith did neither of those things. He rationally explained why, under every single circumstance, you play to win the game. That starts with Sunday's home contest against Arizona.
"I don't know any coach – like I said in the spring – you will never apologize for setting expectations," Smith said. "Your objective is to win. To go in there not to win, that's disrespectful to this game, to the players in that locker room. I understand the context. You're talking about draft position, but there's also a graveyard of some horrendous draft picks just because you're up there high."
Recent and relatively ancient history proves Smith's point. There have been plenty of top 5 busts. There have been plenty of mid- to late-first-round superstars. Odds of getting a standout player increase with fewer players off the board, and Smith understands that.
Why, then, is winning more important?
"When you're asking why, I have no problem answering that question," Smith said. "There [are] a lot of whys to it. The flip side of the argument, which – I'm not hard-headed – I'm not like an old school PE coach that's got my head bashed up against the wall that says to run hard. I understand the big picture, but again, the draft position, history will tell you that just because you're sitting at whatever spot doesn't guarantee that you're going to get a good player if you don't have the right process and identify it. Maybe luck is in your favor. Maybe not."
Smith studies NFL history for many reasons, including a search for similarities among franchises who have done what he and Terry Fontenot are trying to do in Atlanta. Fontenot and smith inherited a difficult salary-cap situation and a thin, aging roster and are working for the quickest possible return to prominence while establishing a prolonged period of sustained success.
From my experience, the Raiders had similar issues but struggled to do it right. Smith identified a few, like the 49ers and Bills and Seahawks, who nailed it.
"There's usually a common thread there," Smith said. "They had a plan. Trying to get the right people in there. Trying to build it the right way. You're competitive. You're trying to learn what it takes to win in those situations."
The Falcons have been competitive but have not learned to consistently win in late-game situations with a 2022 roster that dealt with so much turnover from the year before. The team's young foundation has expanded considerably this year, with the cap space and draft capital to, if used correctly, expand it and the team's veteran leadership core this offseason.
Those playing significant snaps now must continue to grow and develop. Not using the final two games to do so would be a waste.
"We've come in a lot of these close games with a young team," Smith said. "We've been charging back, but we haven't gotten over the hump the last four weeks. We need to do that. Desmond Ridder needs to go in there and we need to win a football game. Those are important, especially if he's going to be the quarterback of the future."
There are questions to answer over the last few weeks, but that doesn't mean this is just an evaluation period. The Falcons will continue playing those who give them the best chance to win.
"Is that fair to those other guys that are competing for jobs? Other than Grady [Jarrett] and Jake [Matthews], everybody in here is either on a rookie contract, a minimum, or the last year of their deal," Smith said. "...I mean, we've got to be merit-based. I understand the question and I don't fault you for asking the question but take a step back and think about everybody in that locker room and what the moral and leadership really is and not fantasy and hypothetical GM situations. There are a lot of young guys that are playing that we feel good about and we need to prepare to win. That's a big part of it. Again, the best guys are going to play and we're going to do everything that we can to win against Arizona."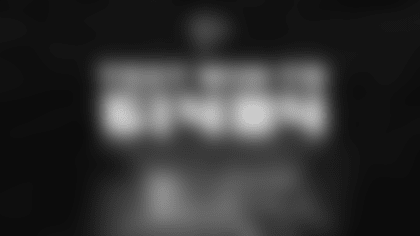 Enter To Win A New Year's VIP Experience With The Falcons
Enter for a chance to win tickets for you and five friends to our game versus the Arizona Cardinals on Sunday, January 1st!