Editor's note: Archer's Take is a weekly series in which Falcons analyst Dave Archer provides insight and analysis of each Falcons game.
Falcons offensive line helped reverse red zone fortunes
If you want to boil it down to one thing, I think it was Atlanta's offensive line and their ability to control the line of scrimmage. I mentioned in 'Keys to the Game' that in the red zone it was going to be important to be able to run the ball and the throw the screens down there. That makes the defense have to draw in and stop the run, and that means they can't create problems by dropping everyone in coverage so you can't get anyone open. So I thought when you really boil it down it was the offensive line's ability against a really good defensive front, to be able to control the line of scrimmage up front.
Ridley's red zone touchdown: Ridley no ordinary rookie
Calvin Ridley's maturity as a young receiver defies logic. He has a tremendous feel for the timing of the game. He was running a slant route against, ironically enough a rookie corner from LSU (Donte Jackson), and he gets press coverage from Jackson. Ridley makes it look like it's going to be a fade, like he's going to release outside, but he takes his time then busts it back inside across Jackson's face on the slant route. Ridly showed excellent patience on the route which allowed the coverage and all of Atlanta's other routes to develop to give him the space he needed. If he had rushed to get inside the window wouldn't have been open and it would have allowed the defender to roll in behind him and make the play. His patience allowed that play to happen. Obviously the line had to give Matt Ryan time, and Ryan knew exactly what he had and hit him on the slant. Ridley squeezed it in with his hands for his first touchdown as a Falcon. Pretty cool.
Hooper's red zone grab: Sark stressed the coverage, Hooper gained leverage
This was a great design by Falcons offensive coordinator Steve Sarkisian. They went three receivers to the field, and ran Tevin Coleman and Austin Hooper to the boundary. Carolina's cornerback to that side stayed home and ended up sticking with Coleman running the flat route in front of Hooper. So you get Hooper behind that isolated on the linebacker Shaq Thompson, and Hooper gets to his outside shoulder so he has leverage to break to the outside without getting his route changed. Ryan was right on the money with the throw. Again, great patience by Hooper to push up the field. You can roll to the corner and the defender is just going to go with you. But if you snap it up vertically, now you can actually break to the middle of the field or break to the corner, and the defender has no way to know which way you're going to go. A little nod to the post, and then a cut to the corner is tough to deal with as a defender.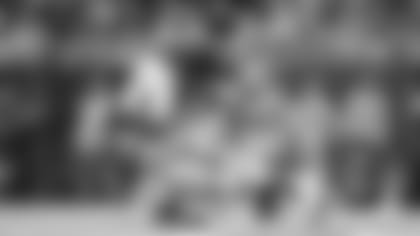 Matt Ryan's red zone rushes: Ryan showed resolve, heart
I thought it was resolve more than anything else on Matt Ryan's scores.
The second touchdown really was who Ryan is. If anyone doubts Ryan's heart, how much it means for him to win, just look at this play. It was 3rd and eight, Ryan got out of the pocket, they were playing zone and only rushing three, and he had nowhere to throw the football. He makes the decision 'I'm running the ball'. He ended up going through three defenders, Dontari Poe, Mike Adams the safety and Shaq Thompson were all there and met him at the goal line and Ryan elevates to get in. He got a little help from Hooper on block of Luke Kuechly, but it was Ryan's 'want to' to get in the end zone. I thought that was heart and soul type stuff there.
Ricardo Allen knows where everyone should be, and it paid off in a big way today
Ricardo Allen is the quarterback of the defense. Deion Jones might be the best player on the Falcons defense, but when you start talking about a quarterback of the defense and a guy that gets everyone lined up, it's Allen.
I've never seen a player coach as hard as he's coaching. He had a safety in the game with him today that he's never played with before in Jordan Richards, who had to play after Demontae Kazee was ejected. He had never played with him before. And Allen is trying to help Jordan while also making sure he's also doing his own job. I don't think you can even quantify how big Allen was in this game. And then he has the big interception, because he was in the perfect spot where he was supposed to be, while playing a position he doesn't play. He's normally in the back end of the secondary, but he had to play in that box-safety spot that Keanu would normally play, the ball pops in the air and he gets the pick. You could easily make a case for Allen being the player of the game.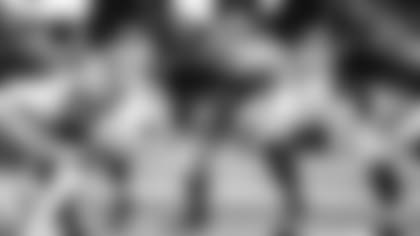 The entire offense looked sharper, starting with the offensive line
I thought everyone on the offensive side of the ball was sharper this game. There was attention to detail on routes, there was a sharpness to the routes and I thought the offensive line played much better in this game. It's tough to throw the football when you have people in your lap, and they did a much better job this week. And this was as good of a defensive front as we saw last week against the Eagles. You could argue that Carolina's front four is better than Philadelphia's. So I thought the offensive line showed a lot of resolve and Ryan took to heart his mistakes.
If that offense shows up every week, you're going to have a long day if you're the defense.
Steve Sarkisian got things moving, Ridley knew how to take advantage
I thought Sarkisian did a great job of moving everybody around. Julio was on the move, Ridley was on the move, Mohamed Sanu was moving, they have had Hooper moving some, they were shifting the running backs out of the backfield. I thought it created a lot of problems for the Panthers to match up. They don't like to play man coverage, so subsequently Ridley, who knows coverages, and where to find the holes in coverages, he seized the moment and made some big catches. And when you throw the ball to a guy and he makes big catches? If I'm a quarterback, I'm going back to that guy. And I think Ridley endeared himself to Ryan today.
Ridley is the kind of guy that the more he touches the ball, the more you have your heart in your throat if you are a defensive coordinator, or the more you're starting to jump up and down if you are a Falcons fan because this kid is explosive beyond belief.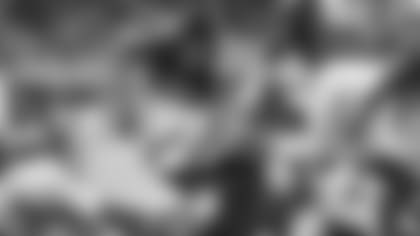 Tevin Coleman and Ito Smith created plays by running through Panthers defenders
When you run the football, there's a physical essence to it. They're not all going to be clean, where you run through a huge hole and make someone miss. More often than not you're going to have to win a collision with somebody, or it might be arms and legs sticking out that you've got to run through. Both Tevin Coleman and Ito Smith ran as hard as they could.
I expected Coleman to play well, but he was the first individual runner to go for over 100 yards in the past 22 games against the Panthers. And Smith, to be the 'rest' guy when Tevin was out of the game, there was no letdown when he was in. He ran through Kuechly on one play, he made Kuechly miss a couple of times, and he had one run where he seemingly made five guys miss, and it looked like he was doing it in a phone booth. I thought that Smith became a viable option for Steve Sarkisian calling plays, and he's probably ok with Smith being in the game.
Duke Riley hung tough, got an opportunity to learn in a win
I thought it was a mixed bag for Duke Riley against the Panthers. I think there was a lot loaded on his shoulders. When Deion Jones is out of the game you're talking about a guy that does the duty of three different players. And all that experience that Jones has gained over the first three years, that's not something you just give to somebody that steps in for you. The ability to see things and read your keys, that's still on-the-job training that needs to go on for Riley. And he's going to get that, obviously. But I thought Riley hung in there. You can get discouraged, and the next thing you know you're out of position. I thought he had some plays where he was really good. Obviously on the missed tackle on the long touchdown by DJ Moore, he's got to make that play. And he'll be better for that. It's always good to be able to learn those lessons and improve after you win a game, instead of losing a game due to the mistakes you made. You can see Riley's athleticism, his ability to run and get to the ball. Now he just has to finish plays and get guys to the ground.
Falcons need Kazee on the field
As a young player, Damontae Kazee has got to learn that you can't make those kinds of plays because not only does it hurt your team with the immediate penalty, it also damages you from a personnel standpoint. You're already down a Keanu Neal. Now you get ejected and your team is really put in some tough situations in terms of who is in the game and putting people in positions they don't normally play. I'm hoping he learns from situations like this, because he's a play-making guy and the Falcons need him on the field.