Editor's note: Archer's Take is a weekly series in which Falcons analyst Dave Archer provides insight and analysis of each Falcons game.
The interception off Calvin Ridley's hands changed the game's complexion
If you pick one play out that changed the complexion of the game, it was certainly the interception by Leighton Vander Esch. Atlanta had Calvin Ridley in the tight slot to the left, they show play action and draw the linebackers up to throw behind them. It was a tight window, but it was a really well thrown ball by Matt Ryan, and for whatever reason the ball surprised Ridley. It got on him a little quicker than he was expecting, but when that happens you can't bat the ball up in the air because there's usually someone standing behind you to haul it in.
The reason it was so impactful was the Falcons defense had just worked really hard and grinded before they finally gave up a touchdown on the previous drive. And Dallas missed the extra point, so it was just a three-point game at that time. The Falcons defense had played well to that point in the game. Then Atlanta gets a big play to Julio Jones on the sideline, and here comes another play that looks like it is going to be successful. But instead they immediately put their defense back out on the field because of the interception, and they hadn't had a chance to catch their breath from the last hard-fought drive. Suddenly it's a two-score lead in the fourth quarter. It was not a good place in the game to have that kind of mistake. When you're in a tight game, those kinds of mistakes become magnified, as it did in this game.
Going one-on-one with Julio rarely goes well
On Atlanta's final offensive play, the Cowboys gave the Falcons a single high safety, meaning the cornerback on that side is not going to have safety help on Julio Jones. As a quarterback, you're going to have a smile on your face as you walk to the line of scrimmage when you see that. They were in bump and run, and Julio is one-on-one, so you knew that Matt was going his way with the ball.
Matt did a good job to make sure the safety didn't get a good jump, he used his eyes to keep him in the middle of the field before making the throw. The throw was okay, but I thought that Julio made a great catch because the defensive back was pawing at the football with his hands the entire way to get it out.
In this game, they had no answer for Julio Jones. They couldn't cover him unless they put more resources than one player on him. But when called upon, Julio stepped up in a big way.
Matt Ryan was a key reason the Falcons were able to equalize the Cowboys pass rush
Dallas has a good pass rush and good group upfront, and Atlanta was struggling to get that rush blocked. It looked like that was going to be one of the major storylines of the game in the first half when the Cowboys sacked Ryan three times. But Matt's ability to recognize what the defense was giving him was brilliant, because it helped get the ball out of his hand quickly on a day when Cowboys were not making it easy block their rush. He changed the play at the line of scrimmage a number of times. For instance, when he saw that the cornerback was about to back out, he would throw the quick out.
And then when the Falcons went to the play action and boot legs, Ryan was consistently getting a Cowboy defender in his face, and he created more arm angles than Kent Tekulve, the old Pirates pitcher, in order to get the ball out to his receivers. He threw it side-armed, over the top and all sorts of stuff. That's difficult, especially when you start with your back to the rush, and then you turn around and here's Randy Gregory or Demarcus Lawrence in your face. Once again, I thought Matt was outstanding.
Ezekiel Elliott set the right tempo for the Cowboys
The Falcons knew that the Cowboys running game was the number one threat, and they had to limit what Ezekiel Elliott could do. And they did a pretty good job of that in the first half when they held him to 47 yards rushing. Those were essentially coming on secondary types of runs; draw plays, misdirection-type plays and things like that. So Atlanta had done a pretty good job of limiting what he brings to the table.
But as the game wore on, you see him falling forward for gains of four, five and six yards. It's second and 5 one time, then it's second and 4, and Dallas keeps leaning on Atlanta and getting more and more out of their running game. And that allowed them to play at their pace, and it put Dak Prescott in manageable third down situations. Dallas had not been very good at converting on third downs coming into this game, but they converted 7-of-13 in this game because they were in a lot of third and short situations. And that's because of Elliott and that running game. The game played out exactly as the Cowboys wanted it to from that standpoint. It was low scoring, plodding tempo. It was perfect for Dallas.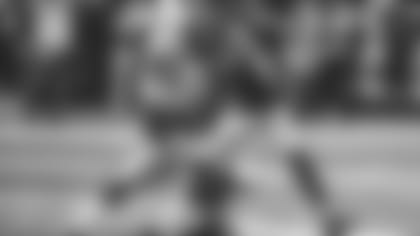 Foye Oluokun emerging from the opportunity
When you limit a team to six points through three quarters and 22 in the game, you've done a pretty job defensively in this league. And one guy that is improving is Foye Oluokun. He is really starting to become the linebacker the Falcons hoped he would become. And you may see him standing next to Deion Jones in this defense down the road. He has the ability to diagnose the run game and get in-between blocks, get downhill and blow some plays up, and he's emerging as a better cover linebacker too. When he's locked on somebody he does a pretty good job.
The plus side defensively for the Falcons in this situation is obviously Demontae Kazee and what he brings to the table, and then Oluokun. Two young players that you look down the road and think could be big contributors, especially once you get all of your resources back.