Warrick Dunn was honored in Washington D.C., on Tuesday night during a ceremony that included some influential names in the world of community service.
The former Falcons running back and current limited partner received the Jefferson Award for Service during a black-tie ceremony that also included Chicago Bulls and White Sox owner Jerry Reinsdorf and Supreme Court Justice Ruth Bader Ginsburg.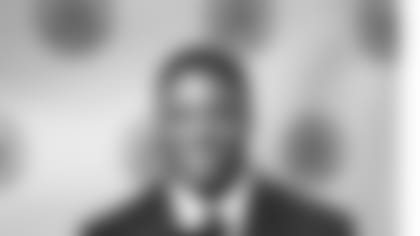 "We are proud to recognize Warrick Dunn," said Sam Beard, founder and president of the American Institute for Public Service and The Jefferson Awards, in a release. "What Warrick Dunn has accomplished in his lifetime is nothing short of extraordinary. He is the consummate team player, on and off the football field, first taking care of his family after the untimely death of his mother and later taking care of the communities closest to his heart."
Dunn received the award for outstanding athlete in service in philanthropy. His Warrick Dunn Family Foundation has give more than 100 single parents the opportunity to become first-time homeowners in Georgia, Florida and Louisiana. Dunn's mother was a single parent and was killed when Warrick was 18.
Dunn told the Associated Press that he plans to start a bereavement program for children in Louisiana and that it will be called "Betty's Hope," after his mother, who was a police officer.
Also honored with Dunn on Tuesday night:
Adlai E. Stevenson High School in Lincolnshire, Ill., which won an award for its students' volunteer work.
Sister Pat Aseltyne of Houston, who won for her work caring for infants and young children.
Bill Austin of Eden Prairie, Minn., founder of the Starkey Hearing Foundation, which provides hearing aids for needy people worldwide.
Shashin Chokshi, Morgan Hartley and Greg Nance of Chicago, co-founders of a financial literacy and entrepreneurship program for inner-city high school students.
John Cronin of Cold Spring, N.Y., an environmental advocate.
Jenny and Andy Czerkas of Madison, Wis., founders of a community kitchen.
Cloteal Davis of San Francisco, a co-creator of a health center to serve low-income clients.
Alicia Ewen of Coconut Creek, Fla., a volunteer who spent more than 850 hours building homes for Habitat for Humanity.
Megan Johnson of Seattle who founded organizations providing necessities to homeless children and others.
Talia Leman of Waukee, Iowa, a teenager who co-founded a web site that encourages kids to help solve problems.
Rachel Muha of Columbus, Ohio, who founded a program for inner city youth.
Prudential Financial, which won an award for outstanding service by a corporation.
*Photos provided by Rhonda Bowman for the Jefferson Awards