Over the course of the next three days, the AtlantaFalcons.com editorial staff is running three separate 7-round mock drafts in preparation for this year's NFL Draft, which begins on Thursday night. With these mock drafts, we attempts to speculate which direction the Falcons could go through the weekend's picks.
I'm up first. (Hello, it's Tori). In my mock draft, I trade out of the top-10 picks in order to acquire more capital in the second round as well as a future pick in 2023. Let's dive into my final mock draft.
TRADE: Minnesota trades No. 12 pick for Atlanta's No. 8. The Falcons receive the Vikings 12 and 46 pick, as well as a 2023 fourth round pick.
I don't believe the Falcons should trade too far down in the first round. They still need an impact player, after all. However, I think moving into the 10-to-15 range would be ideal. In that spot the Falcons could ideally take one of the best receivers in the draft. If the first five picks go pass-rush-heavy, perhaps this is a trade worth exploring.
Pick 12, first round: WR Drake London
The only way I see the Falcons taking a receiver in the first round is if they trade down to get him. It just makes sense to me. If they do so and find themselves in the middle ground of the first round, I could see London being a primary target for a receiver-needy offense. London fits the mold of what the Falcons have wanted - and needed - to acquire this offseason (i.e. a receiver that can break tackles). Flip on London's USC tape and you'll see a player who doesn't shy away from contact. That's what the Falcons need.
Pick 43, second round: EDGE David Ojabo
This is a risky pick to be sure. Ojabo just ruptured his Achilles during his pro day last month. Prior to the injury, it seemed Ojabo could have been a first-round pick considering how many teams need edge rushers. That injury will give teams pause, but he's someone the Falcons could take a chance on. He'll have to miss time in his rookie year and there's a chance he won't be the same player upon return, but Ojabo has a high ceiling, one the Falcons could capitalize on. Achilles injuries are not what they used to be. He'll be healthy one day, and he may play to the potential of a first-round pick.
Pick 46, second round: WR George Pickens
The Falcons need receivers, and even though they took London in the first round, they're still in the market to pick up another one with a second-round pick from the Vikings. The Athletic's Dane Brugler said in his 2022 NFL Draft guide that Pickens has a "discount sticker on him." He's agile and fluid through the air. He's skilled in tracking the 50/50 ball. He missed majority of the 2021 season with an ACL injury, but Brugler said Pickens has WR1 traits. I tend to agree.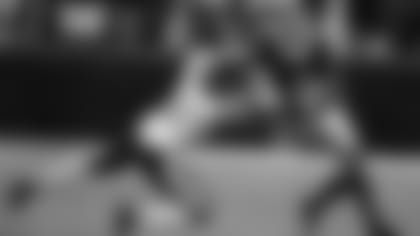 Pick 58, second round: WR Christian Watson
I know what you're thinking: "Tori, what are you thinking? Another receiver?" And the answer I have for you is, "Yes. Another." That's how significant a need I think building up this receiver room is. The Falcons have a number of guys on one-year deals and sure, this is probably an overkill, but I like Watson a lot and have for a while. I wouldn't hate grabbing a third receiver... just a thought...
Pick 74, third round: OL Jamaree Saylor
Atlanta could always use another offensive lineman to push the current bunch. Saylor could provide that push because of his versatility, which we know Arthur Smith values. Though Saylor made 22 of his 23 starts at Georgia at both tackle spots, he's projected to play within the interior at the next level. The Falcons could use that skillset to help them out in the future.
Pick 82, third round: EDGE Dominique Robinson
Here's another edge rusher for you. Robinson would be a work-in-progress in his first year in the league. He's raw, extremely so, at the position. He came to Miami (Ohio) as a dual-threat quarterback before making the move to wide receiver. He didn't become a full-time edge rusher until 2020. Robinson has only played in 16 games at the position, but his 11 tackles for a loss and 6.5 sacks in said games are the makings of a foundation to grow upon if given the time and space to do so.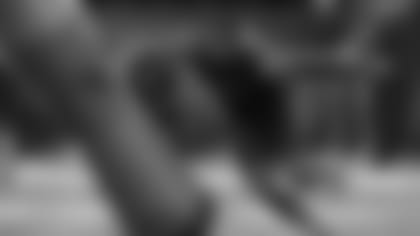 Pick 114, fourth round: S JT Woods
Woods earned the moniker of "The Heartbreak Kid" at Baylor because in the last two years he accumulated nine interceptions, and tacked on an average 22.3 yards per return. He's fast, like, really fast, and could be an asset on special teams, too.
Pick 151, fifth round: S Smoke Monday
I know the Falcons don't necessarily have a great need for safeties, especially two back-to-back. They have Jaylinn Hawkins and Richie Grant, after all. But if Monday is available I like the idea of adding him to the roster. He consistently stuck out to me at Auburn. I felt like I could feel where he was at every point of the game. Maybe it was his energy, but whatever it was, I noticed him. I wonder if the Falcons would, too.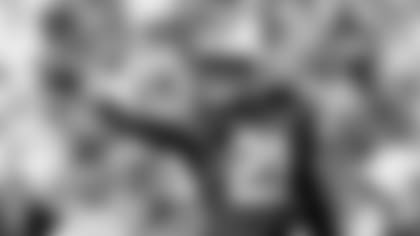 Pick 190, sixth round: DI Curtis Brooks
The Falcons cut Tyeler Davison this offseason. They've yet to extend Grady Jarrett, and Marlon Davidson still hasn't really reached his full potential yet. Atlanta could use a bit more depth along the interior of the defensive line. Brooks doesn't have a ton of experience at the position and needs to develop his abilities stopping the run, but he could be worth a look in the sixth round.
Pick 213, sixth round: CB DaRon Bland
Bland is a former track star. He has the length and the speed to be a potential special teams contributor, which is what you're likely looking for in the sixth round. Interested in Falcons tickets?
Join us in 2022 for 9 Regular Season home games! Let us help you find the seats and benefits that interest you!