2023 Auditions
Information & Frequently Asked Questions
Auditions Requirements
● Must be at least 18 years of age by June 5, 2023.
● Must be a high school graduate or have a G.E.D by June 15, 2023.
● Must have a part-time or full-time job or be a college student.
Complete the application online no later than April 8, 2023. The $35.00 application fee is non-refundable. Headshot photos requested on the application do not have to be professional quality. This is used for identification purposes only, so please be sure that the photo is current.
In order to provide a safe working environment, the COVID-19 vaccination is required for employment unless an accommodation is granted due to a qualifying disability or sincerely held religious belief or practice. Members of the 2023 Atlanta Falcons Cheerleaders must become fully vaccinated by June 5, 2023.
DO NOT MAIL APPLICATIONS TO THE ATLANTA FALCONS OFFICES!
Auditions Attire Guidelines
● Preliminary Round – Two-piece leotard (a sports bra top and dance shorts are fine as well) and skin-tone/matte tights. T-shirt and athletic shorts are acceptable for males.
● Semi-Finals Round – Two-piece leotard (a sports bra top and dance shorts are fine as well) and skin-tone/matte tights. T-shirt and athletic shorts are acceptable for males.
● Finals Round
○ Business Interview – The interview is business/professional attire.
○ Final Performance – Team issued attire will be provided for tops, finalists will be responsible for providing their own black bottoms – reference example photos when submitting your video.
**PLEASE NOTE: PERFORMERS WILL BE ASKED TO SUBMIT THEIR CLOTHING SIZE FOR FINALS ATTIRE (TOP ONLY)WHEN SUBMITTING THEIR PRELIMINARY AUDITION VIDEO.
Atlanta Falcons Cheerleaders Program Overview
Rules and Regulations
● The official uniform and practice wear is provided at no cost to cheerleaders.
● Cheerleaders are responsible for maintaining the uniform, poms, warm-ups, shoes/boots and practice wear. Cheerleaders must pay for any items lost or damaged.
● All Atlanta Falcons Cheerleaders property must be turned in on or before the next season's Final Auditions.
Rehearsals
● Twice a week; extra rehearsals added as needed.
● Cheerleaders that miss a rehearsal prior to a home game will not be allowed to perform at that game.
● Cheerleaders that miss one game are subject to dismissal from the squad under the discretion of the Director.
● If you cannot attend rehearsals or all games, please do not consider auditioning.
Compensation
● Cheerleaders are paid nominal fee for home games and rehearsals.
● Paid appearances and performances are available at the discretion of the Director.
Other Requirements
● Each cheerleader participates in charity, sponsor and other Atlanta Falcons appearances throughout the season.
Frequently Asked Questions & Answers
Can I take Audition Prep Classes even if I am not going to audition?
Yes, Prep Classes are designed to help improve dance technique, stay in shape and have fun dancing alongside current Atlanta Falcons Cheerleaders.
What are your height and weight requirements?
None, however, you must be physically fit. We do not have any minimum or maximum limits - the 2022 squad ranged in height from 4'9" to 5'10"!
What is the age limit?
There is no maximum age; however, you must be at least 18 years of age by June 5, 2023. Last year's team ranged in age between 19-37 years.
When and where are Atlanta Falcons Cheerleader Practices?
Our practice location will be in the Metro Atlanta area. Rehearsals are tentatively going to be held on Tuesdays and Thursdays from 6:30-9:30pm.
Do the cheerleaders travel to away games?
No, the Atlanta Falcons Cheerleaders do not travel to regular-season away games. They are required to cheer at all home games (pre-season and regular season games). However, cheerleaders are often invited to attend the Super Bowl and various exhibition games the team may play in.
What do the judges look for at auditions?
The judges are looking at appearance, showmanship, dance/cheer ability and a fit shape.
How should I fix my hair and make-up?
Make-up should be glamorous but not too heavy!
Would you prefer a professional or dance/cheer resume for auditions?
If you have them, both would be terrific. This does not need to be professionally done. The purpose of the resume is to provide additional information for the interview process.
*What do you use the photograph for that you request at auditions? *
We strictly use the requested photograph for recognizing who you are at auditions. These photos will not be returned to you. Just select a nice snapshot where you look as you do today. If you already have a headshot – this would be fine to use!
*Do I need to prepare or choreograph any material for my preliminary audition? *
Please prepare the following:
● 2 eight counts of straight kicks to the front. This should be separate from your solo improv/freestyle segment, but within the same video.
● Perform a 45 second solo improv/freestyle video to music of your choice
What is the salary for an Atlanta Falcons Cheerleader?
The cheerleaders get paid a nominal fee for each of the regular season home games they perform during as well as receive compensation for each practice. There are also opportunities for paid appearances throughout the season. It is required for the cheerleaders to have a part-time or full-time job or be a college student because being an Atlanta Falcons Cheerleader is not a full-time paying job.
Do the current cheerleaders have to audition again?
Yes, each cheerleader must audition every year. The previous season's cheerleaders are not required to audition at the preliminary or semi-final auditions but must complete finalist interviews and compete at final auditions. No previous Atlanta Falcons Cheerleaders experience is provided to the panel of judges at final auditions. The current cheerleaders are not provided the material taught at the final audition in advance.
What can I do to better prepare for auditions?
First off, staying fit is a key element as being an Atlanta Falcons Cheerleader requires high athletic demands. The Virtual Prep Classes and Hybrid Audition Prep Classes are a terrific way to really understand the audition process as well as to help show what types of moves will be incorporated in auditions. These classes are highly encouraged.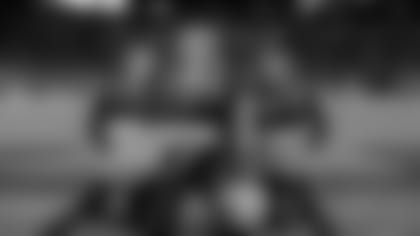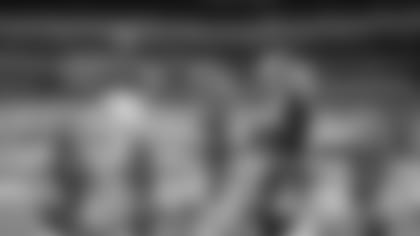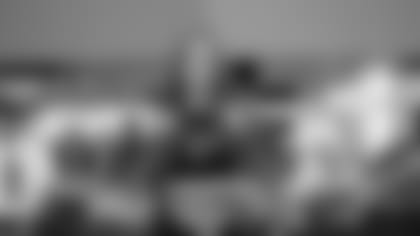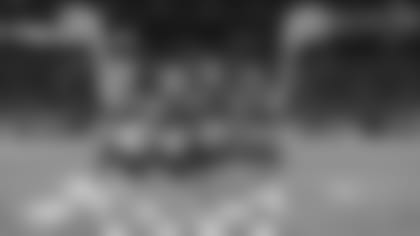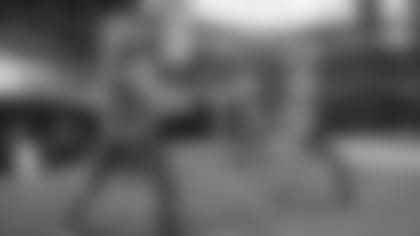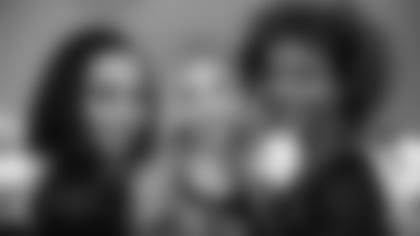 Joyce
Profession: Fitness Professional
Bio: Joyce is in her third season with the Atlanta Falcons Cheerleaders. She is a graduate of Florida State University with a bachelor's degree in economics and finance. Joyce currently works as a fitness professional teaching group fitness for a local spin studio and for an online fitness app. She also owns her own personal training business.
Hannah
Profession: Supply Chain Leader
Bio: Hannah is in her third season with the Atlanta Falcons Cheerleaders. She is a graduate of the University of South Carolina where she received her bachelor's degree in chemical engineering with a minor in Spanish. Hannah currently works as a supply chain leader at Frito-Lay's largest North American manufacturing site located in Perry, GA. She also enjoys working out, trying new restaurants and spending time with friends and family.