P&G Lead With Love | Atlanta Falcons – atlantafalcons.com

The Atlanta Falcons have partnered with Procter & Gamble to celebrate the incredible event day staff at Mercedes-Benz Stadium. Ten event day staff members have been peer- and leader-recognized for their dedication and hard work, leading with love in all they do to create the best fan experiences in the NFL. Each of these honorees received a Falcons gift bag with team merchandise and a $200 Publix Gift Card, courtesy of P&G. Learn how each of them Lead with Love below.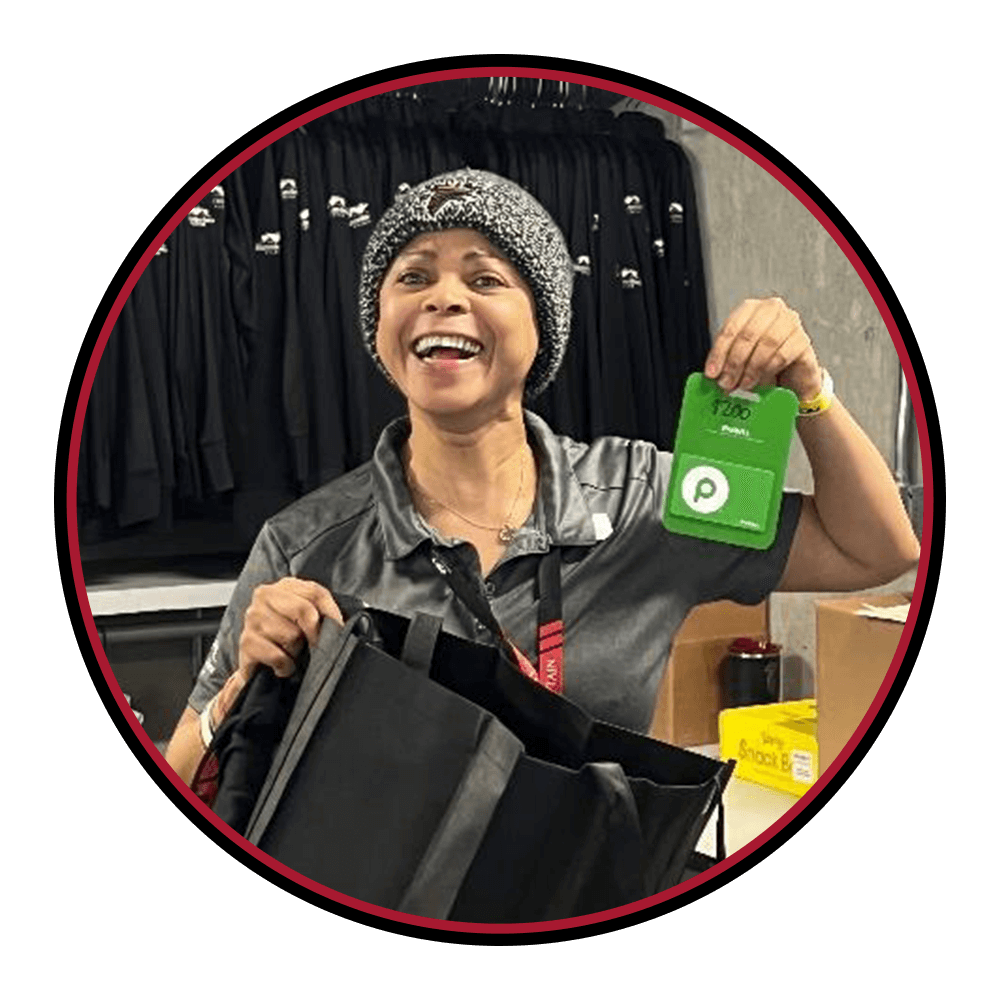 Annesiwa "Nesha" Kemp – Guest Service
It is with great pleasure that we recommend Annesiwa "Nesha" Kemp for the Lead with Love award. Nesha started her MBS career as a host working on the Team Member Services team. We often refer to the Team Member Services teams as the team behind the team because they run our Team Member programs and spaces that support the game day Team Members from all Departments at MBS. Nesha loved what she did and quickly moved up to a Lead on her team. Nesha spends most of her time supporting Team Member experiences like fun Team Member entries that include decorations, spirited music, breakfast, and giveaways! Nesha also helps head the game day experience for the Guest Service new hires. She keeps our Team Member spaces in pristine condition and adds a level of warmth and care to our Team Member experience at the stadium.
We are truly fortunate to have Nesha on squad and truly could not do it without her!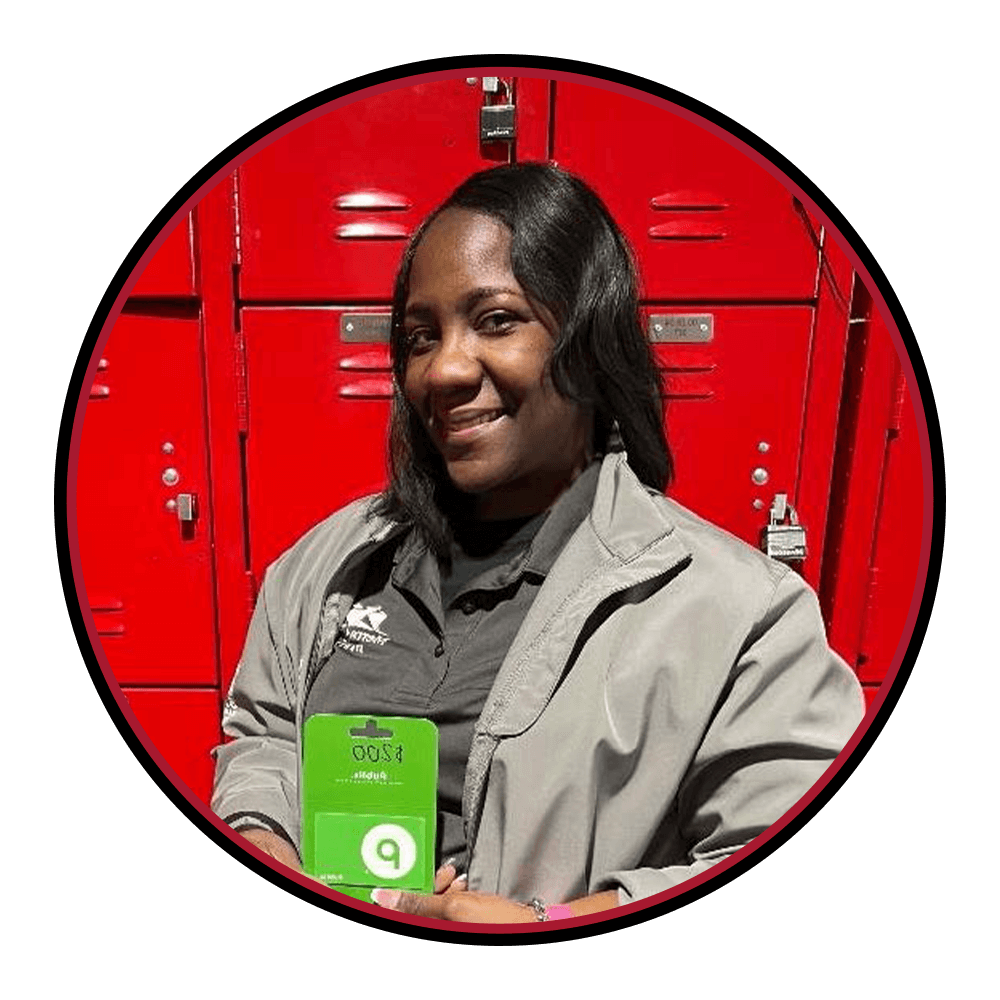 Brianca Barron – S.A.F.E
Brianca Barron is the embodiment of "Lead with Love" and "Put People First," not for one particular incident, but for her constant care and attention to the well-being and experience of all SAFE team members. For every event, Brianca arrives at 5:00am to prepare check-in for the team members. She buys snacks herself to put out for team members and ensures that every team member checking in has all the uniform pieces and materials they need to be successful. When it is cold outside, she ensures all team members have a jacket, hat, and hand warmer. When it is raining, she ensures all team members have a poncho before they go to post. Her organization and care keep the SAFE operations running on game day. Brianca's role on event day is to focus on continued team member care during events. She has embraced this role as she knows and prioritizes the need for team member care throughout the shift. The experience of all SAFE team members would not be the same without Brianca's efforts.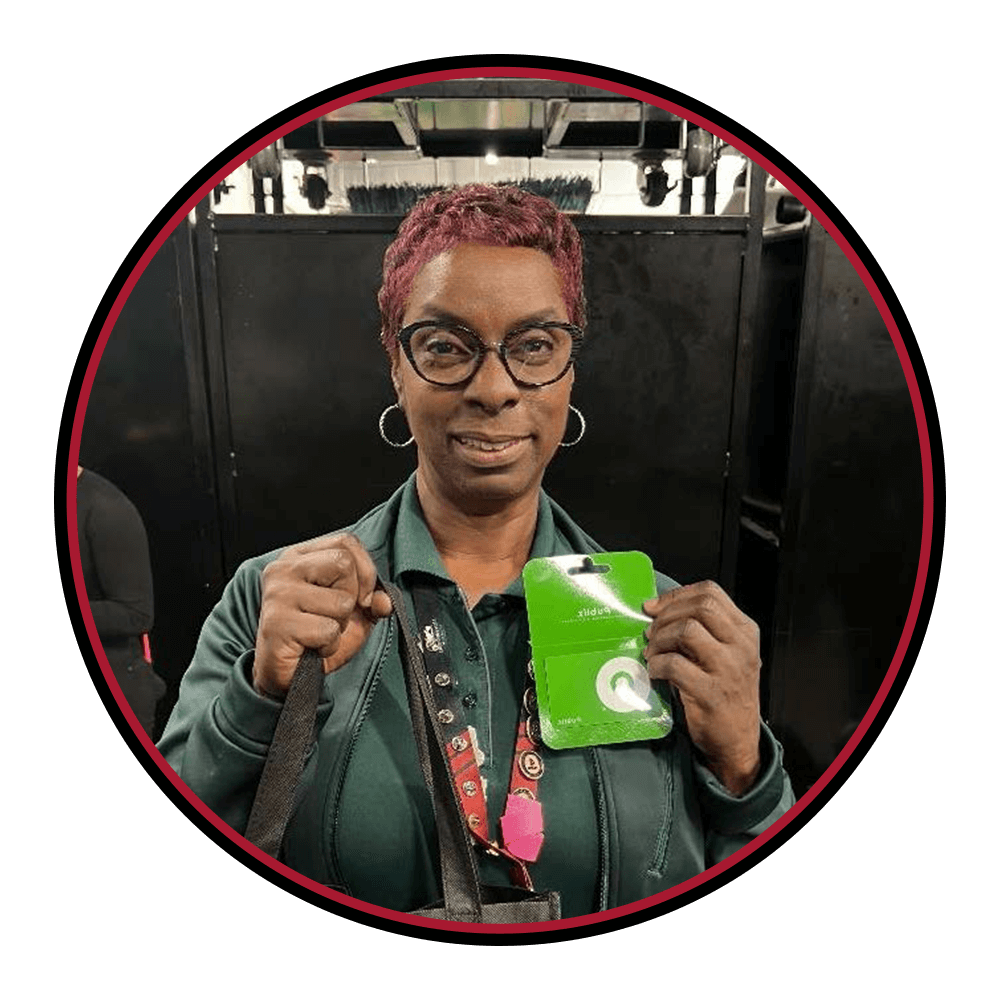 Sonya McCullough – Housekeeping
Sonya has been part of the MBS Housekeeping department since the stadium opened. She has embodied our core values consistently from the beginning. She has a tender heart for people, always offering a smile and assistance to employees as well as guests. Sonya's impact is not just within our walls. Her love for people extends outside the building; regularly looking for ways to help those in need and help improve their situations. She has a particularly soft spot for students, going above and beyond to help find them work, keeps up with their progress, and even attends their sporting events. Not an event goes by that we don't see Sonya going out of her way to help a guest. All while maintaining her areas spotless. I cannot think of anyone more deserving of the Lead with Love award.
Crystal Gillespie – Food & Beverage
There is not a doubt in my mind that Crystal is the example of leading with love. Crystal is a highly influential team member that has been with us in catering since the opening of the stadium and even previously at the Georgia Dome in Catering as well. Crystal has a connection with every team member that comes through our department and assists them new and veteran alike with anything that may come up. Crystal embodies all the core values in this stadium and genuinely cares about the wellbeing of our team as a whole and consistently looks out for the larger picture. Crystal is incredible to work with but even better to interact with as an individual!
Norma Soverall – Housekeeping
Norma joined the MBS Housekeeping department in 2019 as part of the suites team. She is a leader through and through. Norma has a maternal love for people. She takes people under her wing and is very patient. She is vocal about her appreciation of the people who work with and under her, regularly offering words of affirmation. She has developed great rapport not just with the staff but with suite attendants and guests as well. Everyone knows when Norma is not here. Her presence is that comforting, familiar, and meaningful.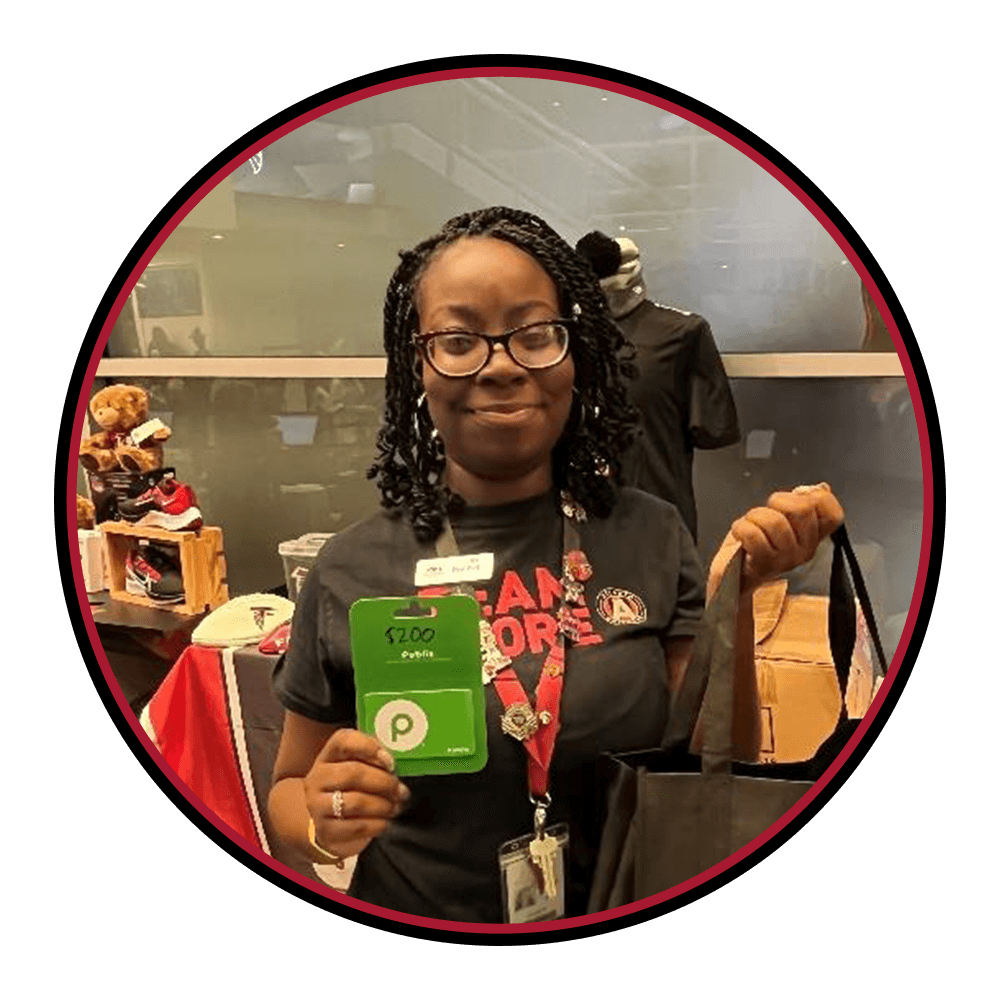 Rachel Smith – Fanatics
It is with great joy that I nominate Rachel Smith for the Lead with Love Campaign for Fanatics Retail. Rachel is the epitome of leading with love and does this consistently throughout the season. As one of our leads, Rachel is tasked to maintain certain areas of the stadium to make sure they are event ready. She goes out of her way to give excellent customer service to our fans no matter what event is in MBS. On multiple occasions she has helped fans find and purchase certain products that they have seen around the stadium. She constantly makes sure the support staff we have working have everything they need for event day, and she will go around and give out candy to them as a kind gesture for them working. Not only does Rachel work event days but daily Rachel is one of the first ones to say "YES" when asked to help with projects we may have on any given day. Without a doubt she makes our operation run smoothly and I am happy that she is part of the Fanatics team at MBS. There is so much more that I could say about Rachel, and therefore she Leads with Love.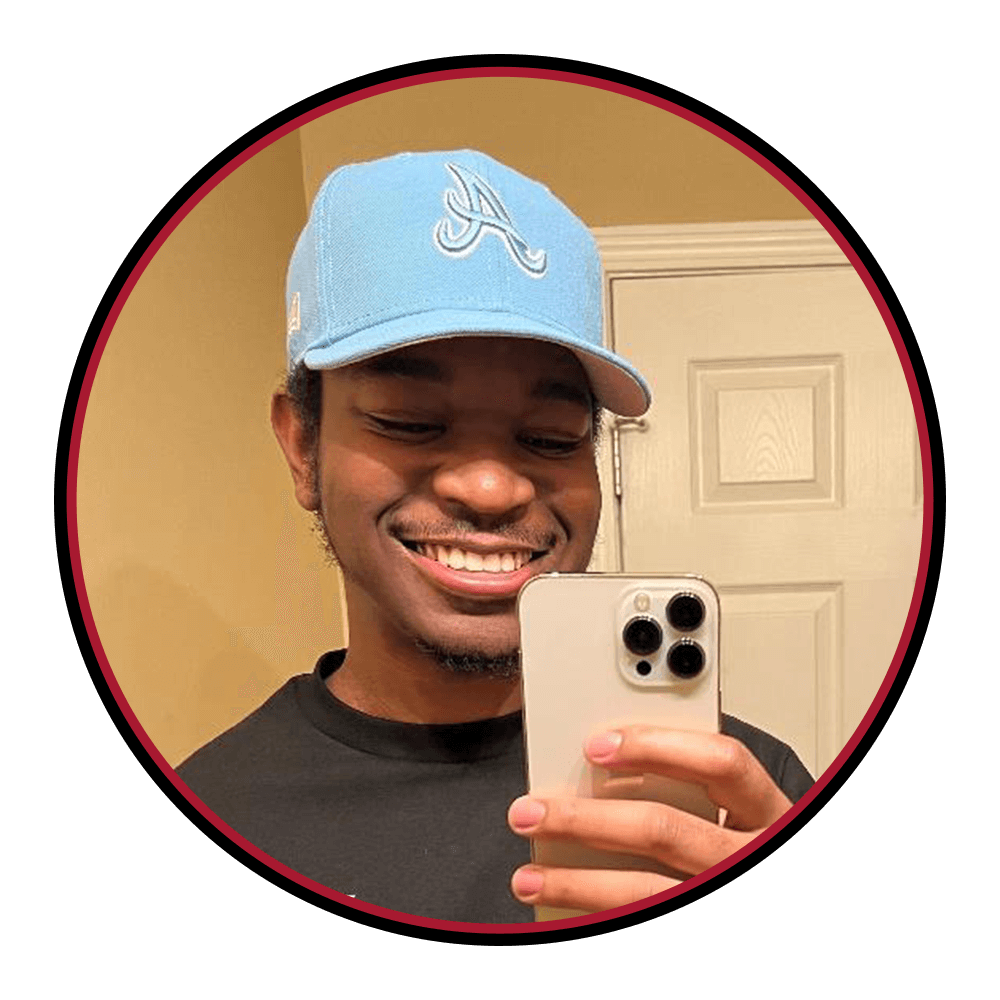 Silvester Jackson – S.A.F.E.
Silvester Jackson lives out "Leads by Example" each shift he works. Silvester has been with SAFE Management since MBS opened in 2017. He began as an event security officer, but through his leadership, has advanced to a supervisor. Silvester is the supervisor on most of the overnight shifts taking place at MBS. This role requires an extreme amount of trust and leadership as our team is expected to have the same level of service during the late/ early hours. Silvester works tirelessly to lead his team each night and show that the same care and attention goes into our tasks through all hours of the shift. It can be difficult to manage during the off hours of the stadium, but Silvester takes every task thrown at him in stride, from setting up gates and equipment, to ensuring artist compounds are secure during concerts. Silvester always has a positive attitude and a smile, no matter if it's the start or the end of his shift. His leadership starts each event day off on the right foot as he transitions responsibilities to the daytime crews
Crystal Cook – Guest Service
Crystal Cook is a rare gem that came to us when Mercedes-Benz Stadium opened. She had been working in sports venues for years and was highly recommended to lead one of our event day Guest Service teams when we opened. When she was initially approached with the opportunity, she was hesitant at first about making a change because she was nervous that dividing her attention between two venues would impact her ability to perform her roles. This care and conscientiousness are what makes Crystal a special leader to us. 
Crystal was an immediate standout among her peers. At MBS we implore our Team Members to live out our core values and service philosophies by treating every person like a welcome guest in their own home. Crystal takes this a step further each day she interacts with our guests and Team Members by taking a personal interest in the wellbeing of each person she encounters. When I think of someone who leads with love, Crystal immediately comes to mind. She wants to best for all guests, associates, and Team Members. She makes it a personal mission to make sure they feel satisfied, empowered, and appreciated. Her Team Members often refer to her as "mama bear" because she won't rest until she knows her team is taken care of. Crystal's ability to lead by example and put people first is one that continues to make our stadium unique and helps to create the impeccable guest experience that makes Mercedes-Benz Stadium the leading guest experience Stadium in the world!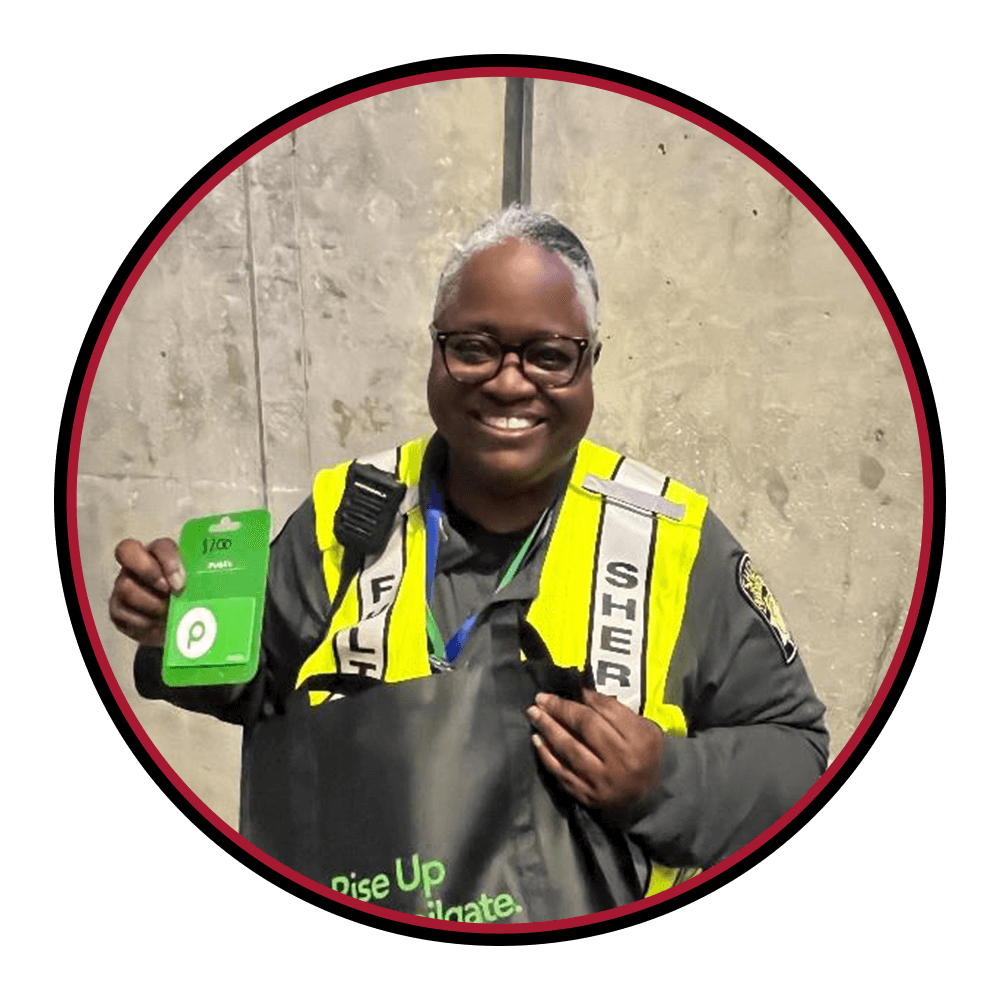 Adrienne Grooms – Public Safety (Fulton County Sheriff's Office)
It is an honor and privilege to nominate Captain Adrienne Grooms of the Fulton County Sheriff's Office to receive Lead with Love recognition. Captain Grooms is an integral part of our Public Safety Team. Not only does she Lead with Love, but she embodies each one of our Core Values. Captain Grooms is typically assigned to supervise the 100 Level concourse for Major Events and can often be found near the Gate 2 Guest Services desk engaging with patrons. She puts people first by spending time answering their questions and giving directions. She is usually one of the first associates our fans encounter upon entering the stadium, and the positive interactions they have with Captain Grooms set the tone for the rest of their time here.   Captain Grooms leads by example by picking up extra shifts and working a variety of smaller events, sometimes on short notice. She will also work double shifts, helping overnight and staying to work for Falcons or United games. For these reasons, and many others, we would like to recommend Captain Adrienne Grooms as a Lead with Love honoree.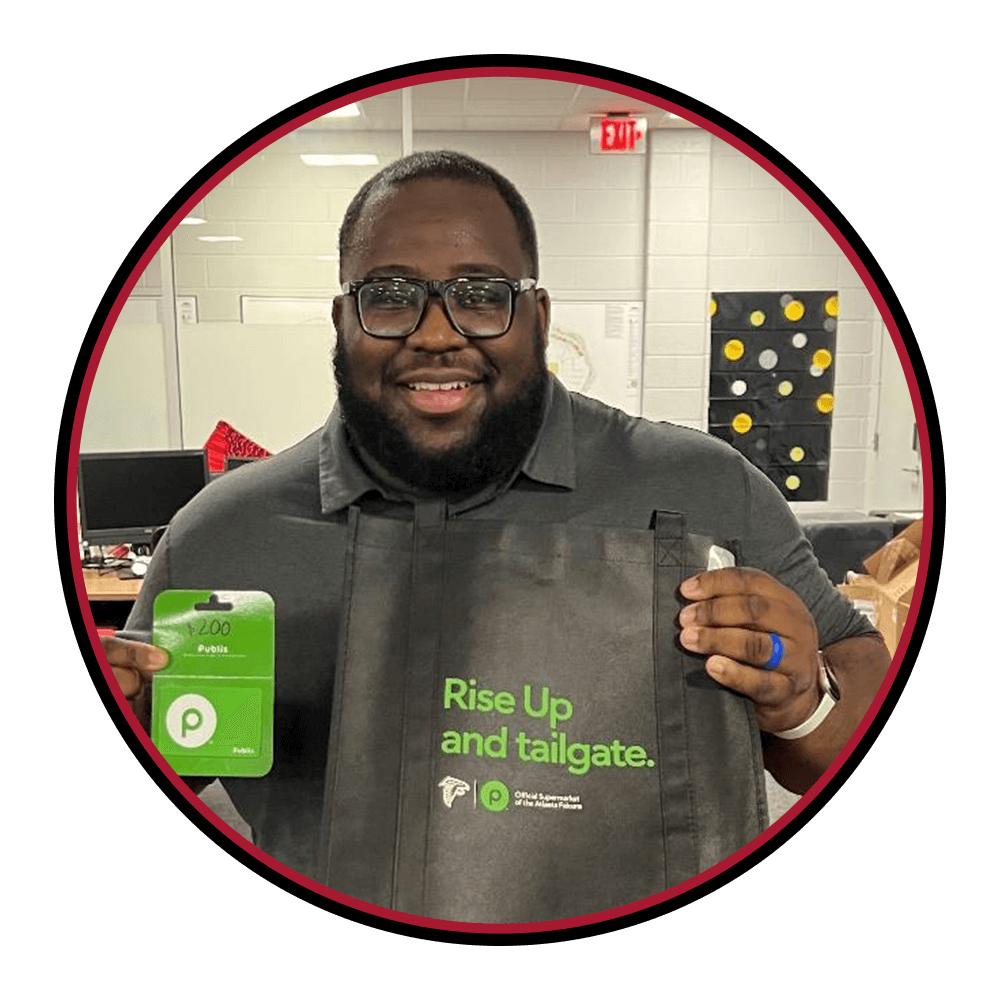 Marcus Cooper – Conversions
You can't mention "Lead" and "Love "in the same sentence and not think of Marcus Cooper.
He embodies leadership, you fall in love with his character and professionalism.
Marcus is from Montgomery Alabama and relocated to Georgia with his family while he was a teenager.
He's a graduate of GSU with a bachelor's in music.
With over 10 years of Hospitality and Customer Service experience, Marcus has spread love and leadership in companies such as Atlanta Journal Constitution, UPS, Dekalb County School System and now at MBS.
Marcus contributes depth, dependability and character to Mercedes Benz Stadium, Stadium Ops Dept., and Conversions team.
With 500+ events under his belt and many more to secure, Marcus is a true leader, puts his team and people first and continues to innovate continuously.