Calais Campbell has been in the league for a long time, 15 years to be exact, and has played with playoff and championship caliber teams over that span. He's also had his own individual success as a player which includes being named a six-time Pro Bowler, a First-team All-Pro, and two-time Second-team All-Pro, among other accolades. So, when it came down to where he'd play in year 16, it had to be the right move. A move that would allow him to make an impact both on-and-off the field.
The last couple of weeks of free agency have been busy for Campbell. The 36-year-old defensive lineman met with numerous teams throughout the process. He admits that Atlanta wasn't high on his list during the free agency process initially, but after a phone conversation with head coach Arthur Smith, things quickly shifted.
Once Campbell took a visit to the Falcons training facility in late-March to meet with Smith and general manager Terry Fontenot in-person, he felt like Atlanta was where he was supposed to be, he said.
"I could really see his vision, his passion, and the way he communicates, and it was just like wow," Campbell said of Smith in his introductory press conference on Monday morning. "Terry was the same way. We talked for a long time. We had very real conversation about life, about football, the history of the game, his journey and my journey. You have to believe in the leadership. They are in a win now mentality, so they definitely sold me. They made me a believer which is huge, but the conversations were huge. They were great."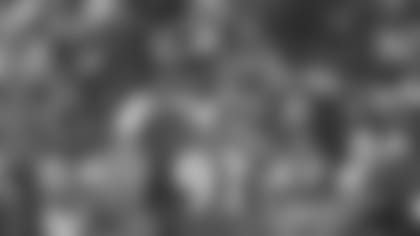 During Campbell's three-year stint in the AFC South with the Jaguars from 2017 through 2019, Smith served as the Titans' tight ends coach and offensive coordinator over that span, so the two were familiar with each other prior to meeting in-person. One thing that stuck out to Campbell during his conversation with Smith was his game plan for where the team is headed.
"This team is going to be a very competitive, tough team," Campbell said. "Based off of our conversations I feel like this defense can be a force and if we have a stout defense, with the offense being able to score points and the run game controlling the clock, I think this can be a very strong team."
Though Smith hasn't formally announced where Campbell will line up, the Falcons told him his role would be playing true defensive end. He says he doesn't expect to play no more than 60 percent of the snaps with a young core in Arnold Ebiketie, DeAngelo Malone and Ade Ogundeji all in rotation. Yet, Campbell noted that he can still give at least 40 plays a game at a high-level.
"Just being a veteran leader, going out there giving everything I got, and being a force on the defensive line," Campbell says. "Arthur Smith said he wanted a violent d-line, and I can bring a lot of violence that's for sure."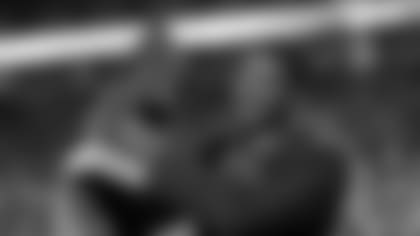 The veteran defensive lineman also had a lengthy conversation with Falcons owner Arthur Blank about his devotion to community service, which also played a role in his decision to come to Atlanta. Campbell earned the NFL's Walter Payton Man of the Year award in 2019 for his leadership and off-the-field efforts in the community, which is something he's passionate about.
"When you get the owner of the football team calling you and telling you that he believes in you and what you can do for the city, that's going to have a big influence on you no matter who you are," Campbell said. "He told me whatever initiatives I want to do in the city from a foundational standpoint, that he'll get behind and support. That's a big part of who I am, making sure my presence is felt off-the-field."
Campbell did his research about the Falcons organization and watched film on both the offense and defense. One of the attributes that stuck out to him about the Falcons offense is they have a very "potent run game." He noted how Atlanta has a three-headed monster with Tyler Allgeier, Cordarrelle Patterson, and Caleb Huntley in the backfield. He also liked what he saw in wide receiver Drake London and quarterback Desmond Ridder.
"If Ridder continues to develop and be who I think he can be," Campbell says, "I wouldn't be surprised if we're playing late in January and potentially February."
When looking at the defensive side of the ball, Campbell says the team has made solid additions to build depth in every area. He had a long conversation with defensive coordinator Ryan Nielsen about the vision Nielsen has for the defense. Nielsen and the Falcons made Campbell feel like his presence on the defensive unit will help tremendously, which is vital for him.
"The biggest thing was more so how they viewed me and how they want to use me," Campbell said. "A lot of the questions were specific to their team and their vision and where they were going. This place was on par with who I am. I kind of like the underdog mentality where nobody really believes in you, nobody really gives you a chance but then you see the poise for an opportunity to break out and have a big year."
Ultimately, Campbell sees the Falcons trending in the right direction and the potential the team has heading into the 2023 season.
"This is a team that's up and coming, that has great potential," Campbell said. "I'm really excited about it. I feel like the team is young and poised and I think I can bring my leadership skills to try to get the guys really locked in and really focused. I feel like we can really do some damage together."