Welcome to Straight from the Beek! The Falcons continue to stay active in free agency, addressing the offensive side of the ball – and you've got plenty of questions. So, let's get right to them. Just remember that all opinions here are mine unless otherwise noted.
Randy from Abingdon, VA
Hey, Beek. The NFL Draft starts on April 25, with the 14th overall pick in the draft, will the Falcons go offense or defense?
Matt: Hey, Randy. Right now, based on everything that's unfolded so far in free agency and considering the amount of depth along the defensive line in this class, I'd have to say defense.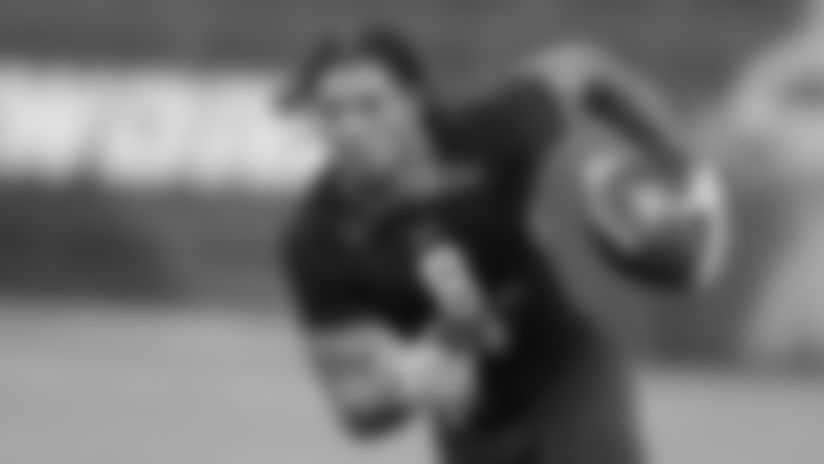 Cailin from Atlanta, GA
Do you think we can go all-in on cornerback Sean Bunting from Central Michigan in the second round? We need another CB that's long and has good ball-hawking skills. Sean Bunting is a guy Dan Quinn would love because of his playmaking ability.
Matt: One thing that I love about draft season – and some of the questions from you guys – is that I get to study up on and learn about a ton of prospects. I can only watch so many college football games during the season and I can't say that I've watched a whole lot of Central Michigan games. That said, I think Bunting will likely be a Day 3 (rounds 4-7) pick. Bunting is 6-foot, 195 pounds and ran a 4.42 40 at the combine. He does have decent length (long limbs) and he's known for playing the ball (and not the man), which is a positive. Based on what I've read on him, Bunting lacks make-up speed. Put it all together and that's why he's projected to be a third-day pick – unless some team out there just falls in love with him, which could always happen with prospects.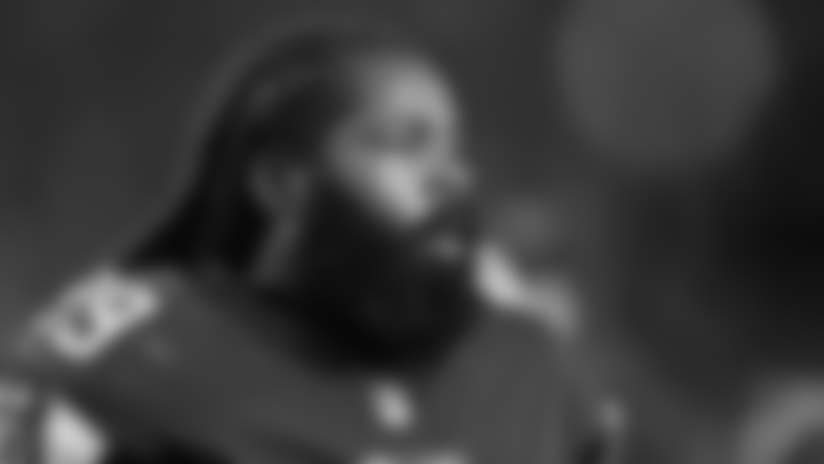 Richard from Augusta, GA
Is there any reasonable chance of getting Adrian Clayborn back on our team?
Matt: Well, Richard, I suppose there is always a chance. In case some readers didn't know, Adrian Clayborn asked for his release – and the Patriots granted it (see the tweet below).
Now, Clayborn says that he's "ready for the next chapter" … whatever that may be. If he still wants to play, teams will always consider a defensive end – good ones are hard to find. After notching 9.5 sacks with the Falcons in 2017 (remember, he tallied six in one game against the Cowboys), Clayborn posted 2.5 last year with the Patriots. He's played eight seasons in the league and has 32.5 career sacks to his name. As far as returning to the Falcons, it'll depend on if there's mutual interest and the price being right. I can't tell you much on that end, so stay tuned for now.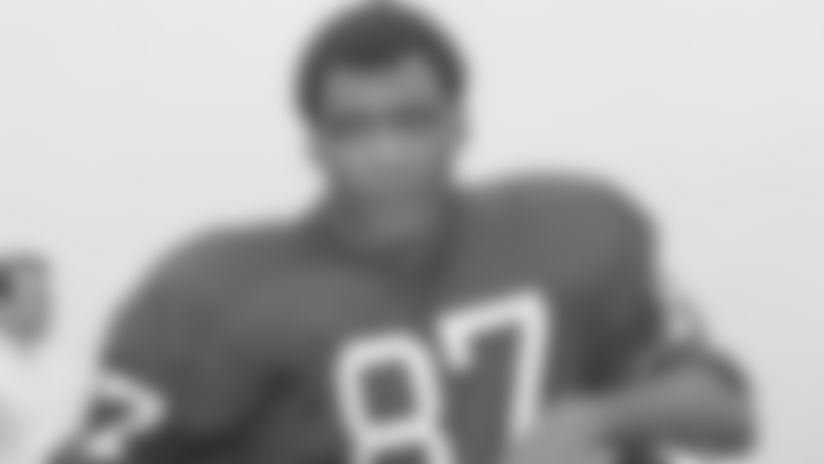 Hugh from Jasper, GA
Please ... Get the Falcons back into the original colors, uniforms and Falcons logo! In addition to just looking sharp and great, it would present an image representing their original leaders … and that's incentive!
Matt: Hey, Hugh. You don't have to twist my arm, bud! You guys know how I feel about the uniforms. I posted a picture above of Claude Humphrey wearing the original look. Personally, my favorites are from the 1989 season – but I love the red helmets, classic logo, block numbers and silver pants (see below). Love them!
Jerry from Statesboro, GA
Hey Beek! I think you're right about this being mostly a defensive draft for us. Signing Kenjon Barner, Luke Stocker and Logan Paulsen is a bit of a head scratcher, but I'm sure two of them or all of them will be cut after camp. I really feel like we should move down in the draft just in case a big-time corner slips into the second round. That way we could use what we gained from moving down in the first, to move up in the second and grab that guy. I really think our first pick will be either Jawaan Taylor out of Florida or Ed Oliver out of Houston. Our next pick will definitely be the best cornerback or offensive tackle available depending on our first pick. I know we don't need a receiver, but if UGA's Mecole Hardman falls to the third or fourth round, I say with grab him to pull double duty as a fourth receiver and kick returner to replace Marvin Hall and Justin Hardy. We haven't had a dangerous return man since we had an aging Devin Hester. What do you think, Beek?
Matt: Well, I think it's pretty clear you love your University of Georgia players, Jerry! And there's nothing wrong with that, either. The Bulldogs have churned out a lot of talent over the years and continue to. But to your points … I disagree that "two of them or all of them will be cut after camp" when you were referring to Barner, Stocker and Paulsen. I think Paulsen and Stocker will have a competitive camp though. It's pretty clear to me that the Falcons want to improve running the running the ball when you look at the all of the moves they've made in free agency thus far. I see a lot of added size in Jamon Brown and James Carpenter. Paulsen and Stocker are primarily blocking tight ends, too. As far as grabbing a "big-time" corner goes, I'll just say that I could see the Falcons selecting a corner on Day 2 possibly if one they really liked was still on the board. But they must go hard at the defensive line – and bring in some defensive tackles and edge rushers. Defensive line, offensive line and cornerback … in order. Of course, that's just my opinion, Jerry.
John from Kennesaw, GA
Why does Atlanta keep holding on to Vic Beasley? He's making $12 million a year and has two sacks.
Matt: OK, John. Here's the deal. The Falcons need some pass rushers – and they do not come cheap. Next to quarterback, defensive ends might be the most sought-after position in the league. Have you seen the defensive ends currently on the Falcons roster? Here they are:
Vic Beasley
Takk McKinley
Steven Means
That's it. Three. Now, it's hard to find really good ones, and when teams do, they generally hold on to them. That said, Vic Beasley is reportedly scheduled to make $12.8 million this season and 29.5 sacks over his four years in the league – five in 2018. Falcons coach Dan Quinn is taking over as defensive coordinator and believes he can get the most out of Beasley this year, too. It would not surprise me at all if the Falcons draft an edge rusher (or two) in the draft. It wouldn't surprise me, either, to see them sign a veteran defensive end before camp starts. But that is why Beasley is here – he's young, he's got potential and he's in a prove-it year contract-wise.
Jason from Groveton, GA
Is there a chance that we could get Ndamukong Suh for the right price? We need a lot of help on are defensive line. The nasty player he is could bring a lot to are defense.
Matt: I think a player like Ndamukong Suh would be terrific lined up alongside Grady Jarrett and/or Jack Crawford – but only for the right price. And that's the catch with Suh. He won't come cheaply. Plus, I've read that he wants to stay out on the West Coast. Never say never, but I don't see it happening, Jason.
Logan from Marietta, GA
Hey Beek, big time Falcons fan here stationed overseas in the Navy. Been a fan of your column for a while now. Question I have for you is, do you think the Falcons will put their eggs in one basket and go after a guy like Justin Houston? What are the odds we land him on a homecoming discount? I think he is exactly what we need and if we could snag Ed Oliver at 14 to go with those other rushers I think we would be primed for a postseason run!
Matt: I've said it here before and I'll say it again – I think Justin Houston still has something in the tank and he's been incredibly productive in the league.
He'd be a fantastic addition to the Falcons' pass-rush rotation … for the right price. The Chiefs reportedly tried to trade him but no team wanted to pick up his base salary. It'll be interesting to see where he ends up. The Falcons said they're going to creative with the salary cap and we're starting to see how (with restructured deals). Stay tuned.