Welcome to Straight from the 'Beek! The Falcons are busy preparing for the final home game of the season, a Week 15 showdown against the Arizona Cardinals on Sunday, and you have plenty of questions in the meantime. So, let's get to them now. Just remember that all opinions here are mine unless otherwise noted.
Charles from Atlanta, GA
Hi, Matt. Tough times, tough fans. I personally like that you don't cave in to the "cut the bums," fire the coach line of rhetoric. It's easy and sometimes essential for some to find solace in placing blame. I listened to this week's podcast (I listen every week!) And I disagree with Dave Archer's analogy on tanking! The stakes are very high in terms of draft positioning, whether they select a top player or trade out for increased picks. Though no one will actually admit it! On the other hand, from a player's perspective, job security is a huge reason not to give up. I don't believe a player goes from being a serviceable contributor to a non-contributor in midseason. Injuries aside, what do you think has contributed to the collective drop-off in performance? Also, since we are not going to the playoffs, does it make sense to evaluate and plan for the draft? (Asking for a friend!)
Matt: Hi, Charles. Two things stick out to me, aside from the injuries. The offensive line play overall and the lack of a consistent pass rush. If I had to go with a third, it would definitely be the rush defense. The Falcons haven't been very strong up the middle this season – on both sides of the ball. Yes, injuries have contributed to some of that, but not to this extent in my opinion. As far as evaluating for the draft, the Falcons scouts are already looking at next year's draft class. What I mean by that is, all of their evaluations on the upcoming draft class are pretty much done. Yes, there is the NFL combine, draft and pro days, but they've been looking at this current class for almost a year now. So to answer your question, it makes total sense.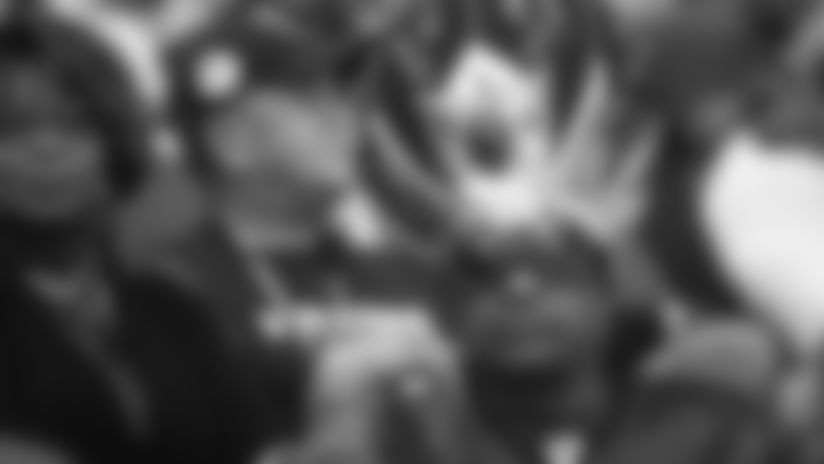 Norris from Marietta, GA
It's has been a rough season for me as a Falcons fan, but I'm still a Falcons fan. I miss seeing you guys win. Keep your heads up. Go Falcons.
Matt: Now that's refreshing … a fan being a fan, supporting his team through the tough times, too. Thanks for writing in, Norris. I hope your loyalty is rewarded one day, bud.
Daniel from Fort Worth, TX
Beek, this is my first time writing in, but read your posts every week. Fire DQ AND TD????? These fans who are saying this are absolutely ridiculous and incompetent!!!! Like you said, they have drafted Julio Jones (arguably will be one of the best receivers in NFL HISTORY), Debo Jones (one of the fastest linebackers in the NFL), Keanu Neal (one the best hard-hitting strong safeties in the NFL), Rico Allen (undrafted free agent, who probably would of made the Pro Bowl as a free safety this year before going down), and to get Calvin Ridley at No. 26. THAT IS 100 percent top of the NFL players. All were picked in the second round or later, minus Julio and Calvin. Really? Fire them???? Think about what you guys are saying!!!! What GM or coach do you think is out there that will out-perform these two???? We have been plagued with SIGNIFICANT INJURIES since Week 1. These are not normal players, these are our top-notch players. The only draft pick I have disagreed on is Vic Beasley. He shows extreme quickness and is in the backfield down after down but seems never to get home. I have absolute faith in DQ and TD and they will COMPLETELY REBOUND IN 2019!!! We will go from winning four games to over 10 next year! So, all you haters, take a deep breath and have some faith because we have more talent on our team then just about any team in the NFL! I am a die-hard Falcons fan living in Cowboys country. I am still hearing about our loss to them. I am still holding my head high and RISING UP FOR OUR BIRDS!!!! GO FALCONS!!!! Please post, sir. THANK YOU FOR YOUR WORK AND TO PUT UP WITH ALL THESE IDIOTIC COMMENTS!
Matt: You brought some of that Texas heat today, Daniel, so here you go. One thing, Keanu Neal (pictured above) was also a first-round pick. I'll say this much, a big part of being a fan is riding the waves of emotions – and there's plenty of it here in Straight from the 'Beek! And you're right about some of the knee-jerk hot takes and overall lack of patience. Some fans forget too easily and become a prisoner of the moment, I think. Regardless, thanks for writing in. I believe Falcons coach Dan Quinn will have an opportunity to right the ship. Don't forget, Quinn and GM Thomas Dimitroff just signed three-year contract extensions prior to the season. They'll both be here.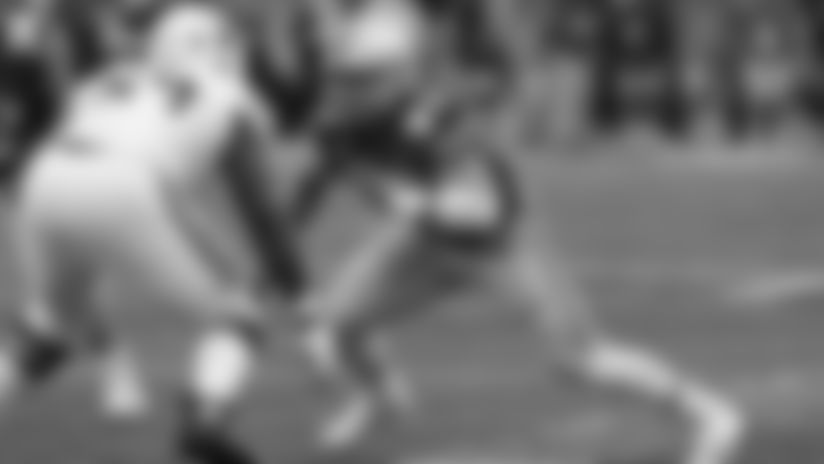 Zach from Marietta, GA
Hey, Beek. I love reading your column. With a top pick in the draft, where do you see us going (edge rusher, DE, OL, or trading down)? Also, what do you think is going wrong on offense and defense besides injuries? How can we fix these issues? With little cap space it is hard to sign someone. Will we clear it up? One last thing is we saw a bit of Isaiah Oliver in the game against the Packers, but I want to see way more of him. Do you agree?
Matt: Thanks, Zach. I really appreciate that. I believe the Falcons must address the offensive line, defensive tackle and edge rusher positions during the offseason. Whatever they do, it'll happen during free agency, the NFL Draft or possibly via a trade. This current draft class is really strong (up top at least) when it comes to defensive linemen and pass rushers. If they end up with a top-five pick, a player like former Ohio State pass rusher Nick Bosa (pictured above), the top-rated edge rusher in this class, could be in play. And, yes, I would love to see more of Isaiah Oliver. As you know, he was a second-round pick out of Colorado last spring and has gotten a decent amount of playing time. I think he has all of the clubs in the bag to be a solid starter in this league – he just needs the experience. Another reason I'd like to more Oliver is because Robert Alford has struggled a lot this season. According to Garrett Mehal at Pro Football Focus, Alford has allowed the most yards at cornerback in the NFL this season, with 737.
Rico from Roswell, GA
Beek! Love the blog brother but will you ever breakdown and say this team is not worth the hype?! Enjoy the optimism, but I don't understand going to battle for this staff week after week. The Marquand Manuel promotion is now a confirmed flop (ranked No. 26 out of 32 teams). Thomas Dimitroff hits on early draft picks but give me some late-rounders and backups that are still in the league. Yes, you can point to Grady Jarrett or Deion Jones but how about the outright misses we are seeing year after year? Lifetime FALCONS here saying LET GOOOOO!
Matt: For what it's worth, Rico, I actually wrote "don't believe the hype" back in August. Now to your points and questions. How about a sixth-rounder who has made significant contributions and will likely be a starter in the coming years? That would be rookie linebacker Foye Oluokun (pictured above breaking up a pass downfield intended for Jimmy Graham). They found him up at Yale, by the way. Or how about a fifth-round draft pick who is currently second in the league in interceptions? That would be second-year safety Damontae Kazee. Should I keep going? OK, no problem. How about a third-round pick who has improved in every single statistical category for three straight years? That would be tight end Austin Hooper. Those are outright hits, Rico. Have they missed on some guys? Absolutely. But, by and large, the draft classes have been very strong as of late. Love that you love SFTB, too. Keep 'em coming.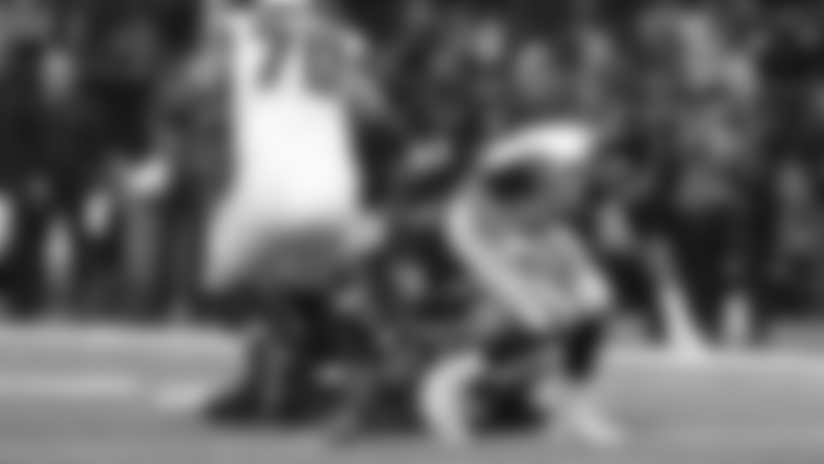 Demetrius from Albany, GA
Hey, Beek. Just want to tell you that I love what you're doing. You're doing a phenomenal job and that this is some good stuff. Just my opinion. My concern is that the defense takes too much of the blame. I know that we're last in defense and we're depleted with injuries, but in about half of the games that we have lost this year, they have done enough to keep us in the game. I think it's time for Steve Sarkisian and that offense to take some of the blame. First off, with the RIDICULOUS amount of fumbles this year especially in the red zone, and I believe Matt Ryan leads the charge in that category. Now I will admit the offensive line has been a little shaky but they're still decent. Plus, we've only scored 20 points or better five times out of 13 games. I don't care who's defense you have, that won't win you many ball games so in my opinion the offense needs to step up. Even with the score Sunday after the first drive they didn't score again until the fourth quarter.
Matt: Demetrius, this forum is all about you guys – the fans – and it's always good to get some positive feedback. Appreciate all of you. I think the defense has taken a lot of heat because there were several games when the offense was scoring points like crazy … and the defense was giving up even more. Just look at the scores from Weeks 2 through 9. The Falcons were averaging almost 31 points per game but they only won four of seven games. The other criticism of the defense this season has been a lack of pass rush. The Falcons just haven't gotten to the quarterback as much as they'd like or should. And let's face it, when you do, good things tend to happen – like turnovers. Now, since the midpoint of the season – the 28-16 loss to Cleveland in Week 10, the offense has hit a wall. The Falcons have only hit the 20-point mark once, and that was in the 34-20 loss to the Packers on Sunday. In the four previous games, the offense has averaged just 17 points per game. Mistakes and red-zone turnovers have been part of the reason, coupled with pass protection breakdowns and no running game. And when you're scoring just north of two scores a game, you're not going to win a ton of games – unless you've got an all-world defense. And I think we've covered that.
Dimaggio from Stockbridge, GA
Seems as if the Brotherhood mantra is only good to rah-rah when the team is winning. Have not heard the Brotherhood phrase one time this season. Why is that? I'm not rooting for any staff member or coach to be let go, but this season performance begs for some major changes! You agree?
Matt: Not one time? C'mon, Dimaggio. Whether you buy into the "in brotherhood" mantra or not, culture matters. And that's really what Dan Quinn has instilled here. And it exists; I've seen it and even experienced it. But the issues for the Falcons have come on game day. There's been execution issues and, according to Quinn and Matt Ryan, a lack of focus at times. Different things cause those things, and it's up to Quinn, his staff and GM Thomas Dimitroff to figure those things and pinpoint what went wrong. If I were a betting man, I's say they already have a good idea right now. Do I think there will be changes in the offseason? Absolutely. There are always roster moves and coaching staff changes. But to your point, yes, there might be more than usual. When you win big and lose big in this league, there always seems to be major changes. Think back to after the Super Bowl LI appearance. There were major changes, specifically the loss of Kyle Shanahan (who went on to become the head coach of the 49ers). And when teams experience four-win seasons and end up with a top-five draft pick, there tends to be major changes. I mean, there's usually a big reason why teams end up that way and no one wants a repeat performance.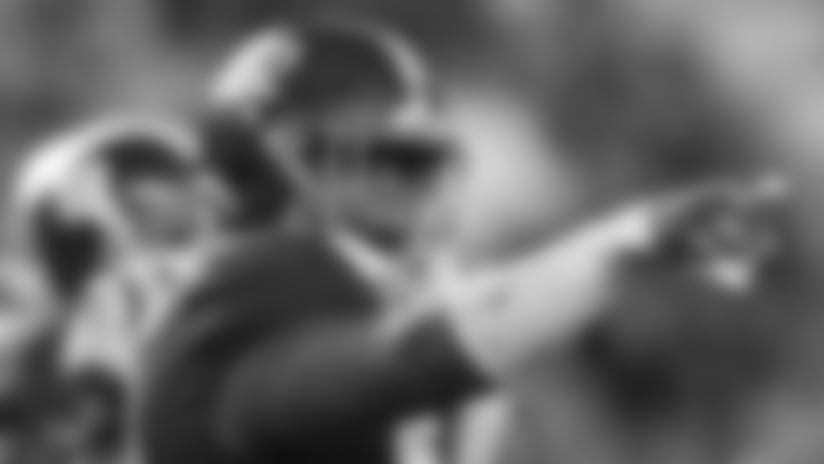 Dustin from Randleman, NC
I am curious to know what the thoughts of beefing up our interior guys such as defensive tackle on the defensive side and guard on the offensive side of the ball. I honestly feel like lately we are losing the battle in the trenches and we need to regain control of that in which we have had in the past seasons that we have been successful.
Matt: As I've noted countless time before today as well as above, yes, I think the Falcons must and will address the offensive and defensive lines. It all depends on what they decide to do with their own unrestricted free agents first. Once they make decisions there, they'll look at who is available in free agency and compare that to who might be available in the NFL Draft (wherever they end up picking). This draft class is particularly deep (in the first two rounds) when it comes to defensive tackle and edge rushers. One player who is highly rated and might be available when they Falcons pick is Alabama defensive tackle Quinnen Williams (pictured above). The Falcons need to not only improve their pass rush on the edge, but they could use someone who has the ability to wreak havoc inside and collapse pockets. Remember what the Cowboys did to Drew Brees a couple weeks ago? Their defense suffocated Brees and their offense struggled mightily in that loss. It's a step-by-step process. Once the season ends, I think you'll see it all unfold and then come together. Hope that makes sense.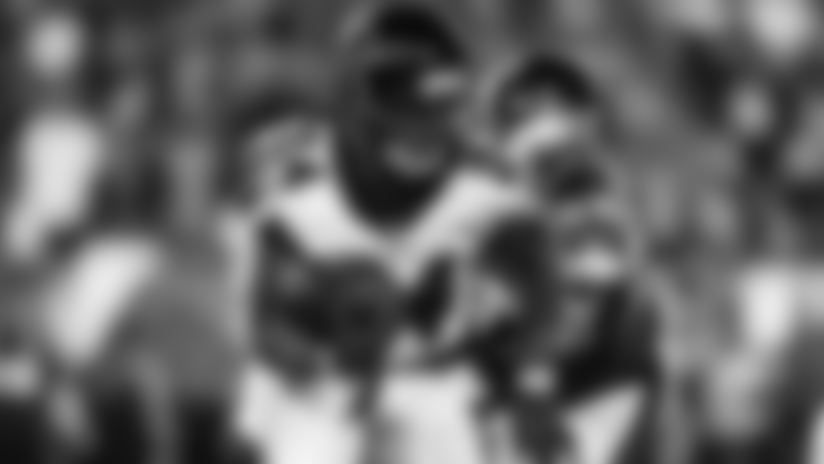 Gary from Virginia Beach, VA
Hey Matt, just want to say I appreciate all the diverse questions you address and not just the easy ones. Now that we are out of the playoffs for this year, I have some thoughts for next year. We are going to get two starting offensive linemen back, a couple of Pro Bowl-caliber defensive players, a hard-running running back and a ton of intel about the real depth at every position. Now add to that we will be picking in the upper half of every round of the draft and maybe picking up a couple of compensatory picks and whoever may be added in free agency ... well ... I'm kinda excited about the future!! So, my question is, am I just kidding myself or do you see things in a similar fashion?
Matt: Hey, Gary. Nope, you're not kidding yourself. At least not about the returning players, like running back Devonta Freeman (pictured above) and the experienced gained by virtually all of the draft picks and first-year players, either. And at this rate, the Falcons will be looking at a top-10 draft pick, maybe even a top-five selection. And when you're picking that high, you should be getting an impact player along the lines of a Matt Ryan or Julio Jones. So in that sense, Falcons fans should be excited about the future. It just stinks that it took a four-win season (maybe) to get there, is all. But keep in mind theirs is a lot that still and will unfold first, as I noted above. Once the end-of-season press conference takes place, the Falcons have a ton of decisions to make regarding their own personnel and staff. From there they'll go right into free agency mode, followed by the NFL combine and draft. Regardless, it's not going to be a quiet offseason by any means around here.
Jim from Canton, GA
When is the Falcons organization going to get to grips that the offensive coordinator has got to go? Steve Sarkisian has no clue how to play at this level. Same goes for the defensive coordinator. The excuse about injuries, while somewhat valid, leaves no excuse for the continued poor play. While we are at it, we need a new GM. After all, it is his responsibility to get the talent we need. Since we are going to have a good draft pick in 2019, get a QB as Matt Ryan needs to go to pasture with his continued floundering.
Matt: OK, so let me get this straight, Jim. You want to get rid of the offensive coordinator, the general manager and the starting quarterback. Got it. How much thought did you put into that?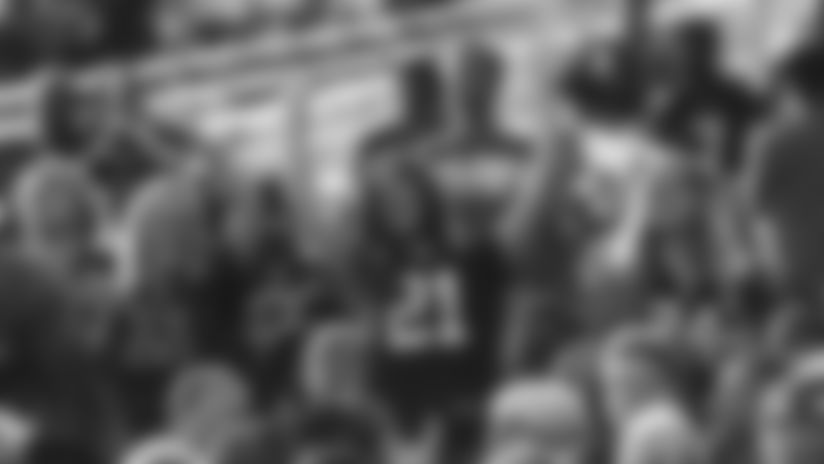 Rick from Eatonton, GA
Morning Matt, love what you do here. I read as often as I can. This is more of a statement than a question. I SMH at Falcons fans they are always the same, one or two bad years and it's "BRING ME THEIR HEADS." Really?! That's one of the biggest problems with the Falcons, no faith and no long-term coaches to build a winning team. Look at the top teams in the NFL, their head coaches have been there a very long time (hint, hint). Let DQ do what he was hired for and "build a championship team." So tired of all the trash talk and ship-jumpers. Might be why Atlanta fans are referred to as some of the worst in pro sports. I've been a lifelong fan and I am sticking by my Falcons!
Matt: I'm guessing you're shaking your head at the previous question, Rick. I think coaches need more than two or three years to change the culture and build a program. And I think what Dan Quinn has done here over the last three years more than warrants a chance to straighten out all of the things that went sideways in 2018. He's a proven winner and GM Thomas Dimitroff has proven he can't find talent and build teams. The two work well together and I believe they'll get things on track in 2019. That all said, next year is an important year. The Falcons must show progress and can't continue to play like they've been during the second half of this season. There are still three games to go, including the last home game of the year on Sunday. It just happens to be fan appreciation week – and hopefully the Falcons fans will show up, be loud and give this team some support. They're lucky to have fans like you, Rick. Thanks for writing in.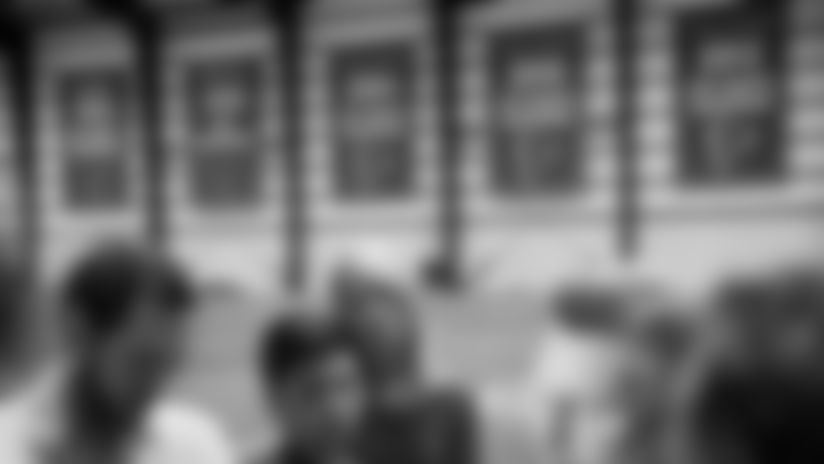 Joey from Jonesboro, GA
Hey, Beek. I was born and raised here and have been a lifelong Falcons fan, but I am really finding it hard to be motivated to keep this up. It seems like no matter how excited I get about the direction the Falcons are headed, they are never more than two seasons away from 6-10 or worse. They are nearly 100 games below .500 in regular-season games all-time. I just do not understand why we cannot be consistent. My question is, what am I missing, if anything, that I can hang my hat on and be confident that we can become a legitimate relevant organization? Love the articles and keep up the great work.
Matt: Joey, there's a ton of things to stick your chest out about when it comes to the Falcons (especially when comparing them to other organizations). Let's just look back at the last 10 years or so. Matt Ryan was drafted in 2008 by GM Thomas Dimitroff. If the Falcons win on Sunday, it'll be their 100th win together. Think about that. Ryan, by the way, has led the Falcons to the playoffs in six of those seasons, including the Super Bowl following the 2016 regular season. That's pretty good, my friend. Now look at the facilities and the place they – and you, the fans – call home. Is there a better sports venue than Mercedes-Benz Stadium? Sure, places like Lambeau Field have the history and the Superdome is loud, but neither compare to the Falcons home stadium. And no one is happy with the four wins so far this season, especially Dan Quinn. Watch his press conferences sometime. Quinn isn't running from anything; he knows where the Falcons are and where they need to go. That's got to at least make you feel a little better, too. Be patient and don't dwell on the negatives. Change is coming but keep your head up! And root like crazy over these next three games. That's just my three cents.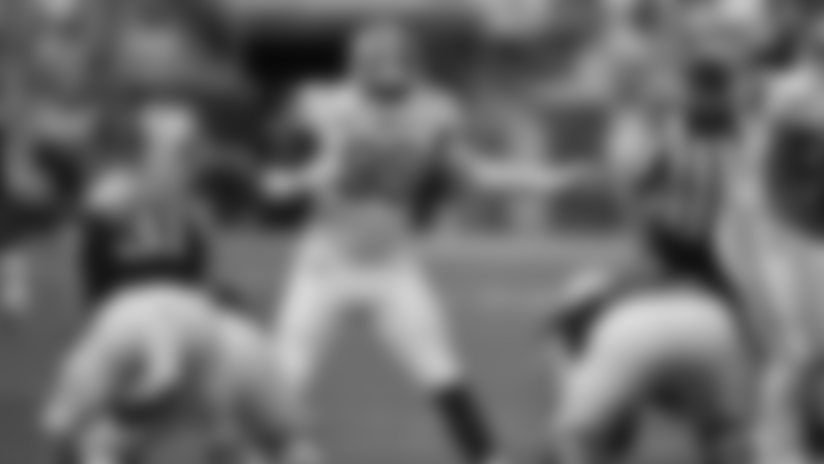 Jonathon from Donalsonville, GA
Hey, Beek. First-time writer here! I been reading every time you put a SFTB out and think it's amazing. Keep it up. Knowing a lot can change from now till the end of season and free agency, my question is since the loss to the Green Bay Packers now and it seems we are in line at No. 4 in the draft, who do you see us potentially drafting if we stay around this order come draft day? Do you think your mind has changed from who you had thought we could draft since we have moved up and if we stay around the top four or five? Thanks for your time. Go Falcons!
Matt: Well, right now the Falcons would pick at No. 5, Jonathon. If the season ended today, the current order of the top five would be 1) 49ers, 2) Cardinals, 3) Raiders, 4) Jets and 5) the Falcons. My mind has not and will not change, either, Jonathon. The Falcons must address the offensive and defensive lines this offseason, whether they do it in free agency, the draft or via trade. There's a lot to be determined yet, but they will certainly look at drafting a defensive player high this year, especially since this class is so strong at defensive tackle and defensive end. I still have to do a lot of work on these prospects, but one player I'll be looking closely at when I start is Clemson defensive end Clelin Ferrell (pictured above).
Be sure to catch Matt Tabeek, D.J. Shockley and Dave Archer every Monday afternoon on Falcons Audible podcast. Listen and subscribe to it on iTunes, Google Play or watch it here on AtlantaFalcons.com.