FLOWERY BRANCH, Ga. – Marquand Manuel's approach as the Falcons defensive coordinator can be summed up in one word:
A former NFL safety, Manuel brings a philosophy centered around empowering the players to teach their teammates and fill various leadership roles. This season, that approach has helped turn the Falcons' defense into a top-10 unit that is improving seemingly every week.
"Every time you play really good defensive football, it's a collective effort," Falcons coach Dan Quinn said during his Tuesday press conference. "Nothing beats teamwork. And we really try to stay consistent with that to make sure no man's an island to themselves. It's how they go about the whole process together, and [Marquand] is right at the very beginning of that and the middle of it to make sure we rely on each other hard."
In his first season as defensive coordinator, Manuel helped the Falcons' defense finish ninth in yards allowed per game and eighth in points allowed per game. Atlanta held its opponents to under 20 points per game for the first time since 2012, and improved by nearly a touchdown in that key category.
Now, it appears that a suffocating defense has become the Falcons' key strength as they seek a second straight Super Bowl appearance.
Manuel began his coaching career as an assistant in Seattle. He is very familiar with Quinn and knows exactly what his head coach wants in a defense. The energy he brings and his connection with the players is entirely Manuel, but he has been prepared well for his current role.
"Yes," Quinn said emphatically when asked if he and Manuel had the same kind of mindset. "I would say very much [so]. The fact that we've sat next to each other for a number of years now – at least five or six – so, we're able to communicate quickly about our scheme, our style, the attitude, how we play. That doesn't happen in a month's time. Those are things that are built through time."
With each passing game, Manuel's group looks to be only getting better. The Falcons limited the league's highest-scoring offense to just 13 points and, outside of a handful of plays, bottled up the NFL's leader in yards from scrimmage.
His experiences in the league allow Manuel to connect with his players in a unique way. He can draw upon his in-game knowledge to teach from an angle that defenders can understand, and he has the type of credibility that only comes from playing football at the highest level.
"He's a great coach," Falcons safety Keanu Neal said. "He relates to us, and I've got a lot of regard for him. He's a great defensive coordinator as well.
"He's always giving us tips and tricks. The way he coaches is he coaches from his experiences – stuff that he learned as he played. So, it's definitely cool to learn from."
Atlanta's defense has become the tone-setter for this team. It's developed an edge that can help carry the Falcons through the postseason, and the entire team looks to have a toughness about it.
A portion of that mindset is a byproduct of Manuel, a former sixth-round draft pick who spent eight seasons in the NFL and was a starter for Seattle in Super Bowl XL.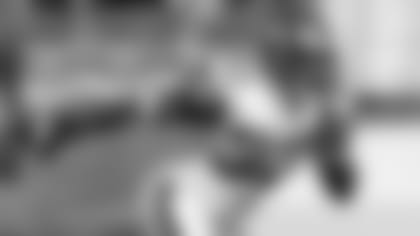 "He's a guy who makes you rely on your brothers a lot, because he's a guy that sometimes he'll bring some tension," Falcons safety Ricardo Allen said. "He's a guy that will push some buttons and stuff like that, and that sometimes makes you draw closer.
"Sometimes [the coaches] leave a problem out there for the players to come together and solve. And they know us as a group and as a player-led team, and we do that all the time and that brings us closer. And he's a guy who loves to come in and stir things up here and there, man, and we love it."
Manuel is now at the center of what is quickly becoming one of the best defenses in the league. It's a group that looks capable of shutting down opposing offenses and winning games outright for Atlanta.
Only four NFC teams remain in the hunt for a trip to the Super Bowl, and Manuel's defense is part of the reason the Falcons are one of them. "I've got great trust in him," Quinn said. "He's got a really quick mind. He, on game day, is really quick to adapt and adjust, which is not an easy thing to do. You have to go through those to have that experience, and he's very well equipped for that."