FLOWERY BRANCH, Ga. – Younghoe Koo barely spoke English when he first immigrated to the United States. He was born and initially raised in South Korea, moving to New Jersey when he was 12 years old.
That's a formative period for someone to start a new journey in a faraway land, with a language barrier hindering his ability to fit right in. Koo's middle school paired him with another Korean kid who could help translate for him when needed, but there were still moments where he felt overwhelmed by so much new.
"I remember that first day, I was in a gym class when all these kids came up to talk to the new kid in school," Koo said. "They were introducing themselves and saying hi, and I was just nodding with a smile on my face. I had that the whole day, and then I went home and told my mom I had no idea what they were saying."
Koo wasn't shy. He just wasn't sure of how to engage with his classmates. That got easier over time, as his English got better. Sports, however, really helped Koo bridge the gap.
He came to America as a soccer player but ended up flourishing in football, turning a random run-in on a middle-school playground into a productive NFL career as Falcons kicker. His journey has endured some ups and downs, but Koo has remained committed to realizing a dream. He has found a home in Atlanta, one made more permanent after signing a five-year contract extension last offseason.
Koo detailed all that and more in the latest Falcons in Focus podcast, which can be seen above and on YouTube or heard on Apple podcasts or Spotify.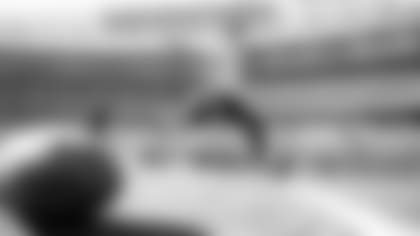 That conversation included some great tales from his youth, including his football origin story.
"When I moved to New Jersey I started playing soccer, but I quickly got into football during lunch recess," Koo said. "They said, 'I know you play soccer. Can you kick this [ball] off?' for two-hand touch football or whatever, and I really booted it. They were like, 'Yeah. You can come out.'
"That's how I signed up for football and that's how I made a lot of friends that I wouldn't have otherwise. That was especially true at that time, when I didn't speak English and was trying to find my way in a new community, a new school, a new everything. That helped me."
It also helped that Younghoe's middle school football coach came to his house and explained to his father why it was a good idea he play football, "that I had a future in this."
That was an exciting (and accurate) thing for Koo to hear, but sports was so much in more than setting up his future. He was about his present circumstance, a way to make friends while immersing into the culture.
Koo still needed some help doing that and got some on the gridiron that helped him learn a foreign (and complicated) sport.
"Just like I had a Korean friend in the classroom, I had a Korean friend on the football team," Koo said. "He would translate stuff for me during practice. If coach would tell us to do something, he would explain what he said so I could go and do it, until I started picking up English. That's how I picked up the game."
Koo thrived once he learned it and was featured on offense, defense and special teams. He wasn't just a specialist, and loved the physicality of playing other positions. He loved the camaraderie as well, which is why he turned down an offer to kick at a private high school. He wanted to play all three phases with all the friends he had made over the years.
Sometimes he had to be forward making them, even when a lack of language mastery made such exchanges fraught with anxiety. Younghoe recalled one time where, despite being nervous, he decided to be bold.
"I was going to practice one day with a bunch of friends and I didn't really know how to phrase a sentence of how to ask what they do on the weekends and if they wanted to hang out," Koo said. "I was at home on the weekends shooting hoops or whatever, but I didn't really know how to ask that or what they do here. I'm in a new country and I really don't know.
"I was sitting in a car and I thought, I'm going to do it. I'm going to ask him. What I said was, 'I'm bored.' They were like, 'What? Right now?' And I said, 'On the weekends.' And they said, 'You're bored on the weekends?' They kind of put things together based on what I was saying and, later, they called me to hang out. That's how I made my first move to make friends outside of practice or the classroom.
"At the time it was nerve-wracking. But I really wanted to ask because, at the time, I didn't know how do go about that. That was a big moment for sure."
Koo isn't big on doing expansive interviews but doesn't mind sharing his story when appropriate and in the right setting. There aren't many prominent NFL players of Asian descent, and Koo is proud to represent where he's from and promote the game to kids from a similar background. He's also happy to help anyone going through a similar experience he had, as a kid from another country trying to make friends in a new home.
"I'm just over here kicking a ball for a living. It's surreal to me that I can have some influence," Koo said. "To see people support me, especially to kids who say, 'I look up to you,' or to hear that I'm an inspiration to some, that's crazy to me still. But I understand that I have a platform to tell my story. I'm not the first person to go through something like that and I won't be the last one. I love to share my journey and share my story. If I can reach just one kid or influence one kid to push themselves out of their comfort zone and ask, 'what are you doing on the weekend?' to make a friend or something like that, that would be pretty cool."
Send Our Squad To The Pro Bowl
Vote now to send your favorite Falcons' players to the 2023 Pro Bowl!