After one season of hosting play for the Atlanta Falcons and Atlanta United, Mercedes-Benz Stadium has been voted as having the best food and beverage experience by NFL and MLS Voice of the Fan surveys.
In May of 2016, MBS officials announced a game-changing new approach for the stadium's food and beverage program, including fan-first pricing on traditional fan favorites; stadium design features that allow more onsite cooking capacity and quicker transaction times; broader menu options and fan-chosen restaurant partners operating with in-stadium pricing set at the same rate as it is at each partner's retail locations; and an innovative concessionaire agreement with Levy Restaurants that kept control of pricing and menu, as well as training and oversight of gameday staff, under the control of MBS with Levy serving as business manager.
Based on NFL research, one of the most important factors of a positive fan experience is food and beverage, yet fans consistently rank it among the lowest amenities tracked by the NFL and across all major sports. NFL fans and MLS fans are surveyed weekly by the league on various elements of the gameday experience, including four unique food and beverage categories: quality, price/value, speed of service and variety. The Falcons and Atlanta United each finished first in overall F&B, and in each category, in their respective leagues for 2017.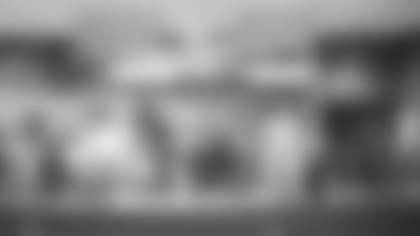 Internal measurements indicate that fans responded positively to the new approach. The Falcons matched 2016 full-game consumption levels by the end of the first quarter of Falcons games during 2017 regular season games. In all, more than 200,000 items were sold per Falcons regular season game in 2017.
Gate and transaction data also indicate more than 6,000 Falcons fans per game entered MBS earlier than in previous years to take advantage of food and beverage options and pricing in the stadium.
"Arthur Blank's vision, resolve and significant investment to improve the fan experience by listening to the fans, and including them in the process of addressing their stated pain points, drove us to this new approach," said Steve Cannon, AMB Group LLC's chief executive officer. "This was first and foremost a huge investment in the fan experience and training gameday associates in an entirely different way to deliver on it. We're certainly pleased with what we've seen so far, but there is more work to do. Delivering a great fan experience and business innovation are never-ending missions."
Stadium officials cite earlier arrival time by almost 10 percent of the total fan capacity as only one of many positive system-wide impacts that were byproducts of the design, execution and service of the food and beverage program.
The Falcons also finished at the top of the league surveys for security screening, due in part to earlier fan ingress. Merchandise sales for the Falcons increased 88 percent over 2016, according to NFL surveys, and 92 percent of fans attending Falcons games made a food and beverage purchase inside MBS in 2017, substantially up from 2016. Moreover, the first-season food and beverage satisfaction ratings contributed to overall game day satisfaction ratings of first in MLS and third in the NFL, up from 17th in 2016. "Years ago, we started talking to our fans through surveys, focus groups, tasting events and gameday intercepts and they spoke loud and clear on this topic," said Rich McKay, president, AMB Sports and Entertainment. "They are the experts on fan experience and the most important constituent for our businesses. They designed the experience and challenged us on the pricing model so it is the Atlanta fans that really deserve the credit for these initial results, and we'll keep listening because we are just at the start of this process. We were also very fortunate to have an owner committed to the investment, and to find a partner in Levy that was willing to look at this in an entirely different way."
Results from NFL and MLS Voice of the Fan Surveys (2017)
| | | | |
| --- | --- | --- | --- |
| F&B Element | MBS | NFL Avg. | Atlanta Falcons NFL Rank |
| Overall | 8.2 | 6.2 | 1st |
| Variety of food | 8.4 | 6.7 | 1st |
| Quality of food | 8.1 | 6.6 | 1st |
| Speed of service | 8.1 | 6.7 | 1st |
| Value for price paid | 8.5 | 5.0 | 1st |
| | | | |
| --- | --- | --- | --- |
| F&B Element | MBS | MLS Avg. | Atlanta United MLS Rank |
| Overall | 8.7 | 6.7 | 1st |
| Variety of food | 8.8 | 7.0 | 1st |
| Quality of food | 8.4 | 7.1 | 1st |
| Speed of service | 8.4 | 7.2 | 1st |
| Value for price paid | 8.8 | 5.8 | 1st |
Quality: Chef in every stand; 53 percent of stands have cooking capacity as compared to only 27 percent in 2016; menus designed for quicker decision-making; partners operating their own stands to ensure quality of their food and guest service.
Speed of service: 65 percent more points of sale; queue line design to maximize space and minimize wait times; self-service soda; whole-dollar pricing; condiments self-service areas; intelligent menu development; all designed to minimize waits.
Variety: Holistic design of MBS allows for core products, restaurant partners and specialty carts to be accessed on every level; 1,264 beer taps allow for more beer offerings throughout MBS. Stadium engineered end-to-end to eliminate running out of any food products.
Price: Affordable pricing on food and beverage that is comparable to the pricing at local restaurants or convenient stores; and consistent prices that do not rise for any event, including the Super Bowl, NCAA Final Four, concerts or college football games.
About Mercedes-Benz Stadium: Opened in August 2017, Mercedes-Benz Stadium is a world-class sports and entertainment venue in downtown Atlanta and home to the NFL's Atlanta Falcons and MLS' Atlanta United. The multi-purpose stadium is host to major sports and entertainment events, including the Super Bowl in 2019, the NCAA Men's Final Four in 2020 and the 2018 College Football Playoff Championship game, and is the first professional sports stadium in North America to achieve LEED Platinum Certification by the United States Green Building Council. Mercedes-Benz Stadium is proud to be collaborating with twelve founding partners, which include Coca-Cola, Equifax, The Home Depot, NCR, Novelis, SCANA Energy, SunTrust, IBM, Georgia Power and American Family Insurance.