ATLANTA – Notice anything different about the Atlanta Falcons app on your phone lately? You should've because everything is different with our new and improved mobile app that was launched recently.
As most NFL fans know, there is no downtime anymore when it comes to football – news breaks 365 days a year now. From the 24/7 news cycle during the regular season and postseason to free agency, NFL combine and the NFL Draft, getting the latest news when it happens is crucial for fans. And the Atlanta Falcons' new app is capable of delivering team news, transactions, player access, game day highlights and more exclusive content right to your phone better and quicker than ever before.
In short, it's a must-have for diehard Falcons fans.
The new Falcons app is also an invaluable resource for game days at Mercedes-Benz Stadium. Digital tickets, access to your Ticketmaster account, stadium maps, parking, 24/7 virtual concierge, food and beverage menus and more are all available with the tap of a button.
Breaking news
Be the first to know the latest Falcons news about transactions, injury updates, scores, highlights, analysis from our writers, exclusive videos and photo galleries straight from the team, pushed directly to your device.
Content 365
We eat, sleep and breathe Falcons football – and so do you. With the new Falcons app, we'll package and present the latest editorial, video and photo content to fans year-round, catering to their preferences, featuring a more modern and cutting-edge design.
Improved user experience
Finding what you want when you want it is important. Navigating through our new app is so much easier now. You'll be able to find your favorite article series, watch the latest videos and scan through all of our photo galleries with just a click or two. The new app will simplify the process of fans seeking team and roster information along with all their in-stadium needs.
Other features on the new Falcons mobile app:
Improved stadium map: Reducing confusion and travel time for fans on game and event days, featuring up-to-date menus for food and beverage locations.
Falcons rewards: Providing value to app users based on event attendance and brand loyalty that can be redeemed at food and beverage locations and team stores.
Custom notifications: Ability for fans to select which notifications they prefer to receive.
Messaging inbox: Users can access and view previous notifications and direct messages from the team in their own app inbox.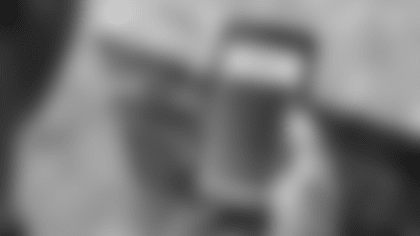 App Tutorials
Click below to learn about the new features and experiences in the official Atlanta Falcons mobile app.
Secure digital ticketing
For Falcons fans on game days at Mercedes-Benz Stadium, the new app also features the latest ticket technology - keeping safe and secure event entry top of mind by reducing the risk of ticket fraud from stolen or counterfeit tickets. Details and answers to common questions on these new tickets can be found below, and you can view step-by-step ticketing guides in the 'Using the App' tutorial.
A Couple Things to Know About These Enhanced Tickets
When you attend events you'll need to display your tickets on your mobile phone. Your barcode includes technology to protect it, so you won't be able to use screenshots or print outs.
What happens if my ticket doesn't scan properly?
This ticket works best with a bright screen, double-check your setting just to be sure it doesn't need to be adjusted. If that doesn't work, visit the venue box office where the team will be glad to assist you.
Can I have multiple tickets on a single phone?
Yes, you can easily swipe to view multiple tickets within your account. If you bought tickets for your group, our simple ticket transfer tool makes it easier than ever to meet at your seats instead of waiting outside.
Will the person I transfer tickets to need a Falcons Ticketmaster account?
Yes, and it takes just a few seconds to create one if they are new to Ticketmaster. If they already have an account, just be sure to use the email address associated with their Falcons Ticketmaster account so it's even easier for them to accept their tickets.