FLOWERY BRANCH, Ga. – For the second year in a row, the Salute to Service Award is going to a member of the Atlanta Falcons.
Falcons kick returner Andre Roberts was named the winner of the NFL's Salute to Service Award on Wednesday, marking the first time in the award's history that back-to-back recipients have come from the same team.  
"True heroism is measured by a person's willingness to sacrifice themselves for the safety and freedom of others," Roberts said of winning the award. "The men and women of the U.S. Armed Services are the greatest collection of heroes in our world today.
"I'm honored to salute their service and I'm forever grateful for the military heritage of my mother and father, both Army veterans, as well as the values of service to country and fellow man I received at The Citadel. May God bless the brave men, women, and families of the U.S. military who have sacrificed so much for our great country."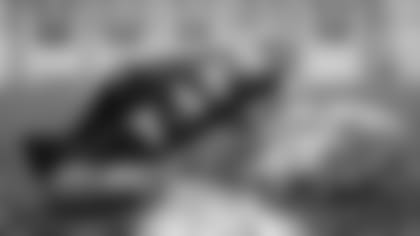 The NFL's Salute to Service program hits close to home for Roberts, because his appreciation for the military began exactly there – in his home. Both of Roberts' parents served in the U.S. Army – his father finishing as a command sergeant major and his mother as a first sergeant.
Although he didn't enter the military like his parents, Roberts chose to attend college at The Citadel, one of only six senior military colleges in the U.S., where he starred as a wide receiver, set numerous school records and was named a two-time All-American.
Roberts' experiences growing up has helped him become a leader not just on the football field but in the community as well.
During the league's Salute to Service Week, Roberts joined long snapper Josh Harris at a local VA Medical Center to give thanks to the veterans located there. He also spends his summers helping to host football camps for the children at military bases, such as the one he held at Little Rock Air Force Base in June.
Roberts is a man who understands the value in serving others, and it is his selflessness and compassion that has made him a finalist for the league's Salute to Service Award. "The biggest thing I'd say is it's not always about the money," Roberts said while receiving the Falcons' own Salute to Service Award in December. "The biggest thing you can give somebody is your time. If you can give somebody your time, show your support, it always helps."