FLOWERY BRANCH, Ga. – Falcons wide receiver Julio Jones reportedly made a trip back to Tuscaloosa, Ala., for a business trip. And as one of the most celebrated players to ever wear the Crimson Tide uniform, Jones was asked a number of football-related questions, of course.
One of the topics Jones was asked to provide his thoughts on was Atlanta's offensive coordinator Steve Sarkisian, who also has ties to the University of Alabama football program.
After spending the 2016 season as an offensive analyst on Nick Saban's staff, Sarkisian was promoted to offensive coordinator the week prior to the national championship game, which pitted Alabama against Clemson.
Sarkisian left Tuscaloosa following the season to become the Falcons' offensive coordinator after Kyle Shanahan left to become the head coach of the San Francisco 49ers.
The Falcons offense dropped in a few statistical categories from the 2016 season to 2017 season – most notably in their red-zone efficiency where they converted on 50 percent of their chances to the red zone – and Sarkisian took the brunt of the criticism for the drop in production.
"I know your first question, and I'm not even going to wait for it," Quinn said early in the press conference. "Yes, Sark is coming back in 2018.
"And we've done this dance before. Back in 2016, I stood in front of you and we had some conversations about Kyle Shanahan. A number of people wanted his head. Well, they're different people and they're different coaches, but what has stayed the same, and what I learned during that process, is in order to build consistency, you better be consistent."
Jones, Atlanta's No. 1 receiver, offered a strong endorsement for Sarkisian as well. The five-time Pro Bowler caught 88 passes for 1,444 yards – both totals up from the 2016 season. The only major statistical Jones was down from 2016 was touchdowns where he went from six to three.
"Sark was good," Jones said to AL.com. "Sark was really good for us.  A lot of people – they didn't believe in Sark. They'd say, 'He messed up. He's not doing this and not doing that.' I love Sark. He did a great job for us."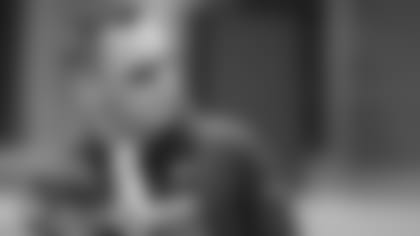 Rather than placing blame on one specific thing or person in regards to what went wrong with Atlanta's scoring production in 2017, Quinn reiterated how important it is to take all things into consideration.
"To examine what was wrong with our scoring is not an indication on one play-caller or on one player," Quinn said. "It's on all of us. There's plenty of plays Sark would like to have back. There's some throws that Matt [Ryan] would like to have back. I'm sure there's some drops from our receivers, our tight ends and our running backs that they would like to have back. And myself, some calls that I would like to have back.
"But, placing blame on one person would be wrong in this instance. And so, for me, I wanted to make sure the way we'll get better is our execution. And, at times, we under-executed and didn't come through when we needed to."
Both Jones and Quinn are confident that in Year 2, Sarkisian will have a much better feel for how to feature players.
"This is his first year in the offense, first year working with us," Jones said. "It just takes time. The more and more time he gets with us the better he will be play-calling and things like that and we will gel more -- not only together as a team but just also with Sark."
Quinn points out that experience is the best teacher in terms in this aspect, something Sarkisian will have more of in 2018.
"Just another year of how to feature the guys. I think that's a better thing to understand. Some of that trust doesn't happen overnight, and you have to really understand what nuances a guy has: How do we feature him? This player for this play, this one for that. He didn't get a chance to see even [Julio Jones]or [Taylor Gabriel] until almost the regular season. … I would hope one of the areas we can really improve on, as we're heading into the offseason, heading into training camp, is featuring the guys in the very best way. And you can only know that through your experience with them."