---
---
The Falcons roster is full of talented football players who also starred in other sports. Receiver Drake London is the best example of that, considering he played both football and basketball at USC, but Arnold Ebiketie, Troy Andersen and so many more earned lots of varsity letters in high school. That's no coincidence. The Falcons value players with the versatile talents required to be good at more than one sport.
---
---
Drake London wrapped his true freshman USC football season on Dec. 27, playing Iowa in the 2019 Holiday Bowl. He made his college basketball debut just nine days later. 
The in-between was nothing short of a whirlwind, where London traded shoulder pads for sneakers and used a handful of practices to find sync with the USC men's basketball team. He was on a plane bound for the Pacific Northwest less than a week after his last football snap and played at Washington shortly after that. 
London gladly made a crazy transition that's extremely rare, where one athlete is talented enough to play two sports at a major college level. 
USC recruited London out of Moorpark High School in Southern California to play football and basketball, with offers from both teams. He accepted the football scholarship and was technically a walk-on for the basketball team, creating an arrangement for him to pursue two dreams at the same time.
That doesn't happen much, if ever, anymore. Multisport athletes often specialize after high school, if not before, to center focus on the sport they love most or the one that fits their talents best.
London was so good at football and basketball that he took parallel paths. His basketball road eventually reached an end in Dec. 2020 when, for several reasons, he chose to focus on football.  
While it was difficult to walk away from the sport he first loved, London made the right choice.
He was excellent on the gridiron, so good in fact that he was named 2021 Pac-12 offensive player of the year despite missing four games with an ankle injury. Then the Falcons made him the first receiver taken in the 2022 NFL Draft at No. 8 overall. He continues to ascend at the NFL level as a true No. 1 receiver.
"I always wanted to be that kid who made it to a league, no matter what it was," London said. "I got blessed enough to make it to the NFL. And at one point, I wanted to be blessed enough to make it to the NBA. I did everything I could to achieve those goals."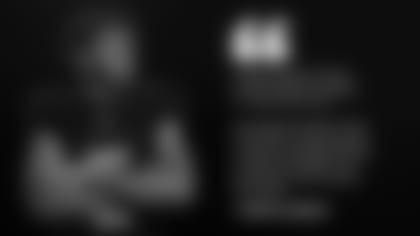 ---
---
That hard work paid off in somewhat surprising ways. It turns out that playing basketball made London a better receiver. Spatial awareness, body positioning, high pointing the ball and learning how to break an opponent down one-on-one are all basketball qualities evident in how London plays football.
"Growing up," London said, "I didn't really realize how beneficial playing multiple sports could be and how it played out into my favor."
It certainly helped him while talking to the Falcons during the pre-draft process. They asked London about his basketball career during formal interviews at the combine and his pro day, and it was clear the Falcons had watched some of his basketball tape.
"They got a better evaluation for who I was as a player and my movements on the court that can help on the football field," London said. "I think that was a big help in my draft process."
He's right in that assessment. Assistant general manager Kyle Smith said the Falcons saw his athleticism and competitive drive play out in different arenas. They were impressed that he was gifted enough to play two college sports.
Taking note of athletic versatility isn't something that only applies to London. While it's not vital to their player evaluations, the Falcons like seeing that prospects have played multiple sports.
"It's not the end all be all," Smith said, "but it always helps in terms of what we call 'athletic instinct.'"
That can come in several forms and can be gained by playing several different sports. Wrestling could help linemen with leverage and hand fighting. Basketball can aid pass catchers or defensive backs in the several ways mentioned above. Baseball helps with hand-eye coordination and ball tracking. Soccer helps with footwork for any position and is of great benefit to the specialists. And, while football doesn't prize straight-line speed at every position, track can help with long speed, closing ability and quickness.
That's in no way an exhaustive list. And, in some ways, excelling at multiple sports shows an important trait valued across a football roster: Pure, raw athleticism.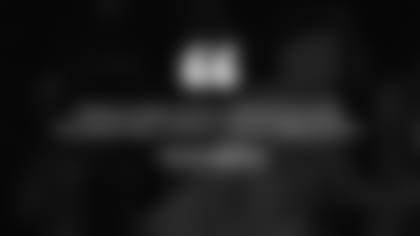 ---
---
Arnold Ebiketie has always been able to do things few can. The Falcons edge rusher proved as much during a lunch period at Albert Einstein High School in Maryland. The Cameroon native didn't know much about American sports after his family came to the United States. He played soccer early and not much else.
But he saw some classmates playing basketball after they ate, and a pickup game eventually turned into a dunk contest. Ebiketie wanted to play and, as someone relatively new to the area, make friends with those on the court. So, he picked up a basketball for the first time in his life, waited his turn and then took off for the rim. He soared above the rim, brought his arm up and slammed the ball through the hoop.
"The whole gym just stopped," Ebiketie said. "They were confused how it came so easily to me. I mean, I didn't know that much about basketball at the time, but I just knew I was athletic and there was some of the stuff in the sport that I could already do despite not knowing the game that well."
Ebiketie began learning more about basketball and became intrigued by it. He started going to a neighborhood park to play. At first, he wouldn't get picked because he didn't know basketball rules and how to play a team game. He eventually got that down and became an early pickup-game selection and, in time, a standout on his high school team.
The same could be said of Ebiketie's football experience. He started playing his sophomore year in high school, later than most kids,fr but he worked hard to pick up the rules and, once he did, pure athleticism shined.
While football became Ebiketie's primary focus and helped him go from Temple to Penn State to the Falcons, he understands how playing so many sports helped him reach such heights.
"I don't think I would be the football player I am today if I didn't play soccer or play basketball," Ebiketie said.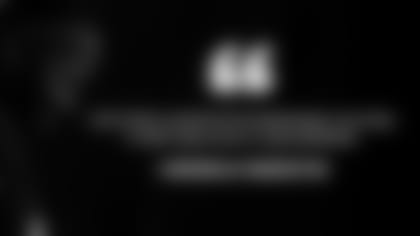 ---
---
Troy Andersen was a true three-sport star growing up in Dillion, Montana. He was an excellent football and basketball player early on, and his breakneck speed made him a track star down the line.
There's a bit more to his journey than that, though. Andersen didn't just play one football position. He darn near played them all. He was a quarterback and safety at Beaverhead County High School. He played quarterback, running back and linebacker during his time at Montana State.
That helped Andersen see the game from all angles and get inside an opponent's head while working as a Falcons inside linebacker and defensive signal caller.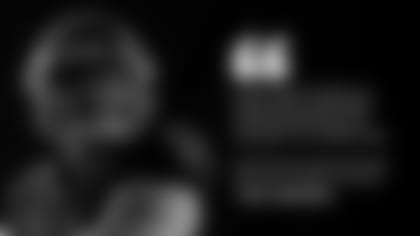 "It definitely helps understanding tendencies of what an offense likes to do," Andersen said during the offseason, well before he suffered a season-ending pectoral injury. "…There are little, intricate details that can give you tips or hints about what they're about to do. That can be really beneficial to you."
Playing quarterback has helped Andersen as a linebacker from a mental perspective. Having the athleticism required to excel at so many sports can be seen in his play once the ball is snapped. Andersen has elite speed for a linebacker, with agility to both cover and rush the passer with the effectiveness and tenacity required of his versatile role in Atlanta.
Andersen can easily see how his athletic experiences help him as a pro. He wouldn't trade those experiences for anything.
"It does make an impact, just being a well-rounded athlete, a well-rounded person and being able to do multiple things," Andersen said. "The more you can do, the more able you are to get on the field. So, there's tremendous benefit in being called a well-rounded athlete."