FLOWERY BRANCH, Ga. – Dan Quinn has never liked to compare one team to another – most coaches don't – but on Thursday during his end-of-season press conference, the Falcons coach felt it was necessary.
In 2016, the Falcons set a plethora of offensive records as Matt Ryan ran away in the MVP race, leading Atlanta to its second Super Bowl appearance. Expectations heading into this season were naturally high.
"When people ask why hasn't this offense achieved at the historic level that we were expected, now that this season is over, I think it's a fair question," Quinn said.
Quinn highlighted a number of areas when comparing the 2016 and 2017 Falcons teams, but the three areas where this year's team felt short of expectations were the lack of explosive scoring plays, red zone offense and the turnover margin.
"But, man, where we lacked which defined us, was our big plays that scored," Quinn said.
In 2016, Quinn noted that the Falcons had 19 plays that were outside the red zone that resulted in scores, tops in the league. In 2017, the Falcons had just seven.
The turnover margin was the first area of concern he listed, pointing out that the Falcons were plus-11 in 2016 and minus-2 this past season. "That's seven more turnovers offensively and about six fewer takeaways defensively," Quinn said.
Quinn later mentioned that the Falcons dropped off significantly in red zone touchdown percentage, going from ninth in 2016 to 23rd this season. After scoring a league-high 540 points in 2016, the Falcons scored 353 points in 2017. Atlanta converted 50 percent of its red-zone chances after converting 61.9 percent last year.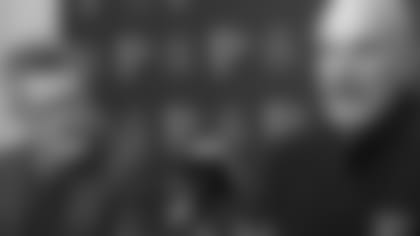 While rattling off more statistics, Quinn did mention several areas where this year's Falcons fared well or even better than the 2016 squad. For instance, in the total number of sacks allowed - Atlanta gave up 24 sacks this year, considerably lower than the 37 times Ryan was dropped in 2016. And as far as all the talk about the Falcons running the ball more in 2017, think again. The Falcons averaged 26 rushing attempts per game in 2017 – the same total as in 2016.
When Quinn was asked about areas in which the Falcons showed improvement, surpassed expectations or even surprised him this past season, he noted the defense, mental toughness and physicality these Falcons played with in 2017.
"I sensed that we would improve defensively. I thought that would happen," Quinn said. "One of the things I'd say that I'm really happy about is that we've developed real mental toughness and physicality. That part, from an identity standpoint, inside I love; because all along, I've always wanted to part of that identity, that style -- like when you play us, 'I hate playing those guys.'"
Quinn also mentioned player growth and development – specifically the jump players make from their first to second or third years in the league – on the defensive side of the ball.
"You can see why we'd be so excited about the Rileys, Kazees and McKinleys who are going to make jumps and then guys who are going to make bigger jumps," Quinn said.