FLOWERY BRANCH, Ga. -- For several weeks now, Falcons coach Dan Quinn has stressed the importance of executing in key situations such as on third down and in the red zone, in addition to paying attention to the finer details of the game. In their 27-7 victory over the Cowboys on Sunday, the Falcons (5-4) showed improvement in all of those areas, a testament to the work they've put into practice.
While there were a lot of bright spots in the victory, none brighter than the six-sack performance from defensive end Adrian Clayborn, Atlanta did lose starting running back Devonta Freeman to a concussion on its first offensive series.
Speaking with the media on Monday, Quinn confirmed that Freeman has entered the NFL's concussion protocol.
"Devonta Freeman will be in the concussion protocol, and that began last night at the game," Quinn said.
It remains to be seen how long Freeman will be absent, as his status is determined by a team doctor and an independent neurological consultant. This is the second concussion Freeman has sustained so far this year; his first occurred in August during the preseason.
"We really trust the process that the guys go through to come back and get ready," Quinn said. "Almost like a day-by-day process in terms of when the player is back and ready. For all the guys, we're going to make sure we take great care of, not just of Devonta but of every guy that goes through that, to make sure they're feeling at their best and ready to come back. Until that time comes, we'll let him go through the process.
"I won't rule him out [against Seattle] until they say he's ruled out. We're going to do the very best looking out for him, I can promise you that, but until they say that, I'll lean on [their decision]."
Coleman and Ward handling running back duties
If Freeman is sidelined for any upcoming games, the Falcons believe they are in good shape with Tevin Coleman and Terron Ward at running back. Coleman led Atlanta with 20 carries for 83 yards and a touchdown, while Ward chipped in nine carries for 23 yards.
"It was good to get Tevin extended play time," Quinn said. "For him to get 20 carries in the game, I thought that was a good deal for him to show [he] can handle that load when needed to. They've been such a good compliment together, both Tev and Free, there's occasionally times where one's out and the other has to take the load, and that was the case yesterday with Devonta leaving so early in the ball game. We knew we could lean on Tevin in that way, and we'll continue to do so until Free comes back."
Coleman, now in his third season, isn't so much regarded as a backup running back as he is part of the starting tandem with Freeman. A threat to break a big play every time he touches the ball, Coleman is a player other teams will have to account for.
In Ward, the Falcons have a fourth-year player who is consistent and understands the game at a high level.
"Ward is somebody that we've counted on for three years now," Quinn said. "When his number gets called, he's a guy that likes to answer the bell and answer the challenge. He's always been one of our most prepared players … In that running back room, he's one of the guys that they look to in terms of he's always on it – protections, run game. Football comes really cleanly and clearly to Ward, so we're excited he's here and we'll lean on those two guys."
Stacking scores 'a big deal' against the Cowboys
After a tightly contested first quarter, the Falcons really built some momentum just before halftime. Atlanta orchestrated an 80-yard drive on offense to take a 10-7 lead with less than two minutes remaining, and then Clayborn ended Dallas' ensuing drive with a strip-sack of Dak Prescott.
That stretch at the end of the first half helped put the Falcons ahead, but they continued to assert themselves coming out of the locker room by putting together an 11-play, 85-yard scoring drive to capture a 17-7 lead.
Following the game, quarterback Matt Ryan explained that the Falcons liked having the opportunity to start with the ball in the second half because it sets up the possibility of scoring on both ends of halftime. On Monday, Quinn backed up Ryan's assessment.
"We really thought the third quarter was an area where we haven't done as well as we'd hoped," Quinn said. "In that game, it flipped. At the end of the second quarter, we scored a touchdown, came back had a turnover from Clayborn, had a shot maybe to go and came back, took the ball and scored. Those opportunities, when you can stack a score onto another score with the second quarter into the third quarter, that's a big deal. When we were able to do that, I thought that was a good sign for where we can go to."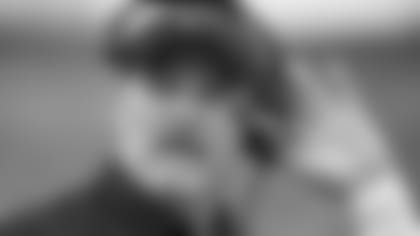 Chemistry leading to improvements on defense
Somewhat quietly, the Falcons' defense is putting together the type of season many people had thought was possible.
They are allowing 311.9 yards per game, which is seventh-fewest in the NFL, and giving up 19.9 points per game, tied for the 10th-fewest. Atlanta has shown noticeable improvement on defense in recent weeks, and Quinn partially attributed that growth to team chemistry.
"As we shift into the second half, I've always that that team chemistry, that's an important part of it," Quinn said. "This connection that these guys have together, that type of communication, can really set you free in terms of where you want to go to as a group. It's not just the defensive line or the linebackers or the secondary, but they've made significant improvements in some areas. We're still going to work third down like crazy, and that's 'how does the rush and the coverage work in concert together?' And then the turnover margin – we had another penalty taken back from a takeaway yesterday. That is a trend that has to go the other way. We've had four interceptions that have gone the other way due to a penalty. It's kind of like on offense, you never know which play could be the one to spring [a touchdown], so same thing from the defensive side, let's make sure we're playing with great discipline."
Quinn's conversation with Richard Sherman
The Falcons will hit the road again for a big showdown with the Seattle Seahawks on "Monday Night Football" this week. Quinn, Seattle's former defensive coordinator, still has several ties to people within that organization, including star defensive back Richard Sherman.
Sherman ruptured the Achilles tendon in his right leg during the Seahawks' Thursday night victory over the Arizona Cardinals, meaning he will not be on the field come Monday. After the injury, Quinn texted his former player.
"I texted with him afterwards, just because he's such a competitor," Quinn said. "His response was, 'Tell J.J. (Julio Jones) I'll miss competing against him.' He's always thinking in terms of a competitor. He's such a competitor, he wants the challenges, he's an excellent tackler. Anytime a guy is out, you feel it, but that's also what playing in our league is, where guys have to step up in different opportunities. Every team deals with it, and they'll be equipped to deal with it as well."