ATLANTA – With the No. 8 overall pick in the NFL Draft, the Atlanta Falcons select….A running back?!
The positional value zealots must've done a spit take when they heard Roger Goodell announce the Falcons took Bijan Robinson in the top 10.
It may have been unconventional to many, but not to Terry Fontenot and Arthur Smith. They're in the business of finding good football players. They had conviction that Robinson was one, positional value be damned.
The talent was undeniable. Even the haters couldn't argue that. That didn't stop them from knocking the pick of an unreal talent taken way too high.
"That's what people talk about," Robinson said, "but it's more about when you get the right guy."
That's vital to the Falcons. Fontenot will tell anyone with a microphone that he looks for a combination of talent and fit.
They've got that in Robinson. He's someone offensive linemen want to block for. He's someone Smith trusts to call plays for with the game on the line. He's someone, as we saw in Sunday's 25-24 victory over the Green Bay Packers, who makes football look a lot easier than it should.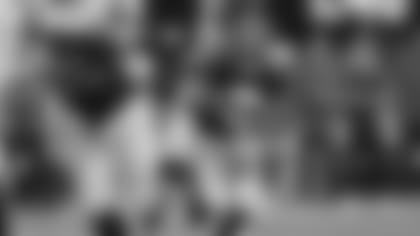 Robinson waltzed his way through the Packers defense, earning 172 yards of total offense on 24 touches. He had 19 carries for 124 yards – yep, that's 6.5 yards per carry – and four catches for 48 more.
He did yeoman's work on some occasions. Other times, though, Robinson did things that make your eyes a little wider and question whether he actually just did that. Yep. Sure did. More than once in his second NFL game.
Fans may be shocked by what Robinson can do, but his co-workers aren't any more.
"It's not surprising," left tackle Jake Matthews said. "He's so talented and we've seen it so much (in practice) that we've come to expect it. He's a really, really good player."
He's a really, really good player making a profound impact, too. And while he's doing so with an RB next to his name, Robinson's more than that. He's an offensive weapon. He's a vital part of this team who, as Matthews puts it, "is quickly becoming someone you can trust."
Robinson is someone Smith trusted to absorb tons of responsibility. Despite the unknowns that always surround a college player turning pro, the Falcons were steadfast in their belief that Robinson would work out.
"We put a lot on his plate," Smith said. "A lot of times people draft players like that, and it sounds good, but we had a lot of conviction, too, that he could handle that, a lot of things we did, and credit to our football staff and personnel staff. There are a lot of meetings that go into it, and a lot of time spent, so we're just not sitting there and it sounds good in theory.
"We knew he could do it, and he continues to get better. He's a really fun player to coach."
To see it all come together so fast should count as an eyebrow-raiser at least. Not for Robinson. He likened this professional adjustment to other times he has leveled up with great success.
"It's a blessing, man," Robinson said. "This is obviously a different level, and you have to get used to the speed. I started as a freshman (at Texas) and had to get used to the speed of the game and see how defenders come at you and how they flow. I had to do that in high school, going from freshman football to varsity. It's the same thing.
"This is my first time in the NFL and seeing everything. When I get comfortable, just like I did at those other levels, that's when God gives us all the blessing to do what we do."
Robinson seems comfortable already, both in his own skin and with his ability to produce at the NFL level. He's also committed to getting better, which, if that's the case, means there are even more special moments yet to come.