Bryan Scott is familiar with spending a lot of time on his feet. As a former Falcon and NFL player who spent nearly a decade making plays in the League, Scott realized just how important it was to take care of his body to prevent injury.
After retiring from professional sports, Scott turned his sights to a new career path, entrepreneurship. As he knows all too well, a person's feet and joints are quite literally the foundation of physical health, and with a family history of foot problems, Scott wanted to find a product that would help athletes and people of all ages to take better care of their bodies.
On April 24, 2015, Scott appeared on Shark Tank to pitch an idea for Noene insoles, a line of high end, ultra-shock absorbing insoles. From that success, Foot Solutions, a company that offers healthy footwear and custom orthotics, came calling and Scott became co-owner.
This August, Foot Solutions was named the official foot wellness retailer of the Atlanta Falcons. Yesterday, we connected with the former Falcon to discuss the new Atlanta Falcons and Foot Solutions partnership.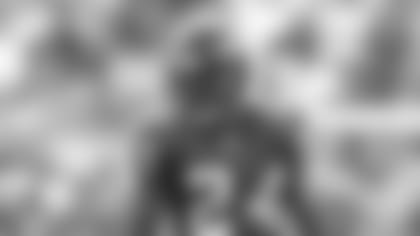 Q: Bryan, it's obvious that foot health and wellness is very important to you. Why was it important to you to establish a partnership with the Atlanta Falcons?
A: The Atlanta Falcons organization has always been near and dear to my heart since the day the organization drafted me. Although I was brought in to help the team win on the field, the off-the-field initiatives the team has in place and the vision of senior leadership were constant motivations to me. Today, in this new chapter of my life, I want to continue to invest my time, energy, and effort to see this team win and this partnership is the epitome of that.
I have always tried to live by the ideal of "paying it forward." I know that gamedays are hard for not only Falcons players, but all associates – on the field, sidelines, in the concourses and behind the concession stands – this partnership will allow all these people to take advantage of one of the best products on the market to take care of themselves.
Q: How did your time playing for the Atlanta Falcons shape your next career after football at Foot Soultions?
A: During my playing days with the Falcons, Mr. Blank stressed the importance of encouraging others and creating moments of inspiration. He taught us that what is most important is not necessarily doing extraordinary things, but doing ordinary things extraordinarily well.
We have adopted that mindset at Foot Solutions. It's true that we sell first-class products, but, more than that, we provide a caring, expert service guided by a passion to help our consumers and serve them extraordinarily well.
Q: A fun one to finish up. We have to ask, were you more nervous being drafted or going on Shark Tank?
A: In a sense, I really feel like the NFL prepared me for many of the stresses that came with being on Shark Tank. Knowing your playbook (your business), being prepared to pivot away from the game plan if necessary and making split-second decisions are all football learnings that transferred as I stepped into the business world.
Fans can go here to learn more about the partnership or visit their local store to feel the Foot Solutions difference.