Editor's note: Archer's Take is a weekly series in which Falcons analyst Dave Archer provides insight and analysis of each Falcons game.
Julio Jones' touchdown was great vs. great
The final score of the first half was two of the best players that play their respective positions, and two of the most respected in the league by their peers.
It was press coverage with Cardinals cornerback Patrick Peterson out on coverage against Julio Jones to the left side of the formation. Julio did a really nice job of not allowing Peterson to jam him. Once he got past the jam, Julio was shoulder-to-shoulder with Peterson and because of Julio's speed, he's able to stack him, or get on top of him and put the DB in a trail position.
If Julio hadn't been able to get past him, Matt Ryan would have had to think about making a back-shoulder throw. But because Julio was able to stack Peterson, now Ryan can throw the ball down the field which allows Julio to use his speed and go get it. Ryan put the ball in the only place his guy could go get it, but the big-timer went and got it.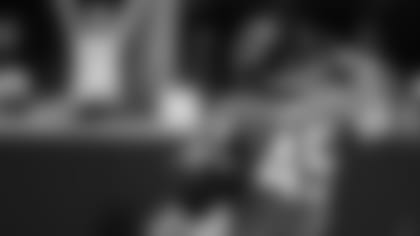 Deion Jones' position, Vic Beasley's awareness turned a good play into a great play
Deion Jones was in perfect position against Cardinals running back David Johnson in the flat. It was supposed to be a quick screen, so Arizona was going to turn the defensive end loose. Vic Beasley didn't have much contesting him in the pass rush, so he could have stayed low and run to the quarterback. Beasley slows down, eyes the quarterback and elevates to bat the ball.
Well, Debo is exactly where he was supposed to be. If it was a good throw, he would have immediately made the tackle for a loss, and when it was batted into the air, he was in position to close on it for the interception. Those are the kinds of plays the Falcons need to make more of going forward.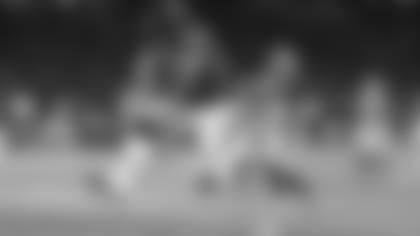 Tevin Coleman, offensive line used Arizona's aggression against them
What Arizona wants to do is be aggressive on defense. Before the snap they'll have guys walking around and not lining up in a specific position. They'll show a defensive end lining up down in the tackle spot and have different guys moving around in the front seven to cause confusion in your blocking schemes.
Well, that lends itself to misfits against the run. There is supposed to be a guy in every gap against the run game. If they're gambling to play that aggressive defense, but not in the proper position to fit against the run, you're going to get gashed. Tevin Coleman has shown throughout his career that if he gets to that second level, it has the potential to be a homerun. He can take it to the house.
Frankly, on the 65-yard run that he broke loose, the safety did a great job of slow playing it and losing ground to allow a defender to come behind and make the tackle, or that's a touchdown. He also had another touchdown called back. Tevin had a marvelous day.
Tevin Coleman had to slow down to accelerate to the end zone
Tevin Coleman's 43-yard touchdown in the third quarter ended the competitive phase of the game. First of all, let's talk about the offensive line. They did a really nice job of getting a hat on a hat, like we talked about. Then they got to the second level and got a block on the second level defender.
Tevin showed good patience. Once a runner breaks through the first line, the temptation can be to step on the accelerator and run past your blocks. But Tevin slowed down and allowed the second level block to take affect, and then bounces off that block and steps on the accelerator and blows right past two defensive backs. I don't know if they miscalculated his speed, but they had good angles and he split them.
It was a good job by the offensive line handling the first line, and then getting to the second level defender, but it only took affect because Tevin was patient and then blew by everybody else.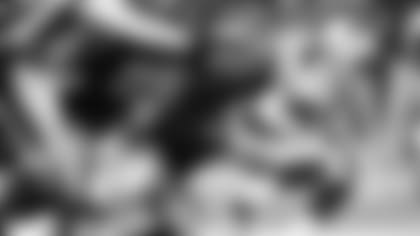 Grady Jarrett is relentless, and he's a consistent presence in the backfield
When you rush the passer from the inside, you've got to be relentless. A lot of times on the edge, you can use your athleticism to get home. You can beat a guy off the start and you get there. But for Grady Jarrett, there's no beating a guy with a speed rush because there's nowhere to go. You're basically playing in a phone booth. You have to beat the man in front of you with technique and move, which Grady did, or with brute power and strength, which he did as well. It's all being relentless. Relentless against the run and relentless against the pass.
But what Grady has done each and every week is make plays in the backfield. Now, he's had to progress to that. If you remember, his first year or two in the league he would miss guys in the backfield. He would be in the backfield, but he would miss them. Grady has found a way to get to the ball carrier, as opposed to being close.
Converting power to speed is what makes Grady Jarrett special
On Grady Jarrett's strip-sack of Cardinals quarterback Josh Rosen, Grady was actually rushing against the tackle, and he got bumped to the outside on the stunt. His ability to turn power into speed is what makes him different. With power you get up under a guy's pads and drive him back to the quarterback. The ability to use power to get to the edge of a player because of your strength and then use speed to blow by him is special, and Grady possesses that ability. And that's what he did on that play.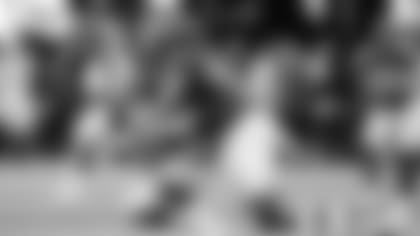 The Falcons front seven came to hunt
The Cardinals had a young quarterback, and they had some issues up front from an offensive line standpoint. But you still have to go play, and I thought this was back-to-back weeks where Atlanta rushed the passer really well. The seven sacks were mixed among a number of players. They came to hunt the quarterback. They knew there was an opportunity to get there and they did.
I thought Vic Beasley showed you why he is a #1 draft pick. His ability to get to the quarterback, his ability to make the passer move around and then his athleticism in space to elevate and bat the ball in the air. He did it a couple of times, and one of them turns out to be an interception that Deion Jones takes back for a touchdown.
Those are the kinds of things that weren't happening enough earlier in the year. Going into this game the Falcons had 11 takeaways, but they had three today and all of them led to touchdowns. Those are the kinds of things that transfer a shot of adrenaline from one side of the ball to the other.