Falcons man coverage was a surprise for the Rams**
First of all, I thought the Falcons secondary looked energized to come up and play tight. Atlanta typically plays zone and makes teams work the ball down the field, maybe 10 or 12 plays. It looked like they enjoyed that, in this game, they were going to come up and be in guys' faces all night long. It started from the opening snap. They got the young quarterback off his game because I think he anticipated short, easy throws to start the game. He didn't get those. Atlanta was up playing tight, man coverage.
And the Falcons secondary did a tremendous job of plastering Rams receivers because there were a number of times where Atlanta didn't get any pressure on Goff, and Atlanta was able to stay with the receivers.
I guarantee that Cooper Kupp is not going to be interested to see #23 Robert Alford for a while, because he was in his hip pocket all night long. He had no room to breathe. And Trufant did a nice job with Robert Woods. Woods was the tough match up. Woods had over 100 yards and made a couple of big time catches. But he didn't put the ball in the end zone.
And I thought that Atlanta's secondary tackled extremely well. Brian Poole was unbelievable in the open field. He made three or four tackles, including a couple on Gurley, in the open field. And against a Rams team that is one of the best in YAC yards, that was big.
Ricardo Allen and company limited Todd Gurley's effectiveness in the passing game
Atlanta used a number of players to limit Gurley, but mainly Ricardo Allen was coming down out of the free safety spot and would line up opposite of Gurley, and when Gurley would come out of the backfield Allen had him in man coverage. So, the Falcons weren't giving him any quick, easy catches, they were jumping on him immediately. Mainly, that was Allen, but Keanu Neal was involved in that as well and Brian Pool made a couple of really nice tackles in the open field on him.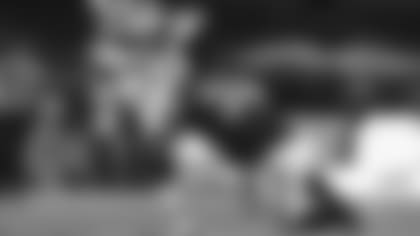 Tackling was key against an offense that has thrived on Yards After Catch
I thought Atlanta tackled extremely well on defense. This is a Rams team that was one of the top teams in the league in YAC (yards after catch) yards. Not tonight. Atlanta did a really good job of securing tackles after guys made a catch. And that's IF the LA receivers made the catch because this was one of the better games for the Falcons in contesting throws and making it difficult for Rams receivers to make catches.
Robert Alford is playing with confidence, and trusting his ability
I just think he's playing with a ton of confidence. I think Rob is a guy that has all the confidence in the world, so he's just got to trust his talent and abilities. His make-up speed is phenomenal. We saw that on the deep throw to Sammy Watkins. Watkins threw his hand in the air and thought he was past Alford, and Alford just ran him down and got in there and batted the ball away with his right hand.
You're kind of a gunslinger as a cornerback, you either live or you die on each play, and I think Rob has the ability to put a bad play behind him and move on to the next one. I think that's something he's had to learn over the years, but I think he's now trusting his talents and his skills and we're seeing the results.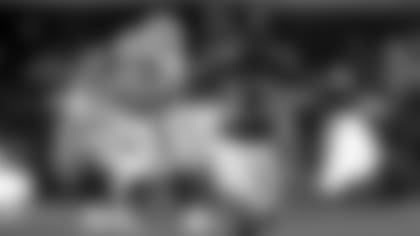 Atlanta's 16-play drive did more than put three points on the scoreboard
There's no question that the eight-minute drive to start the second half really sapped the Rams defense. This is a Rams defense that prides itself on playing physical and getting after you, but Atlanta really turned the tide on them and started playing on their side of the line of scrimmage. I thought the Falcons offensive line gave Atlanta a chance to hit the Rams in the mouth.
Even though Atlanta only got a field goal out of it, that drive had a bigger impact on the game because of what it did to Los Angeles' pass rush. I thought the Rams got after Atlanta in the first half, but on the opening drive of the second half, the Falcons went to the running game. This was an interesting game plan for the Falcons. They knew blocking those four guys upfront in the passing game was going to be an issue. They needed to do something to diminish them physically, and it was the run game.
They came out with an extra tight end, came off the ball and mashed them in the run game. The Rams were blitzing on early downs with linebacker Alec Ogletree trying to single up the linemen upfront, so Atlanta said 'Ok, we're just going to come off shoulder-to-shoulder and blow you off the ball', and I thought the effort the Rams had to put into stopping the run game diminished their pass rush.
Mohamed Sanu showed 'bean speed'
The Rams have a tremendous front, and they were still coming in the fourth quarter. But Atlanta was able to sap them of a little bit of energy with the run game on those two long drives in the third quarter.
And now, the attention of that front seven had to be on stopping the run. So it was a good call to get the ball to Mohamed Sanu on the perimeter. It was a quick screen and the Rams didn't have enough people out there, and Sanu found some room to the inside. And then Sanu showed a little bean speed, not Bean Talk, bean speed. He did a nice job of pushing it down the field and giving Atlanta an opportunity to seal the game.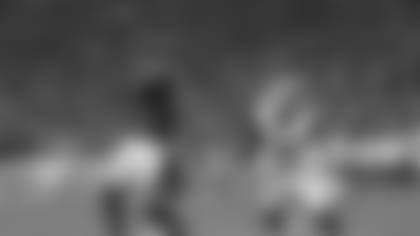 Matt Ryan's touchdown pass to Julio Jones was remarkable
That was an unbelievable throw by Matt Ryan. The field was sloppy all night long and both teams were slipping. I mentioned on the radio broadcast that it looked like guys were playing on ice.
As Ryan was coming off the play fake, Connor Barwin was coming off the edge against the bootleg. Julio Jones slipped into the right flat. Ryan wanted to plant his feet and shoot it around Barwin. He likes to throw that ball short and on a line. But as he starts to plant his foot, his right foot starts to slip out from underneath him. He's going to the ground, and he shows tremendous presence of mind to throw it over a guy that's jumping in front of him, loop it over, throw it far enough so that the defender can't undercut Julio to make the play, and Matt drops it right down the chimney chute for the touchdown.
Just a big time play in a big moment by the MVP.
Devonta Freeman and Tevin Coleman ran hard, but showed tremendous patience
I think the thing that stuck out about Devonta Freeman and Tevin Coleman was how hard they ran, but also how patient they were. Atlanta showed a little bit of a different running game. They ran some, what I call, 'broken line plays' where you pull linemen and get people in front. The Falcons don't normally do that. They're a stretch running team, a zone running team. But against the Rams, their runs were designed to make it look like they were going one way, then counter back the other way with big people in front. It takes a while for those plays to develop because you're pulling big guys to get in front of it.
So a couple of things have to happen. You have to make sure that on the front side of the play you don't allow any penetration because the defense will be looking to use penetration to disrupt the pulling linemen. Atlanta took care of that. And then the back has to be extremely patient because it takes a while to get those big guys in front. Now, if you wait and you can get some push, then you'll find some room.
Those two guys did a nice job of finding little lanes, because it wasn't going to be 15-to-20 yard runs it was going to 4-, 3-, 5-yard runs. And those two guys did a nice job of picking their spots and moving the chains. They did an excellent job of being patient. And it was a nice adjustment by offensive coordinator Steve Sarkisian because it was something we hadn't seen very much of. I thought Sark caught their defense off guard with that.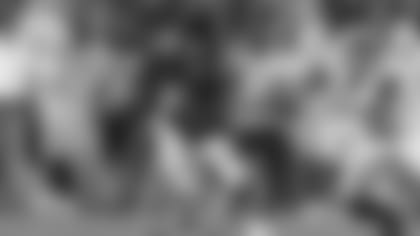 Instincts, film study have taken Deion Jones' game to another level
Deion is a Pro Bowl player. It's a shame you can't have more linebackers on the Pro Bowl roster. He deserves to be there. He had the numbers to be there, he's played well enough to be there, and then he's played big in big games, including this one.
He's always had the ability. Now I think we're seeing him really trust his instincts to jump plays, to trust his eyes to go ahead and attack and not wait to see it happen before he goes. I think Deion and Ricardo Allen are two guys that really study the game closely. They really know what's going on. And think that's another area where Deion has really upped his game. He had the ability, he has the instincts, now how can you take it to another level? I think it's his study of the game, understanding of the game plan and understanding the opponent. And you can see it paying off for him.