FLOWERY BRANCH, Ga. -- The addition of rookie running back Alvin Kamara may be the most important on for the Saints' offense since the arrival of Sean Payton and Drew Brees.
Kamara, a third-round draft pick out of Tennessee, has been an explosive playmaker for the Saints in 2017, and it's not a stretch to say he's the most dangerous wide receiver or running back the Falcons' defense has faced this season.
Here is a list of the NFL's top running backs in combined rushing and receiving yards:
| | | | |
| --- | --- | --- | --- |
| Player                           * | Yards from scrimmage | Total combined touches | Avg. yards per touch* |
| Le'Veon Bell, PIT | 1,559 | 336 | 4.64 |
| Todd Gurley, LAR | 1,502 | 271 | 5.54 |
| Kareem Hunt, KC | 1,297 | 232 | 5.59 |
| Alvin Kamara, NO | 1,220 | 145 | 8.41 |
Kamara's efficiency this season has the very best among running backs with at least 145 touches over the past 25 seasons. Interestingly the next-closest player on the list is Darren Sproles, who averaged 7.6 yards per touch in 2011 for the Saints, highlighting the scheme's effectiveness at utilizing running backs.
Among the three backs with at least 60 receptions – Bell and Carolina's Christian McCaffrey are the two others – Kamara is the only player to average more than 8 yards per catch, averaging a whopping 10.23 yards. Kamara's 7.05 yards per carry is also the most among backs with at least 80 rushing attempts. The next highest average on that list is Dion Lewis, who has an average of 5.27 yards on 112 carries.
Bottom line: The addition of Kamara to the Saints' backfield has given an already-potent offense a player who can shred a defense in a number of ways. With both Kamara and Mark Ingram – who is fifth among running backs in yards per scrimmage – playing at such a high level, the Saints (9-3) are among the most balanced offenses in the NFL.
So how exactly has Kamara impacted the Saints' offense? Let's take a close look in this week's After Further Review.
A major factor in the passing game
The Saints have always relied on their running backs being involved in the passing game. Whether it be Reggie Bush, Darren Sproles or Pierre Thomas, New Orleans has prioritized getting the ball in a playmaker's hands with space in front of him.
"If you've followed New Orleans for a while, you'll know that's Payton's M.O.," Falcons defensive coordinator Marquand Manuel said. "He likes backs, going back to when he first got the job in '06 with Reggie Bush.
"He likes to get the ball to them not just in the run game, which they're great at as well, but in the passing game. They can line up like wide receivers, huge screen team from that standpoint. And I think he does a great job balancing the run-pass ratio with those guys to keep you off balance as a defense."
It's really early in his career, but Kamara may just be the best pass-catcher out of the backfield the Saints have ever had. He seems to be perfectly suited to play in their offense and has added the spark on offense that many thought Bush could when he was drafted No. 2 overall in the 2006 NFL Draft.
This season, Kamara has the second-most catches for the Saints and is their third-leading receiver. He's become an increasingly active playing in the passing game and has caught at least five passes in every game since Week 9.
New Orleans utilizes him in a variety of ways as a receiver. Kamara is a dangerous player in the screen game when he gets blockers set up in front of him, he is a shifty route-runner who can beat linebackers and safeties one-on-one and he has the speed and quickness to turn an outlet pass into a big gain.
"He's a versatile guy," Falcons safety Keanu Neal said of Kamara. "They'll move him out and put him in the slot, use him as a receiver-type in different personnels, and they'll also run the ball with him. He's a dynamic player, and he's making plays for them."
In Week 9 against the Buccaneers, Kamara's skills in the screen game were on full display. Up 9-3 late in the second quarter, the Saints called a screen pass to Kamara on a first down at the Bucs' 33-yard line. After a display of exceptional vision and balance, the rookie running back walked into the end zone for a touchdown.
Tampa Bay linebacker Lavonte David recognized the screen play and put himself in a good position to make the tackle as Kamara caught the pass, but he misjudged the rookie's quickness and couldn't react to wrap him up.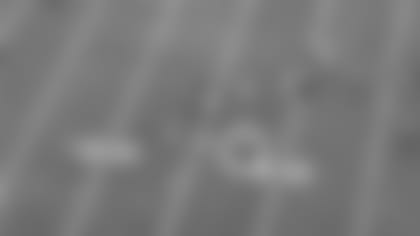 As Kamara continued down the left sideline, he appeared to get boxed in by three defenders. His vision and ability to change direction without slowing down allowed him to break to his right and escape back to the middle of the field.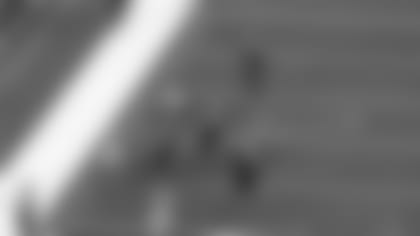 The defender labeled "2" on the above shot wrapped up Kamara and appeared to have him stopped, but the back's balance is one of his greatest strengths and kept him from going to the ground and ultimately scoring on the play.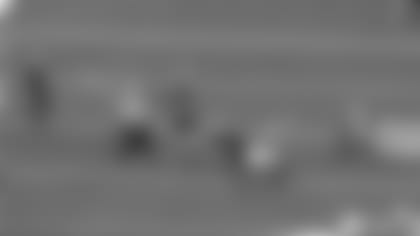 In one play, Kamara showed how his combination of vision, speed and balance makes him a threat to score from anywhere on the field.
"One of the things that you have to understand when you're talking about the screen game," Manuel said, "it's not a one-man football game. You need your D-linemen, you need your stack monsters, you need guys to come out of the back end. The screen is a team defensive play. They do a great job of getting their offensive linemen out in front. We have to do a good job of tackling them."
The same qualities that make Kamara dangerous in the open field make him an adept route-runner who is a difficult matchup for any linebacker or safety.
A mismatch for defenders in coverage
New Orleans often finds ways to utilize the unique problems that Kamara presents to opposing defenses by sending him out of the backfield on designed routes. Like McCaffrey in Carolina, Kamara's quickness and advanced footwork allows him to create space against a slower defender.
In their Week 12 loss against the Rams, the Saints scored an easy late touchdown because of Kamara's agility in his route-running. Coming out of the backfield on first down with the ball at the Rams' 15-yard line, Kamara made linebacker Alec Ogletree bite on a quick step to the left before breaking to his right for an easy score.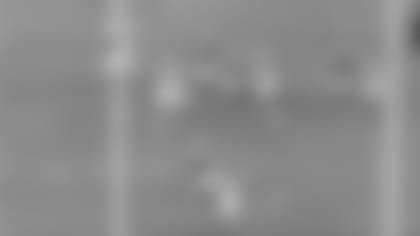 That brief misstep by Ogletree is all Kamara needs to gain a few yards of separation on his defender. With an experienced quarterback like Brees, the ball is delivered as soon as separation is created and Kamara again walks in for a score.
Kamara isn't just used on short routes. His speed makes him a threat to stretch the field vertically as well as horizontally. Earlier in the fourth quarter against the Rams, Kamara comes out of the backfield and runs a post route to attack the space created by Ted Ginn.
His skills as a route-runner and a receiver make him an excellent complement to Ingram in New Orleans' backfield. But unlike some of the other pass-catching backs the Saints have had over the years, Kamara carries the ball like a starting running back and attacks the middle of a defense well.
Kamara's perfect blend of speed, power and balance
When discussing what sets Kamara apart from other running backs, the word "balance" is heard frequently. His ability to stay on his feet and shed tackler after tackler helps Kamara turn what should be a 4-yard play into an 11-yard gain.
According to Pro Football Focus, Kamara's 122.9 elusive rating – defined as "a runner's success beyond the point of being helped by his blockers" – was the highest among all running backs through the first 12 weeks of the season. PFF also noted that Kamara forced 40 missed tackles on 131 touches through the first 12 weeks, a rate that comes out to a missed tackle on every 3.3 touches.
"It's been a long time that their running backs have been factors in the pass game," Falcons coach Dan Quinn said. "That's not something that's new. The level that the first-year player, Kamara, is doing it at is different, but forever their running backs have been a real factor. The thing that sets him apart in my opinion, he's got good speed, he's got good hands, but he's got excellent balance. Some of the contact that happens, you'd better get to his legs and get him wrapped up because on contact, he can keep his balance."
Kamara's exceptional balance and ability to break tackles was apparent in the Saints' win against the Panthers last weekend.
Up by a touchdown midway through the third quarter, Kamara broke free on a 20-yard touchdown run by breaking a tackle at the line of scrimmage and in the secondary.
On the Saints' very next offensive snap, Kamara again proved how difficult he can be to take down. If the first Panthers defender to reach Kamara tackles him, the play is stopped for about a 4-yard gain. Instead, he sheds the tackler, and another, before finally going to the ground after picking up 17 yards.
At 5-foot-10 and 214 pounds, Kamara has a good frame for a running back, which he uses to run through defenders when unable to run around them.
Kamara scored the first touchdown of the game against the Panthers, and he did so by running through linebackers Shaq Thompson and Luke Kuechly on fourth down, a feat any running back should be proud of.
After taking a pitch to the right, Kamara nears the goal line before taking a shot from Thompson while defensive end Wes Horton is wrapped around his legs. At this moment, it looks like the Panthers have stopped the rookie short.
Instead, Kamara shows the type of strength he has to stay upright and lunge forward for a touchdown.
It's not often that the Saints' rookie running back is knocked backwards or stopped behind the line of scrimmage. Of his 86 carries, only 11 have failed to pick up any yards and just five of those have resulted in a loss of yards. For the sake of comparison, Kamara has 11 runs of 15 yards or longer this season.
"You've just got to wrap him up," Neal said when asked how to prevent Kamara from breaking a tackle. "You can't try and blow him up, you've just got to wrap him up and make sure you get him to the ground. He has great balance, but to beat that you've just got to tackle him and keep your arms on him."
Kamara's balance and power help him slide off tackles, but his speed and vision make him difficult to even get a hand on.
With a 10-point lead late in the fourth quarter of last weekend's win against the Panthers, the Saints turned to Kamara on third-and-10 to help seal the victory. Lined up wide to the right, Kamara catches a screen pass and looks to be immediately surrounded by Panthers defenders.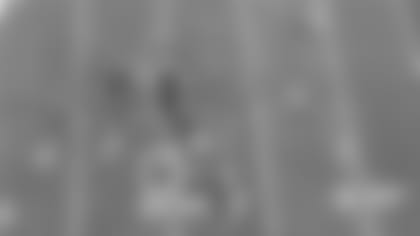 Despite having several defenders in his immediate vicinity, Kamara isn't so much as touched before gaining 22 yards and securing the ninth win of the season for New Orleans.
A tough challenge for the Falcons defense
In Kamara, the Saints have the perfect type of versatile running back for their offense. With Michael Thomas and Ted Ginn operating downfield and the threat of Brees' arm to keep defenses worried about deep shots, Kamara has plenty of space to operate out of the backfield.
The Falcons' defense is built to keep everything in front of it and rallying to make a quick tackle once a ball carrier has been identified. Against Kamara and the Saints, tackling must be the primary emphasis for Atlanta.
"It's going to be an open-field tackle game," Manuel said. "It goes back to the screens again, you've got to tackle in the open field. I know it's a short week and all of those things but, guess what? It's football at the end of the day, and we have to tackle really well to be successful."
For years, Brees and the Saints have feasted on the mismatches that their running backs have created against the Falcons' defenders. Dan Quinn has built a defense capable of matching the speed that a team like New Orleans possesses, especially coming out of the backfield. The "fast and physical" philosophy that Quinn has brought to Atlanta will be thoroughly tested on Thursday night by the Saints' offense, and Kamara might just be the biggest threat of them all.