FLOWERY BRANCH, Ga. – With the No. 3 pick in the 2008 NFL Draft, the Atlanta Falcons selected quarterback Matt Ryan out of Boston College on Saturday. Ryan is not only expected to compete for the starting job as a rookie, but he instantly becomes the new face of the franchise.
When asked about picking Ryan, Falcons first-year general manager Thomas Dimitroff called Ryan "a prototypical quarterback" and singled out the quarterback's leadership abilities and toughness.
"I think with Matt, it's a combination of the intelligence he has, the leadership ability he has, and I can't stress enough, he has the ability to take not only the offense but the entire team," Dimitroff told the Associated Press. "He can throw in the pocket. He has the vision. He has a very nice ability to move laterally in the pocket. He's accurate underneath. He can also make the deep ball.
"He's also an intelligent football player and the last thing I want to stress is his toughness. He has the ability to take a shot in the face and get knocked down and get up and grit it out and go forward."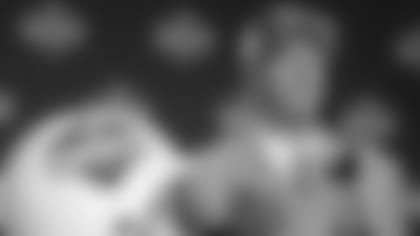 The Falcons are searching for their next franchise quarterback and the 6-foot-5, 228-pound Ryan certainly looks the part and checks all the boxes. Atlanta currently has three quarterbacks on its roster – Joey Harrington, Byron Leftwich and Chris Redman – but is coming off a 4-12 season.
At Boston College, Ryan ranked third in the nation with his school-record 4,507 yards passing in 2007. He was the offensive captain was named ACC Offensive Player of the Year and earned league Player of the Week honors six times in 2007. He shattered single-season school records, completing 388 of 654 passes for 4,507 yards, 31 touchdowns and 19 interceptions. He also scored twice on 68 carries, finishing with 4,509 yards in total offense, an average of 322.1 yards per game.
Grade: B
Comment: "Looking to put the Michael Vick fiasco behind them, the Falcons took the best player at the most important position on the team in BC QB Matt Ryan. This is a perfect situation for Ryan as he is used to carrying a team with a mediocre supporting cast.  OT Sam Baker has great feet and agility and will be a solid left tackle in the NFL if he can get a little stronger, but I just don't see why they had to trade back into the first to get him, I had him as a second-round player. ILB Curtis Lofton from Oklahoma adds toughness and power to the inside of the defense. Head Coach Mike Smith will love the way Lofton plays and can be the quarterback of that defense. CB Chevis Jackson and S Thomas DeCoud are both also solid players who can help the Falcons D right away. The biggest problem is they did not take the defensive tackle they desperately needed when they could have had Glenn Dorsey." -- Peter Bukowski, Bleacher Report