In 2017 the structure of the Atlanta Falcons fan base changed forever. The coalition and formation of the ATL Cast, a collection of the clubs' most passionate fans, was the start of building a true home-field advantage within Mercedes-Benz Stadium.
What began as a small group of enthusiastic season-ticket holders has expanded to include over 1,100 members across the United States and overseas. The ATL Cast, which derives its name from a hunting technique through which multiple Falcons group together to tackle their prey, band together to spread their fanaticism throughout Atlanta and in opposing cities.
"Who is the ATL CAST?" The groups official website asks. "We are a legion of fans that are loud, proud, and passionate about our Atlanta Falcons. We stand for and ride with our team when times are good or bad. We chant, cheer and lead our team to victory! We believe in creating a home field advantage, as there is nothing sweeter than a false start penalty on the opponent's offense or an offsides penalty on the opponent's defense."
The ATL Cast gather at games, tailgates and local bars in and around Atlanta to promote their excitement for the Falcons. As the Official Supporters Club of the Falcons, the ATL Cast also supports the team's charity work and efforts throughout the community.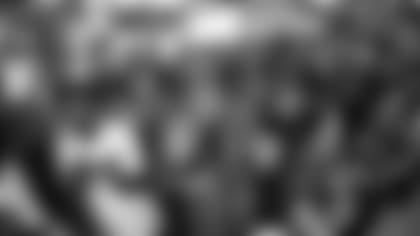 Taking over two sections near opposite end zones, the ATL Cast lead the fans in chants and cheers meant to disrupt and intimidate opposing teams. There are section leaders scattered throughout the stadium in charge of amplifying that energy. This support follows the team on the road as well. The ATL Cast helps organize and arrange away-game events and watch parties for Falcons fans to support their team on the road.
There are a variety of different membership levels for those looking to become a part of the ATL Cast. Each membership level offers unique benefits such as perks for Falcons training camp and admission into exclusive tailgates.