Good morning and welcome to Straight from the Beek – you're place to ask whatever's on your mind about the Falcons or, really, anything NFL-related. Based on my inbox right now, the draft and free agency are on the minds of most Falcons fans at the moment. So, let's get to them. Just remember that all opinions here are mine unless otherwise noted.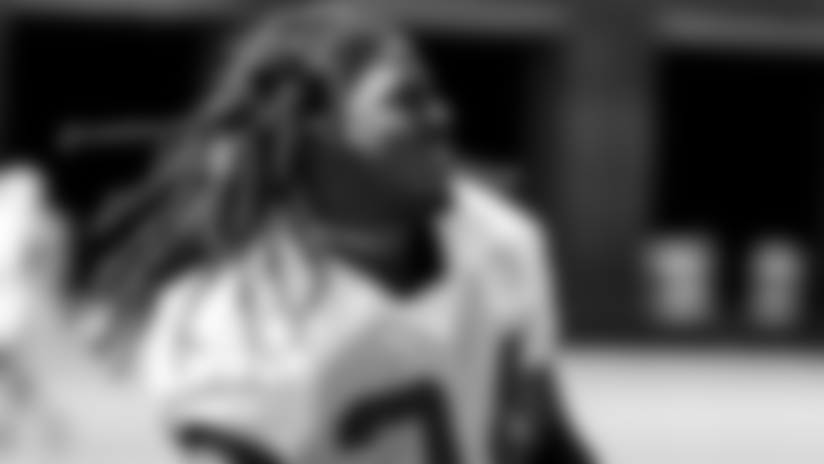 Jimi from Atlanta, GA
I've been a Falcons fan all my life and I would like to know what you think our run game will be like this year. Our receivers are great. Austin Hooper will be better this year, as long as we keep Matty Ice upright. But I don't know how Devonta Freeman is going to look coming off last season's injury. When he was healthy, he was tough. He has to get a little bit better catching the ball.
Matt: Thanks for the question, Jimi. I think it's one that every single die-hard Falcons fan out there is wondering about, too. We all know what Devonta Freeman is capable of doing when he's healthy – and this offense is at its best when the run game is effective. If you look what the Falcons have done so far in free agency – they've signed three guards and a versatile blocking tight end along with re-signing Logan Paulsen, known primarily for his blocking. They've given Ty Sambrailo an extension, but they're not done addressing the line – specifically that right tackle spot. Why do I bring all of that up? Because it's very clear the Falcons are making a concerted effort to improve the offensive line. They need to keep Matt Ryan upright (he was sacked 42 times in 2018) and run the ball more effectively. And Freeman is a big key to it all. Based on everything we've heard so far (and it's been somewhat limited, to be fair), all signs are pointing to healthy road to recovery for Freeman. The Falcons need him to produce like he did in 2015, 2016 and for most of 2017. Just having him for 16 games would be huge for this team. Remember, he only played in two games last year. The injury bug bit this team hard in 2018. With no Tevin Coleman on the roster (he signed with the 49ers), it'll be even more imperative Freeman returns healthy and like his old self again. Huge year for him. Stay tuned.
Parker from Malad City, ID
Hey Beek, would we draft another running back or two after we pick up some D-linemen? Darwin Thompson from Utah State is a sleeper who I think would thrive in Atlanta. He has a ton of yards after contact and a way with making people miss. What do you think? Thanks!
Matt: Love knowing there are Falcons fans in Idaho! As to your first question, yes, I think there's a very good chance the Falcons take another running back in this draft. They have nine picks at the moment – that could change, right? – and I could one (or possibly two) being used on a back. I think one is more likely. Regardless, as we've seen the last two seasons – and as I noted above about Devonta Freeman – the Falcons have needed three running backs to get through the season, mainly due to injuries. Those guys take a beating; it's a tough position. Now, as far as Darwin Thompson goes … it's a tough call and here's why. I don't know his personal situation, but I wish there was more than one year to look at in terms of his total body of work. He played one season there before declaring. Based on what I've read about him, he's 5-foot-8, 200 pounds and scored 16 touchdowns on 176 touches in 2018. He might be smaller, but he's known to be a tough runner between the tackles and can catch the ball. All positives. There are some question marks about him, plus he doesn't have elite, breakaway speed. One scouting report on Thompson read: "He will be unable to outrun NFL speed to the corner so his future may be limited to what he can do between or over the tackles." It sounds like he'll be a late-round pick (Day 3) or an undrafted free agent, Parker. I honestly don't know a ton about him, but unless there aren't any red flags (i.e., off the field concerns), he'll end up in someone's camp and get a shot.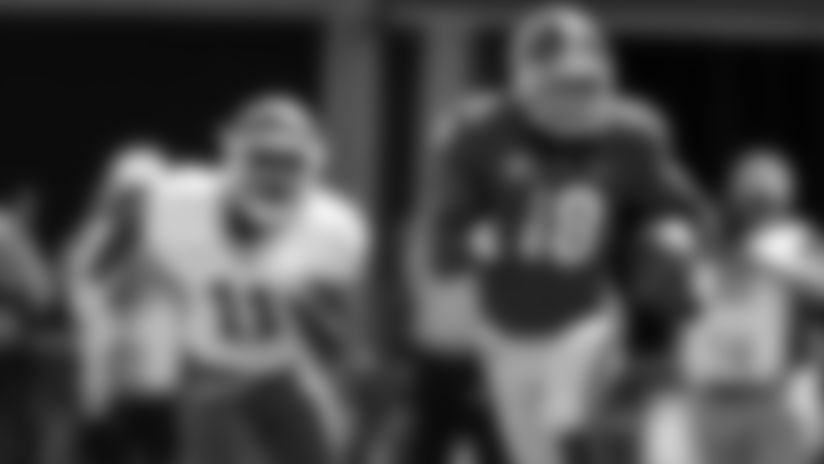 Erik from Atlanta, GA
Everyone talks about 14, but what about Atlanta trading back into the first round to draft, say, another CB like Greedy Williams or Deandre Baker? Make much sense?
Matt: It makes sense only if the Falcons can still pick up the player they really want at whatever spot they end up trading down to, Erik. They have nine picks at the moment – that's a lot of picks. They also have some glaring needs, specifically along the defensive line at defensive tackle and defensive end. They also could use another right tackle. And there should be some very good players available at the No. 14 spot – players that could help this team. If anything, I could see the Falcons packaging some of those picks and trading up at some point, if not in the first round then maybe in the second or third – or even on Day 3. Maybe they pick at 14 and then trade back into the bottom of the first round with a team that has multiple holes to fill? I don't know, but at this point any scenario is possible. For what it's worth, I do think they'll draft another cornerback – they need some depth (as well as someone who can challenge/push Desmond Trufant and Isaiah Oliver). I really like Deandre Baker's confidence, too. I could see him going in the first round, maybe the bottom half.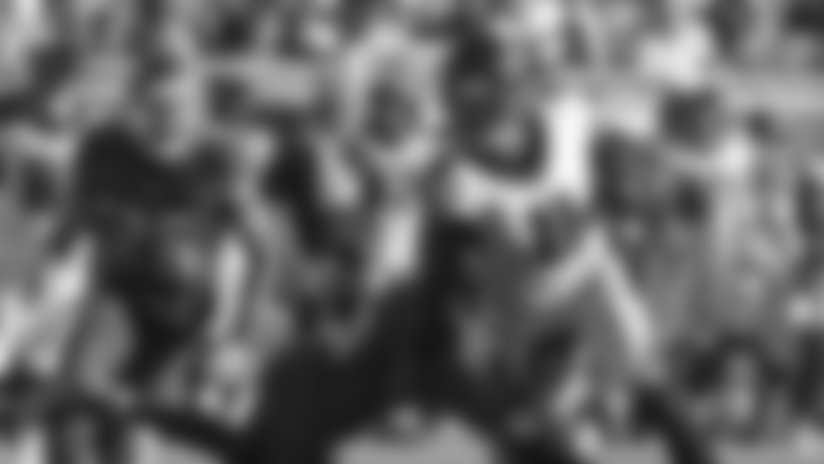 Winston from Richmond, VA
Hey Beek, sorry I wasn't as cordial as I should've been on my question. I'm a big fan and been reading you for the past five years. My question is, do you think we can pacify Julio Jones with added money again this year so we can lock up Grady Jarrett? And if we do, how will we be able to handle the contracts that are coming due next season? Keep up the good work, me and a fellow Falcons fan from Richmond stay tuned in to you and read all your articles. We appreciate what you provide for us and feel you keep us in the loop on all Falcons news. Thank you.
Matt: Hey, Winston – thanks for the support, and you guys are more than welcome! Look, it's not going to be easy – and managing the salary cap is something all teams have to deal with. Falcons GM Thomas Dimitroff has said that keeping Julio Jones and Grady Jarrett in the fold (for years to come) is a huge offseason priority. I believe it'll happen; Dimitroff is very good at his job and continues to draft well on top of it. Dimitroff said that he will have to be very creative with how the deals are structured because he knows that there are a number of younger Falcons they have identified as core players they want to keep in the fold, too. The good news is that Jones has said that he's comfortable with how things are going – and is cognizant of the challenges the Falcons face cap-wise. Remember, the deadline for the Falcons to get a long-term, more cap-friendly deal with Jarrett in place is July 15. Stay tuned.
Tyler from Stone Mountain, GA
Is Grady Jarrett going to get his extended contract? Because he means a lot to me and the Falcons.
Matt: Hey, Tyler. Check out the response above. I think it'll happen – and, yes, Grady Jarrett means a lot to the Falcons, too. Should the Falcons sign Jarrett to a long-term deal, that contract will be much friendlier than the current $15.2 million tender. Cap friendly means more available funds. The key date to keep in mind is July 15. Once that passes, Jarrett will be locked into the one-year deal and that figure will count against the Falcons salary cap. MAILBAG
Do you have a question about the Falcons that you want answered? Ask a question here and it could be posted on AtlantaFalcons.com.
Kenneth from Wynn, AR
With the way that our offense and defense is looking through free agency and the upcoming draft, how well do you think we will do at the way that our schedule is looking so far? Also do you think that we might have a chance at making the top five WR duos as far as yards and TDs? Thanks, Beek.
Matt: You guys know I hate making season predictions before the draft and while free agency is still in full swing. Heck, I don't like making them until late August. But since I've already written once in the last week, I'll do it again – I think, for now, the Falcons will win 10 games in 2019. As I noted before … I think the Falcons' offensive line is going to be better next season and I think Devonta Freeman will have solid comeback type of season, too. I also think the defense will be better and much more consistent – mainly because they'll be healthier. I think having Dan Quinn calling the defense will be huge for this unit. I think those three to four factors alone will spell three more wins than last year. As far as having one of the top-five receiving duos (in yards and scores) ... yes, without question. That was an easy one, Kenneth.