There's no love lost between the Falcons and Saints – and the two rivals will square off in less than 24 hours. Who will start at quarterback for the Saints? Great question, and you can read my thoughts on it below. You've got plenty of other questions, so let's get to them now. Just remember that all opinions here are mine unless noted otherwise.
Paul from Warner Robins, GA
Hey, Beek. They're saying that Taysom Hill is going to start against us and not Jameis Winston. Are the Saints playing games, making it harder to prepare for them? Do you think the Saints are planning to play both quarterbacks and who do you think is a harder matchup for the Falcons? Thanks, Beek.
Matt: Tap the brakes just a bit, Paul. I saw some tweets from ESPN's Adam Schefter, per Dianna Russini, that Jameis Winston "will not be part of any offensive packages Sunday vs. the Falcons."
I also saw some tweets from James Palmer of the NFL Network who quoted Saints coach Sean Payton as saying, "I haven't announced that either one of them are starting."
All we know for sure is that Drew Brees will not be behind center because the Saints have placed him on injured reserve. The Falcons play the Saints twice in the next three weeks and I'm pretty sure they're preparing to see both quarterbacks, especially if whoever starts ends up struggling or gets injured. While Taysom Hill is more of jack-of-all-trades kind of quarterback who can hurt you in a number of ways – my friend Pete Prisco over at CBS Sports calls him a "gimmick" player – I think I'd be more concerned about Jameis Winston, someone who has been extremely productive throwing the ball in this league (and more than his fair share of interceptions, too). I think we'll see both. If not, that's what Payton wants everyone to think, at least.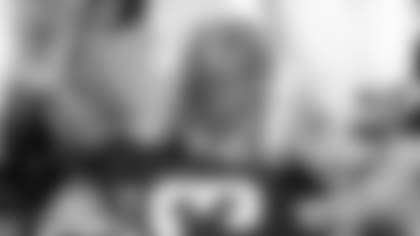 Michael from Uslar, Germany
Hi Beek. Just finished reading your latest SFTB and in the final question about the best Falcons linebacker, you said "easy question, Tommy Nobis." I personally think it's not that easy of a question because very, very strong arguments can be made about Jessie Tuggle. I consider both Nobis and Tuggle as HoFers and I think The Hammer might have the slight edge. I'd love to hear why you prefer Nobis. One thing is clear, both are underappreciated legends.
Matt: Michael, I think both Tommy Nobis and Jessie Tuggle should be in the Pro Football Hall of Fame. In fact, I told Tuggle that when he was guest on the Bird Noises podcast not long ago. But even Tuggle admitted that Nobis should go into the Hall of Fame first. First of all, they played in completely different eras and situations. Nobis, who was considered one of the best college prospects in all of the country when he came out of Texas, was the first-ever pick of the Falcons. And back then, expansion teams were not set up to succeed. Nobis played his entire career on some really bad teams, which is a big reason why he's not in the Hall of Fame now. But if you listen to what some of his contemporaries said about him, there's no denying his greatness. My advice to you is to read this piece I helped Falcons president Rich McKay put together. Maybe that'll give you some perspective and help you understand why I said it was an easy decision and why it's a shame that he's not in Canton.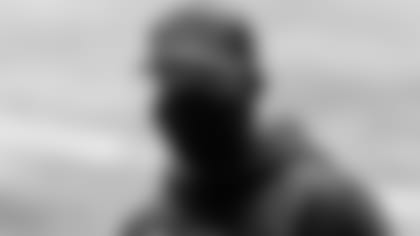 Justin from Covington, GA
Besides Raheem Morris, who do you think is best fit for Falcons head coaching job?
Matt: I'm honestly not thinking about anyone else other than Raheem Morris as the head coach of the Falcons right now because he is the head coach right now, Justin. Morris is also 3-1 and one misstep away from being 4-0, and it's been both impressive and fascinating to watch him win games. The schedule is about to get considerably more challenging, though.
at New Orleans Saints
vs. Las Vegas Raiders
vs. New Orleans Saints
at Los Angeles Chargers
vs. Tampa Bay Buccaneers
at Kansas City Chiefs
at Tampa Bay Buccaneers
I wrote this on Thursday in SFTB, but here is a prediction for you: If Morris sweeps the Saints and Bucs and knocks off the Chiefs, he'll be a head coach in 2021. I'd like to think it would be here in Atlanta, but if not, he'll be wearing a headset calling the shots on another sideline in the NFL. Even if the Falcons were to drop games against the Raiders and Chargers, the Falcons would finish 8-3 under Morris and 8-8 overall. That would be a remarkable achievement.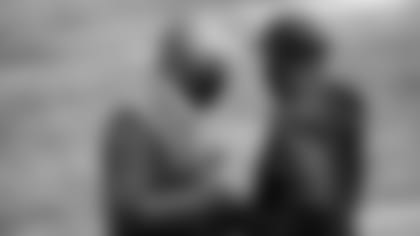 Clint from Hardy, GA
Beek! What a critical stretch of games. I do not understand why you are a fan of Raheem Morris. He has been part of the problem since DQ hired him. He has proven he is a LOSER from his days with the Bucs. We have won 3 games that a high school coach could have won if they were coaching the Falcons. It's my HOPE, that AB FIRES everyone, INCLUDING THE WATERBOY and starts fresh. So how can you justify his record and hope he is our next coach? BAD, BAD, BAD, decision.
Matt: Clint, do you remember what Falcons owner Arthur Blank said when he made the decision to part ways with coach Dan Quinn and general manager Thomas Dimitroff? Let me remind you. "As everyone knows, this is a results business and I owe it to our fans to put the best product we can on the field. We have poured every resource possible into winning and will continue to do so, but the results of late do not meet our standard or what I've promised our fans. Therefore, we will install new coaching and personnel leadership of the Atlanta Falcons at the appropriate time. … I want them all to know that my commitment to winning has not wavered and I will continue to provide every resource possible to that end," Blank said. Raheem Morris was named the interim coach and he's taken an 0-5 team and gone 3-1 since. The Falcons could easily be 4-0, but they aren't. That's impressive, no matter how you slice it. Will Morris end up with the job heading into the 2021? No one knows that right now. But I don't know how you don't at least applaud the effort from Morris and that entire coaching staff in what's been a really difficult situation. And if they keep on winning with the brutal stretch of games ahead, Morris very well deserve consideration for that job. No doubt about it.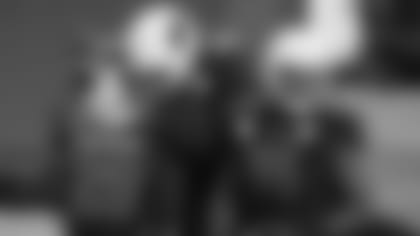 Deborah, White Salmon, WA
Why the number 8 on the uniform? Who does it stand for?
Matt: A little context would help here, but I'm guessing you're referencing Thursday night's game between then Cardinals and Seahawks, Deborah. The Cardinals are wearing the No. 8 patch to honor Hall of Fame safety Larry Wilson, who died back on Sept. 17. Wilson was a five-time All-Pro, eight-time Pro Bowler and also served as team's vice president and general manger from 1988 to 2002.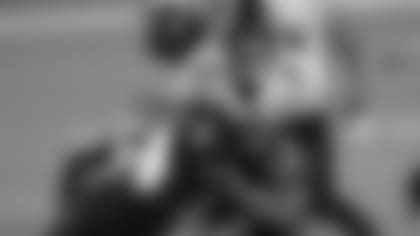 Joseph from Adel, GA
First of all, thank you for your superior insight of my beloved Falcons. I'm 35 and I have supported the Falcons since I could hold a football. There is no question that Matt Ryan is the greatest QB to play for the Falcons, at least in my mind. How do you rank him in the franchise history?
Matt: Hey there, Joseph. I'm guessing there's a chance you might have missed this, but back in July, Will McFadden and I debated who was the Falcons' most important offensive player of the last decade, Julio Jones or Matt Ryan. I made (the easy) case for Ryan but took it a step further. Ryan has not only been the most important Falcons player over the last decade – on and off the field – he's been the best player in franchise history. And it's really not up for debate. Give it read when you get a chance. I think you'll agree with what I wrote.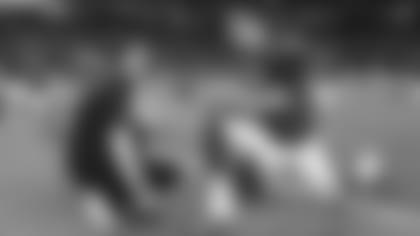 Willie from Newnan, GA
Why do the Falcons fans look at Matt Ryan as the problem of this team? He does his job, he doesn't play defense or special teams. He hands the ball off or throws to receivers for crying out loud. He makes smart decisions and when he has to run, he gallops the best he can. Why Beek, why? He can't throw it to himself, he's not the running back, and he only plays on the offense. One more thing, in my opinion, if Kyle was hired as the head coach and Dan Quinn, who I miss already was hired as defense coach, this situation would be a lot different. What's your take?
Matt: Look, my stance on Matt Ryan has been pretty clear since I arrived here in 2017. And as I noted just now above, I think he's been the best player in franchise history. And, for the record, Ryan has rushed for 1,363 yards and 10 touchdowns in his career and also has one touchdown reception in 198 regular-season games. I'm not going to touch the Dan Quinn-Kyle Shanahan comment because it makes no sense. Dan Quinn wanted to be a head coach and was one of the hottest assistant coaches available when the Falcons hired him. If Atlanta didn't land him, someone else would have. And Shanahan wanted to be a head coach, had an opportunity and you can't blame for taking the 49ers job at all.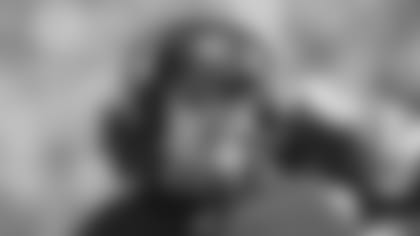 Dave from Rutland, GA
Hey Beek! Just some thoughts on where the Falcons go at this point. I really think Jim Harbaugh should be the top candidate. He did great things with the 49ers and hasn't had the best luck in college. I think he is an NFL coach not a college coach. Offensively, we need to get younger at running back. Competition needs to be created on the offensive line so that it is forced to pay at its potential. Defensively, we need to find a gamebreaker at DE and we need help in the secondary. I still don't think we are that far away from being a challenger again. Thoughts?
Matt: There's a lot to unpack there with your comments, and since there's likely going to be a ton of changes with the Falcons roster with a new general manager coming in, I'm going to steer clear of those comments and focus on your thoughts on current Michigan coach Jim Harbaugh. First, if you haven't ready any of the comments above, I'll be extremely disappointed in you, Dave! I think it's pretty clear right now of what I think when it comes to the Falcons head coaching job and Raheem Morris. And since Harbaugh is a college (and not under contract with another NFL team), I can comment on him. Look, he had a decent four-year run in San Francisco from 2011-2014. The 49ers went to three NFC title games and won one (before losing to the Ravens in Super Bowl XLVII). Frisco went 8-8 in his final season and didn't make the playoffs. After an awkward exit, he landed at his alma mater, Michigan. And having lived in Ann Arbor and growing up a Michigan fan, I've followed him fairly closely there. He's done OK, but he's lost four straight bowl games and hasn't beaten Ohio State yet. So far this year the Wolverines are 1-3. It's an interesting thought, but at this point I'd be surprised if he even returns to Michigan at this point. MAILBAG
Do you have a question about the Falcons that you want answered? Ask a question here and it could be posted on AtlantaFalcons.com.
Go ahead, ask the Beek
Do you have a question about the Atlanta Falcons (or anything football-related) you'd like to ask Matt Tabeek? If so, hit the link. Please remember to include your home state (or country if you live outside the U.S.). Thanks for reading SFTB!