Well, Falcons fans, that's a wrap. The 2019 training camp is in the books and now the focus turns to the preseason and final roster cutdowns. First up is the Dolphins down in Miami Gardens, Fla., (and, no, it's not South Beach – not even close). You, meanwhile, have lots of questions, so let's get right to them now. Just remember that all opinions here are mine unless otherwise noted.
But, first, let's watch the best run of the Falcons' first preseason game one more time.
Jerry from Statesboro, GA
Hi Beek, I'm baaack! Do you think Brian Hill has solidified the No. 3 RB slot? Is Justin Hardy on the bubble? John Cominsky was a pleasant surprise in the first game. Is he the second coming of Patrick Kearney?
Matt: Jerry! Where have you been? Good to see your name show up in my inbox this morning. I'm hoping to see you back here restoring order with the Beekers on a daily basis now that the games are back. On to your questions (because one is never enough for you). If you've listened to the latest two Falcons Audible podcasts, I've brought up Brian Hill's name quite a bit. I've also written about him a few times during training camp. I think he's having one heck of a training camp, but things are far from settled. Dan Quinn has praised Hill and the effort he's put in to improve his pass-catching, too. Right now it's Devonta Freeman and a crowded room full of running backs vying for the No. 2 spot. It's wide open. And Hill (picture above), who is currently listed as the No. 3 back on the depth chart, is standing out. As far as Justin Hardy goes, no, I don't think he's on the bubble, Jerry. Not right now, anyway. I will say this, though. Devin Gray, Christian Blake and Olamide Zaccheaus have looked sharp in training camp. Speaking of the podcast, we – Will McFadden and I – discussed John Cominsky at length. He's looked good in camp and had a nice showing in the Hall of Fame Game up in Canton. Cominsky is working hard and it's paying off. It's also super early, especially to refer to him as the second coming Patrick Kearney. So am I going to finally see you at some games this year, Jerry? Are you going to organize the Beekers and rock the Benz this year or what? Hope to see more questions for you, and thanks for writing in. And in case you're trying to find Falcons Audible on different platforms, here you go (please be sure to give us 5-star rating!):
Your question also makes for a terrific Straight from the Beek Question of the Day: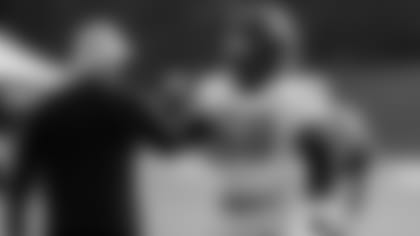 Jesse from Farmerville, LA
It appears the injury bug is hitting us a little. Now James Carpenter with a quad injury and Jamon Brown with a hamstring. Both left guards. Are you concerned about this?
Matt: Hey, Jesse. Strains, pulls, bruises and just being sore are all part of training camp – and football in general. That stuff is going to happen due to the nature of the sport. However, it is concerning whenever two players at the same position – both competing for the starting job – are out nursing injuries. The Falcons are in the midst of retooling their offensive line, as we all know. Identifying those starters and having them develop some chemistry is also a big part of the process. Chris Lindstrom and Kaleb McGary were both drafted in the first round. James Carpenter and Jamon Brown were each signed on the first day of free agency. McGary is out after undergoing a cardiac ablation procedure, Brown was on the field with the team Tuesday after getting some attention from a trainer at the end of Monday's practice, and Carpenter was ruled out for the Dolphins game due to a hip flexor injury that has sidelined him all week. Falcons coach Dan Quinn also noted there would be 8-10 players who likely wouldn't play on Thursday. The good news is that no one's season is over and it's also early in the preseason. Hopefully those guys are back in action soon and the competition resumes. In the meantime, it's opportunity for other guys to make an impression on this coaching staff.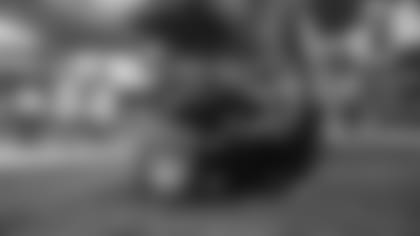 Michael from Mobile, AL
Will the Falcons be on the same sideline or will be on near sideline with the pressbox behind them? And do think the Falcons will sign a backup kicker?
Matt: Since you didn't specify which game … the Falcons will be on the visitors' sideline when they play in Hard Rock Stadium down in Miami Gardens on Thursday night – that's the sideline facing the pressbox. Before they remodeled that stadium, the sun would beat down in that direction, too. Brutal if you were sitting on that side. For home games at Mercedes-Benz Stadium, Michael, the Falcons will remain on the same sideline they always have – and they will be facing the pressbox. Hope that helps.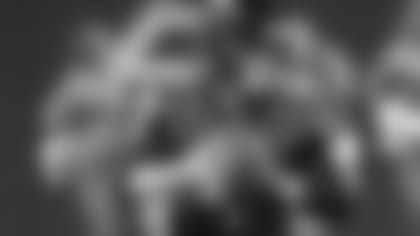 Conner from Dublin, GA
What can we expect from Matt Simms? It's been a little while since he played in the NFL and he struggled with the Atlanta Legends.
Matt: The Falcons brought Matt Simms in after losing Kurt Benkert due to a toe injury. This coaching staff has some familiarity with Simms, and I believe that was a big part of the decision to bring him in. I'm not expecting him to push for the No. 2 job here; I think he's here to take reps running the offense in practice and during these final preseason games. He's an insurance policy, too. That's about it. Simms was on the roster in 2017 and was also a member of the practice squad in 2015 and 2016. As you noted, Simms was with the Alliance of American Football's Atlanta Legends in 2019. He completed 60 percent of his passes for 842 yards with two touchdowns and threw seven interceptions in six games played.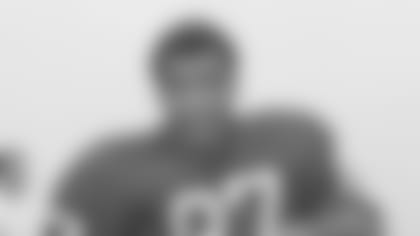 Michael from Jacksonville, FL
Hello, and good luck this season. My question is, I have been trying to locate a Claude Humphrey jersey for several years. Would you be able to point me in the right direction to get one? Thanks.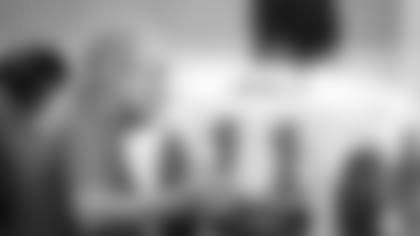 Jay from Gainesville, GA
Using your infinite wisdom (LOL), do you think the reason for delay in Julio Jones signing is for lack of cap space? I thought they were out of money or close, after free agency. Need to cut somebody.
Matt: Haha, that's (ahem) "infant wisdom," Jay. No, there's no rush to get a deal done for either side. It'll happen, and likely sometime between now and the start of the regular season. I don't have any sort of inside information, but I'd be really surprised if the seasons started and Julio Jones still have a new deal in place. I'm sure the parameters are in place and they're working out some small (but important) details. Thomas Dimitroff knows he needs to get creative with some of these contracts because there are a number of players coming up that they'd like to keep. Will they have to make some tough decisions? Of course, that's part of the business and every team has to go through that process. You can't keep everyone you'd like in the salary cap era. That's just the way it goes. MAILBAG
Do you have a question about the Falcons that you want answered? Ask a question here and it could be posted on AtlantaFalcons.com.